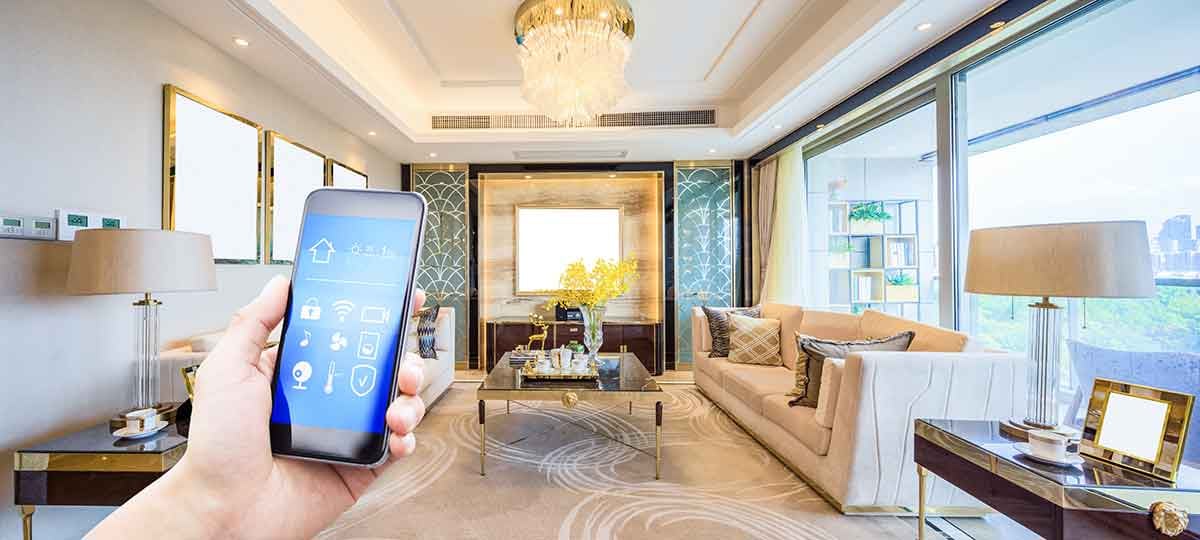 It's the end of 2022, and smart homes are more popular than ever. Though written nearly four years ago, our blog on the evolution of smart home technology remains one of our most viewed pieces of content, giving stock to the ever-increasing relevance of IoT technology in the home.
Home automation's increasing popularity is reflected in the market, too. BCC Research's latest market report has predicted the U.S. market for home automation systems will expand by $6.8 billion by 2026. This enormous growth means that smart homes are gaining traction with a wider consumer base, and given the energy-saving features of smart homes, this also represents a positive step towards a greener future.
Home automation is here to stay, so BCC Research is providing a run-down on everything you need to know about smart homes.
How sensors are used in smart homes
Sensors are integral to smart homes, and by extension, the Internet of Things. They bridge the gap between the physical and digital, detecting changes in the environment such as fluctuating temperature, movement, light intensity, and humidity levels.
Within the smart home, this can look like many different things. Typically, smart homes involve the automation of lighting, appliances, heating, televisions, air conditioning, audio systems, security systems and more. But crucially, these systems are interoperable and can communicate with one another across the entire home network. Often, these functions can be controlled remotely from any room in the house, or from far away through a smartphone.
While this is relatively small scale, the possibilities of sensors extend far beyond the home. Many cities are implementing sensors to become 'smart cities' – Copenhagen is striving to become the first carbon-neutral smart city by 2025, and New York City is piloting a connected vehicle (CTV) scheme to help improve road safety. Sensors have an enormous scope and are integral to smart technology.
Key considerations for those within the smart home market
Giant companies like Google and Comcast are aggressively infiltrating the market. This is crowding an already hyper-competitive space, with mergers and acquisitions forming a key part of these companies' strategies. In 2020, a seismic merger occurred when Vivint Smart Home inc. merged with Mosaic Acquisition Corp. to form a publicly traded company. This formed one of the largest US SPAC mergers ever, with an enterprise value of $4.2 billion. Moves such as these are helping to grow the smart home landscape, signaling a promising future for the industry.
The environmental benefits of smart homes
Smart homes play an important role in energy conservation. Systems offer close control over lighting, HVAC systems, window coverings, and irrigation. For example, a smart home system can detect when someone leaves a room, and automatically switch off the lights in response. A smart irrigation system can save vast amounts of water, with sensors adjusting the level of watering in the garden based on rainfall and soil moisture levels.
The energy and economic savings are considerable: according to the U.S. Department of Energy (DoE), LED light bulbs (note that all smart bulbs are LED) use 75% less energy than regular counterparts. The potential savings are huge, which will be a key market driver going forwards.
The history of smart home technology
The smart home is not a new creation but has had a long and winding history, dating back to the invention of remote controls by Nikola Tesla in 1898. Early developments in home appliances continued to lay the foundation for smart home technology. The invention of the vacuum cleaner in 1901, and later the clothes dryer, washing machine, refrigerator, and dishwasher all represent key steps towards the modern smart home.
Other significant developments include the first smart automation system in 1966. The Echo IV allowed users to create computing shopping lists, control temperature, and switch appliances on and off. The introduction of the microcontroller in 1971 was pivotal as it helped lower the price of electronic devices, making them more accessible to the average homeowner.
On this side of the millennium, smart home technology has rapidly taken off. Devices operate seamlessly as part of a greater IoT network, allowing for the automation of countless home functions. The result isn't just convenience, but energy conservation and financial savings too.
Learn more about smart homes and home automation
BCC Research provides expert market analysis for smart homes. Our recent report delves deeper into the technologies and potential of home automation, providing five-year forecasts and an in-depth review of the competitive landscape.
Our complimentary report overview offers a top-level insight into the home automation industry. Download your free copy or purchase the report in full here.
We also offer memberships for our research library. These provide access to numerous reports within your chosen category. Get in touch below to discuss the benefits of this – we'd love to hear from you!