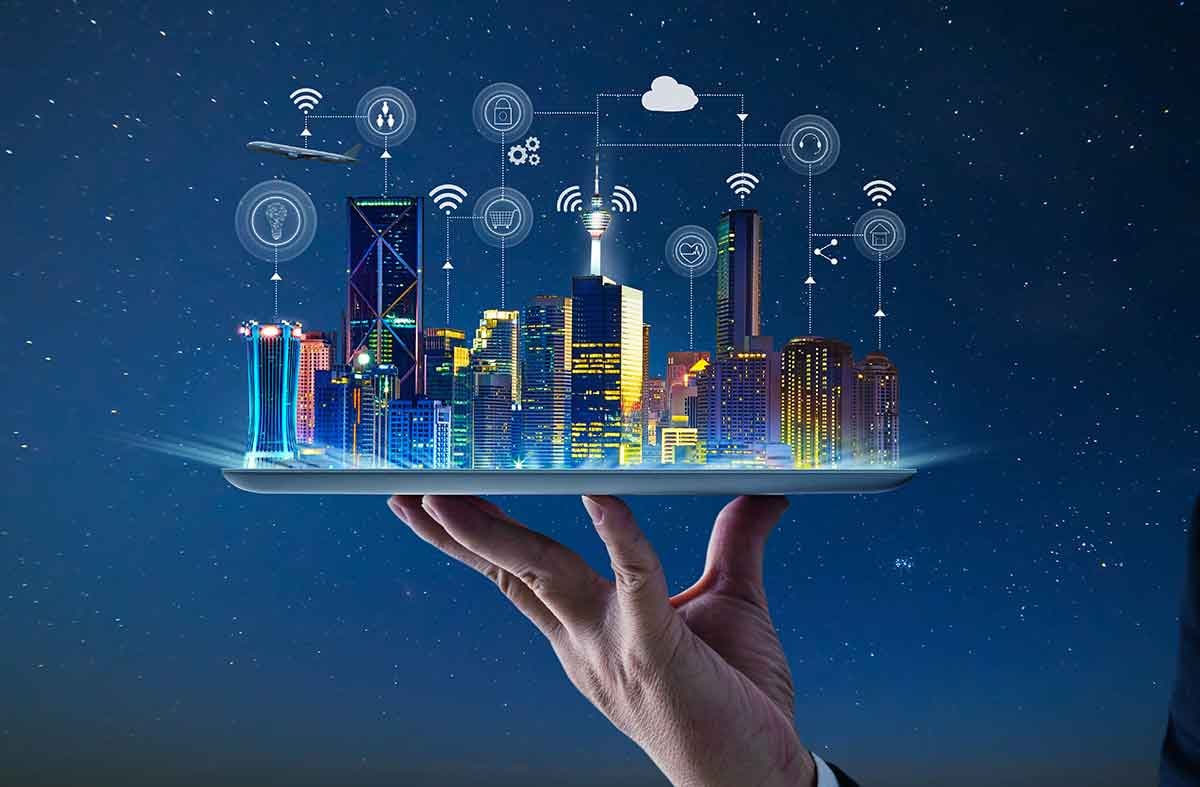 Almost as if it were picked straight from a George Orwell novel, smart cities are the future - but not in the way you may think. Orwell was onto something when he suggested that future cities of our planet would host an all-seeing eye that aims to track and scrutinize human interactions. Fortunately, the reality of smart city technology has fallen short of big brother mutiny against humanity, revealing instead a less dramatic tale of an interconnected city built with digital technology to assist citizens' safety, security, and well-being.
What defines a smart city?
Smart cities use information and communication technology (ICT) to improve operational efficiency, share information with the public, and generally, provide an improved version of society in terms of quality of government service and citizen welfare.
Although the name may be deceiving, a smart city isn't necessarily one entirely modern and separate from the rest of the world. The main goal of a smart city is to optimize city functions and promote economic growth, with a focus on how the technology is used rather than simply how much technology is available. Expecting to reach $2.8 trillion by 2027 at a compound annual growth rate of 22.6%, the global smart city market is robust and will continue to grow as nations adopt a smarter way of streamlining city operations and caring for their citizens.
There are a few ways to determine the smartness of a city. Usually, if it follows these set of characteristics to a high level, it is deemed to be smart:
An infrastructure based on technology
Environmental initiatives
Effective and highly functional public transportation
Confident and progressive city plans
People can live and work within the city, using its resources.
What goes into creating a smart city?
Smart cities use the information and communication technologies (ICT) intelligent network with connected devices and machines for data transfer through the cloud and wireless technology.
Information and communication technologies (ICT) can be defined as an umbrella term that stresses the role of the internet-enabled sphere, as well as the mobile one powered by wireless networks. The technologies included in ICT are landline telephones, radio, and television broadcasts as well as cutting-edge ICT pieces such as artificial intelligence and robotics.
Smart cities use smart Internet of Things (IoT) solutions to enhance the existing infrastructure and to help the government manage its services, such as municipalities, public transportation, waste management, energy, retail, and banking. Sensors, cameras, and networks provide real-time information regarding the city's traffic status, energy consumption, pollution level, and water usage.
Internet of Things (IoT) is the term for physical objects with sensors, processing ability, software, and other technologies that connect and exchange data with other devices and systems over the internet or other communications network.
With these things combined, smart cities need data analysts to assess the information provided by the smart city systems so that any problems can be addressed, and improvements found.
What's next in smart city development?
The potential of smart cities is nearly limitless, and the growth of these cities should only accelerate in the coming years.
The smart city's market opportunity is driven by the convergence of information and communication technology in several areas, particularly advanced connectivity and analytic software and hardware development.
A branch of the IoT, smart cities leverage the array of connected sensors and analytic platforms to drive stronger coordination within departments and across city agencies and community groups. Everything from video surveillance for security and traffic management to emergency coordination and public events participation benefit from smart city technology. Artificial intelligence applications improve predictive analytics, and they are used in smart city applications, driving the market's growth.
Cities that are actively trying to implement smarter solutions are:
Copenhagen - Copenhagen is trying to become the first carbon-neutral smart city by 2025. Its Nordhavn district uses heating and smart-grid integration to show how electricity and heat, energy-efficient buildings, and electric transport can be integrated into one energy system.
New York City - New York City is piloting a connected vehicle (CTV) project to help NYC eliminate traffic-related deaths and reduce crash-related injuries and damage to both the vehicles and infrastructure. The CTV infrastructure is primarily focused on safety applications—relying on vehicle-to-vehicle, vehicle-to-infrastructure, and infrastructure-to-pedestrian communications.
San Francisco - San Francisco implemented a pilot program, the Smart Traffic Signals Pilot. This will explore the use of Multimodal Intelligent Traffic Signal Systems, and Emergency Vehicle Preemption technology to improve safety, reduce collisions, and decrease emergency vehicle response times.
Smart cities: Growing New IT Markets
Analysts at BCC Research have looked at the global Smart Cities market, as well as its key players and what drives and challenges this lucrative industry.
To download your complimentary copy of the report overview, or to purchase the full report click here.
Become a BCC member today and gain access to the full Information Technology report library. To discuss the benefits, speak to a member of our team today!