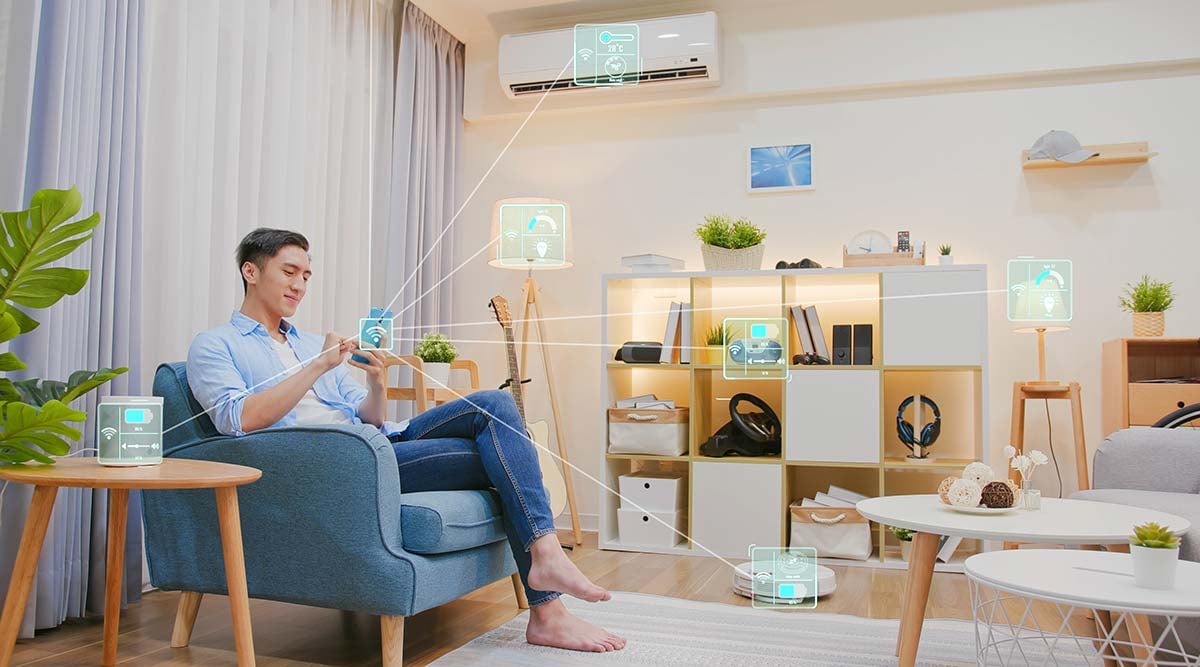 Smart home tech is finally breaking into the mainstream. CCTV streams and automated energy controls are a few of the technologies revolutionizing homes. The main appeal of these technologies is the level of control they grant consumers. Given the global energy crisis, sky-high inflation, and the critical threat of climate change, increased popularity isn't exactly surprising.
BCC Research's latest market report has predicted the U.S. market for home automation systems will grow by $6.8 billion by 2026. This is an impressive figure that reflects the growing presence of IoT-based technologies. Consumers are migrating toward innovation, suggesting only one thing.
The future of technology is now.
What Is Home Automation?
Home automation allows electronic control over various functions within your home. Automatic lighting and heating systems that can be run from your cell phone are just a few of the ways homes can become automated.
The level of sophistication varies. While many systems connect to a central smart hub, some are not connected to the internet at all. Home automation can simply consist of small, independent devices that control a single unit such as a thermostat. On the other side of the coin are the more complex networks involving multiple devices.
Advanced systems share information through the Internet of Things (IoT). Although the IoT is transforming countless industries, it goes hand in hand with home automation.
Common Types of Home Automation
Home automation has almost limitless potential to transform the home. But research shows that safety still is the number one priority for homeowners. According to the National Association of Home Builders, consumers seek technology that increases comfort and security. As such, some of the most popular forms of home automation include:
Smoke and carbon monoxide detectors.
Flood sensors, to warn of potential water damage.
Door sensors and glass-break break sensors to notify homeowners of attempted break-ins.
Indoor and outdoor security cameras that sound the alarm for suspicious activity.
Why Home Automation, and Why Now?
BCC Research has pinned home automation's growth to several causes. Rising incomes and standards of living mean consumers have more cash to spend on their homes. The global concern over energy conservation is also driving consumers towards environmental tech. Consumers want greater control over their energy consumption, and smart home tech caters to this. Young homeowners, particularly millennials, are an environmentally conscious demographic. This makes them the primary market for home automation technologies.
Not only is demand for home automation ripe, but the supply end has also seen costs plummet. More accessible pricing is creating a wider market for smart homes. In the same vein, technology has become less complex and more accessible. Smart home gadgets, once the reserve of tech-enthusiasts, have become an achievable reality for many people.
While millennials are the largest market for home automation, the increased accessibility has attracted a senior market. As it turns out, a desire for simplified home security is ageless.
These factors, paired with the rapid acceleration of tech on all fronts, have changed the face of the home automation market for good.
Are There Any Factors That May Stifle Growth?
The cost of installation labor and the expense of educating electricians will be a challenge going forward. Fortunately, other developments are helping to address this. The growing use of standards-based wireless technology is allowing for smoother installation of new devices. With this kind of technology, the installations can be performed with unskilled labor, minimizing costs.
Wise Up to Home Automation
BCC Research's report into the US Market for Home Automation and Security Technologies delves deeper into the industry. Considering specific segments including home lighting automation, HVAC control, energy management, entertainment systems, security systems and integrated home automation, the report helps inform vital business decisions.
Click here to download a free report overview.
Or, become a member of the BCC Research library and gain access to this report, plus a range of others in your chosen category. Get in touch today to discuss options – we'd love to hear from you.