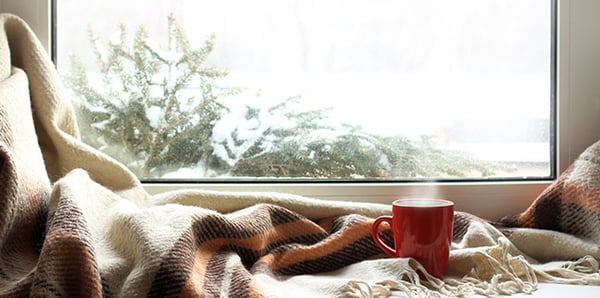 How to be Productive Over Winter Break - Pandemic Edition
It's safe to say that 2020 winter break will be very different from the breaks preceding it. And it's safe to say that everyone is quite tired of zoom calls, navigating complicated changes and trying to stay on top of your grades during these stressful times.
However, while the pull for more Netflix and the firm leaving behind of reality for a few weeks may be very strong, try to resist it. There is plenty that can be done during these crucial weeks other than leaning on social media and TV to help set yourself up for success in the spring semester.

While your mental health should be your top priority, this is also a great time to reassess your academic and professional goals: where you are, where you want to go, and if you're on the right trajectory to get there.

Today's blog will provide advice to help you have a productive winter break—even if you feel burnt out right now. Returning to school refreshed and further along with your goals will do wonders for you in the next few months. With that, let's jump into the productive things you can do over winter break.
9 Ways to Get Ahead In Your Career Path this Winter Break
1. Update your LinkedIn and Resume
While resume work can feel tedious, if you start now when you aren't feeling the dire need to get a job, it can be enjoyable. In fact, we recommend that you start with your LinkedIn account. Update it with your most recent positions—whether that be a job, an internship, your latest school responsibilities and/or accomplishments.
Covid has propelled the use of LinkedIn, both as a networking platform and for those looking for internships and jobs. They are doing a fantastic job helping people navigate through remote opportunities, so if you're looking for an internship in the spring, make sure to take advantage!
Listen here to our podcast episode on digital networking, with a focus on creating a LinkedIn profile and how to navigate the platform.
Click here for tips on how to improve the language on your resume and LinkedIn profile.
2. Write a Cover Letter
Following on the heels of creating your LinkedIn account and Resume, write one, or even a few, cover letters. While your resume allows employers and internship opportunities see your experience, your cover letter lets them know who you are. Winter break is the perfect time to write a cover letter for a job or internship you want to apply for come spring or summer.
Keep in mind, while your cover letter is about you, they want to see what you can do for them, and why you would be a good fit. Tie your experience and personal drivers back to the company mission and culture.
Look at the following templates if you're confused about the format of a cover letter.
3. Research a Summer Internship or Job
It's very useful to start looking at summer job and internship postings early to give yourself a good sense of what they are looking for, what the company is like and what positions are available within your reach. Given the uncertain times that we've seen unfold this last year, it's a good idea to get a jump start on this.
Make a goal to apply to at least three different positions. If you aren't sure where to start searching, start with LinkedIn! It's also worth contacting your Career Development Center, and starting with a Google Search.
Click here if you don't know where to begin with a job or internship search.
4. Research a Graduate Program
Another option is graduate school. It's never too early to start researching graduate schools and programs based on your area of study and interest. It's key to figure out how they're handling Covid, what they're looking for in undergrad students and what the application requires. Are there more tests than you initially thought? Are grades the core essence of your application? Are they looking for experience?

Create a list of graduate schools or programs that you like and make a goal of researching five of them. The best way to do just that is to talk to people. Look into the program you're interested in and contact a few of the professors. Also, look through LinkedIn for alumni who have just graduated and ask for an informational interview. You'd be surprised how many people are more than happy to talk to you about it!

Click here for graduate school application tips.
5. Practice a Mock-Interview
Interviews are nerve wracking, whether they take place in person or through a screen. One of the best ways to alleviate anxiety around interviews is by practicing. Ask a parent, or a family friend to help you with a mock-interview. Adults who are familiar with the process, and can provide tips can be extremely helpful. It's also worth doing with your friends. This can be turned into a fun zoom game with your friends, go back and forth to help each other become familiar with being interviewed over zoom.
Practice Interview Questions
Describe the ideal company you'd like to work for.
What attracted you to this company?
Why do you think you're a competitive candidate?
What are your strengths? What are your weaknesses?
How do you overcome a challenge or deal with failure?
6. Schedule An Informational Interview
Informational interviews will be key at this moment because shadowing people at their job is simply not happening. But take advantage of the fact that because most people are working from home, they have more time to talk about their jobs and backgrounds.
An informational interview can be conducted over the phone, in person or even email. Below is a sample email template on how you can approach this.
Dear Ms/Mr. Last name,
My name is (first & last name) and I am a student at xxx studying xxx. I did some research on your company, and I'm interested in gathering more insight into the of this industry. I was wondering if we could schedule an informational interview so I can learn more.
I am available either on Date at Time, or Date at Time. Let me know if any of those times work for you and I look forward to hearing from you soon.
Best,
(First & Last Name)
Practice Informational Interview Questions
How did your career path take you to this job and company?
What does your daily schedule look like?
What is your favorite part about your job?
What is the hardest part about your job?
What other advice or tips do you for someone doing a job search?
Take advantage of the fact that you already have your resume and cover letter prepared by sending it ahead of time, and ask the person you'll be talking to for feedback. This will help you make any necessary adjustments to help ensure you're on the right path.
7. Coordinate a Part-Time Internship
There are plenty of remote internships, and while doing yet another activity online may sound like the last thing you want to do, don't blow off the possibility before really looking into it. Companies have become very innovative in their approach, and there are upsides; you have the ability to take on an internship that you might not have been able to if you had to physically move.
You can also contact a specific company that you are interested in and ask if they have an internship program. Don't be shy in taking the initiative, even if they don't, if you ever circle back for a job, you'll have already established yourself as a go-getter.
If this is of interest to you, contact your career development center for more advice early on in your winter break.
8. Continue to Build and Expand your Network
Have you heard the phrase 'connection is key'? Growing your professional network early on will provide you with a solid platform that will help you when you're looking for an internship or job. Not too sure where to start? Hop on your newly updated LinkedIn account and connect with current classmates, professors, and faculty. From there, branch out and connect with people who are in the field you're interested in.
A good way to do this is to keep an eye out for the individuals working at the companies you're looking to apply to or intern at. If you feel a bit uncertain about reaching out to professionals, send them a quick message with your connection:
Dear Ms/Mr. Last name,
My name is (first & last name) and I am a student at xxx studying xxx. I would love to connect with you as you're job as a xxx is inspiring to me as I navigate my way through school and to the workforce.
Thank you!
Name
Attend Events. There are plenty of events that are happening remotely, which once again can feel frustrating, but does have its benefits. Hop on a few virtual networking calls from your home and connect with people that you otherwise wouldn't have the ability to meet. Follow-up with a LinkedIn connection!
9. Create a Professional Website
A website is a great multi-purpose tool that can help you during a job search. Showcase projects that you've completed in school and work up until this point. It's a great and fast way for potential employers to see what you're capable of.
An accumulation of your resume and cover letter, don't be afraid to borrow the verbiage you've cultivated for your LinkedIn profile or resume for this. Make sure to include a professional headline, brief bio, resume, professional objectives and of course, samples of your best work.
If you aren't a graphic designer, or don't have too much time, don't worry. Wix.com, SquareSpace and Portfolio Box are user-friendly websites to help you create your own.
Another tool to assist in your career and industry research? The BCC library! Ask your librarian for access!