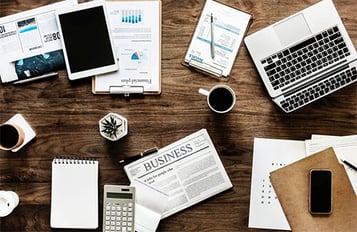 Searching for a job can be overwhelming and stressful—you may not even know where to begin because there are so many job opportunities available to you. Even if you're unsure what you want to pursue, there are still steps you can complete to start this process.
If it's that time to start thinking about what type of career you want post-graduation, today's blog will provide you with four ways on how graduating seniors can have an efficient and successful start to the job search process.
1) Update your Resume and LinkedIn
Ensure that your resume and LinkedIn are updated with your past positions, experiences, responsibilities and accomplishments. Having an updated and professional LinkedIn profile is crucial since job recruiters mainly use this as a platform. As of 2018, 20,000 US companies use LinkedIn to recruit. As of 2019, statistics also report that there are 20 million jobs postings on LinkedIn.
65% of employers believe that the impression you make online through your resume and LinkedIn are just as important as the one you make in person.
Actions:
Make sure your resume does not go past one page—include only the work experience and skills that are relevant to the position to which you are applying. Add your college education information, leadership roles, honors and work experience.
Define your specific roles and tasks clearly from your past internship or work experiences—you want to get credit for your hard work.
Update all new skills or software that you learned at your last internship or job—being familiar with specific software will stand out to employers.
Ensure that your profile photo on LinkedIn is professional and good quality. Use a headshot from your past internship or from school.
Proofread your resume and LinkedIn—always use professional language and grammar. Click here for tips on how to improve the language in your resume and LinkedIn profile.
2) Utilize Resources at School
Visit your advisor or career development center to help narrow your job search. They will offer you a personalized experience by serving as mentors, career advisors, recruiting contacts or even provide a job shadow opportunity.
Actions:
Take advantage of attending your campus career fairs
Many of these events are designed for graduating students seeking jobs. If your school has a strong alumni network, this is a great chance to connect with alumni who attend these fairs, as they may be able to connect you with recruiters or the Human Resources team at their company. Dress professionally and bring a few copies of your resume to these events!
If your school provides the names of the companies that are attending career fairs, take time to research the companies that interest you so you can network with the recruiters at the career fair.
Keep up on emails and look your school's schedule for career information sessions, job fairs or alumni networking events—these events are usually in the summer or late fall.
Reach out to Faculty
As you finally reach your senior year, you will know more faculty members who share a similar career field of interest. It's crucial to build a network of faculty from your school who you may be able to use as a reference in the future.
Visit your professors who work in your career interest and ask them "how they got there" and for career advice. They may be able to connect you with an old student or another employer in the industry you're interested in.
Click here if you need advice on how to connect with professors.
3) Create a Job-Search Action Plan
Creating a job-search plan will help you stay organized throughout this process. This plan could include kinds of jobs you're interested in, companies you want to target, gathering information for your application or the number of applications you send out per week or per month.
Actions:
Stay Organized
Create a spreadsheet to track your progress. This includes the company name, date you applied, contact info for the hiring manager and if you have received a response.
If you're familiar with Google Calendar, you can create deadlines for yourself to...


Update your resume or LinkedIn by a certain date.
Set a date for applying to a specific job or a certain number of jobs.
Add alumni networking or career events to the calendar.
4) Look at Job Search Engine Sites
Online job search engines are quick and easy tools to help narrow your job search based on your career interest and location. Here are a few out of the many job search engines that you can use.