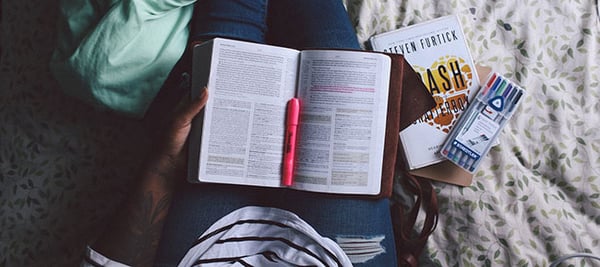 If you haven't yet taken advantage of your college's or university's Career Development Center, then it's time for a visit.
The purpose of your on-campus Career Development Center is to help you become more confident in your professional development—so that you make informed decisions about the next steps in your professional life, whether that's pursuing job opportunities, graduate school or something else.
Today's blog will help you identify career goals, learn practical tips to improve your job search and boost your networking skills. We interviewed Senior Associate Dean at Bates College, Allen Delong, about the importance of utilizing the Center for Purposeful Work, aka the school's Career Development Center.
Visiting your own campus's version of the Career Development Center will help guide you to a career path that aligns with your interests and job expectations.
Q: What does the Purposeful Work Center (Bates's version of a Career Development Center) do specifically to help students search for internships and jobs?
A: Its main roles are to serve as a liaison between current students and alumni, parents and potential employers. Our campus focus is the world of students, and our external focus is on potential employers who host internships, job shadows and who hire Bates graduates. We work with external audiences so they understand the benefits of working with Bates students.
Q: What are the first few steps students should take when starting a job search?
A: In our model, it's specifically about exploration and reflection, which serves as a test so students don't leave college and take a job they're not excited about, or that doesn't align with their strengths, interests and values. We want students to use their own experiences to base decisions on what they want or don't want to do. Overall, our Bates model precludes and takes measures to avoid a quarter life crisis.
Q: What opportunities or events does the Bates Purposeful Work Center have for students if they are searching for a job or internship?
A: Our spotlight on careers series are designed for exploration rather than recruiting events, and help students see the broad "sleuth" of careers in a specific industry. When students come in as first years, it's easy to envision what they want to major in or what job they want to have when they graduate. For example, statistics gathered by the Purposeful Work Center found that in 2018, 17% of first years are interested in science and healthcare careers. With that knowledge, we want to help students understand what it means to go into a health-related field, and what the options may be.
Also, job shadows and internships are great ways to help students understand different, possible paths. This can be considered an opportunity to "try it on" and reflect. We tell students that when they are job shadowing or interning, they should think about the logistical factors like location, the commute, office morale, etc. This is all part of making a decision about work. The work might be a great fit, but if the environment is wrong, that can affect one's satisfaction and well-being. Reflecting on past experiences is important to discern what you are interested in.
Q: How do you think students can make the most out of their experience during an internship?
A: It's important to say yes to everything that is offered and then find out what other opportunities are available; take advantage of it all. My advice is to pack as many things into an internship as possible.
During your internship(s), make sure to ask yourself the following:
Is this my city? Can I see myself making a life here?
Is this my line of commute? What do I think about the trek to and from work every day?
Are these my friends? Can I be happy socially here?
Is that what I want to be doing? Do I use my strengths every day?
Q: How would you advise a student who really enjoyed their internship and wants to pursue a career in that industry or company?
A: Make that known over the summer! If you're having a good experience, let people know. Sometimes you feel like it may be overstepping to express this. However, your supervisor may also be wondering how to broach this topic as well. And if there is no opportunity in that job or organization, your supervisor can help you find another position based on their professional network.
Q: What results have you seen from students seeking out the Purposeful Work Center at Bates?
A: The result that I see most often is that students are pleasantly surprised that exploration and reflection process which can be part of a successful job search; it is not necessarily only logistics. Our model centers students as the decision maker, working to align strengths, interests and values with the world of work. Of course, it is a competitive pool, but this does not give employers all of the power.
Q: What do you wish students knew about any Career Development Center at their college or university?
A: I wish students engaged earlier with us because some students think that going to a career development center feels like a task. Students think they can't go until they have a question or when they're looking for an internship or job. We want to help students throughout their whole experience at school. We believe their strengths and interests are important, and we want to help students align these with their work.
Q: Any last tips on career advice?
A: For seniors, I am sure it feels like everyone else has a job already. My recommendation is to think of a job search as an individualized process, not a competition. If students can suspend the competition and search for the best first jobs for themselves and are willing to wait for that, it's helpful and they won't be disappointed.
Takeaway Points
If you remember nothing from this blog, remember the following:
Reframe your job search as an exploration and reflection based on your past experiences, and know it is not a competition. Focusing on the "most impressive job" will in the end waste your time because you could be paving your path in another area that fulfills you more.
When you are interning or doing a job shadow, ask yourself, "Can I logistically see myself doing this?" "What is interesting to me about the entire experience, not just the work?" Think about the commute time and office environment.
Remember, you are the decision maker of your career path. You have more agency than you think. Employers and companies do not dictate your professional choices; you do.