When winter break rolls around, it's easy to watch Netflix and socialize all day with about a month off from school. While you deserve a vacation from all of the work you did during the semester, spending your entire break watching TV and seeing friends will leave you feeling depleted and behind on your goals when the spring semester begins.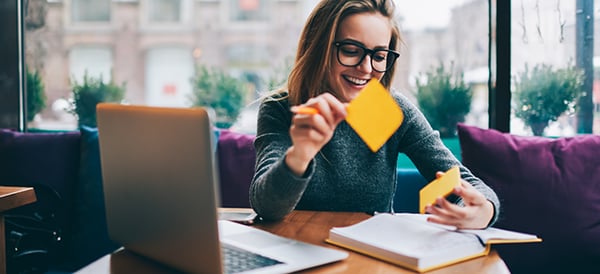 Take advantage of this time by concentrating on other important tasks that you didn't have had the chance to complete during the semester or tasks that will help you get ahead in your academic and professional goals.
Today's blog—written by a college student who is heading into winter break herself—will provide advice to help you have a productive winter break—so that you return to school refreshed and further along in accomplishing your goals.
9 Ways to Get Ahead on your Career Path
Regardless of the amount of time you have over break, there are many things you can do to jump-start your career search. You have the opportunity to focus fully on this now rather than taking time away from your schoolwork during the semester.
Update your LinkedIn and Resume
Ensure that your resume and LinkedIn are updated with your most recent positions, experiences, responsibilities and accomplishments.
Having an updated and professional LinkedIn profile is crucial since job recruiters mainly use this as a platform.
Click here

for tips on how to improve the language on your resume and LinkedIn profile.



Write a Cover Letter
If you want a job or internship in the spring or summer, winter break is the perfect time to write a cover letter.
Cover letters help tell employers what type of job you're seeking and why you believe you're qualified—they can highlight your experiences in ways that a resume cannot.
Look at the following templates if you're confused about the format of a cover letter.
Research a Summer Internship or Job
It's useful to begin a job search during the new year since companies will have a better understanding of where they are and who they are looking to hire.
Make a goal to apply to at least three different positions.
Click here if you don't know where to begin with a job or internship search.
Research a Graduate Program
If you plan on going to graduate school in the near future, start researching schools and programs based on your interest of study. Look into the parts of the application and the tests that you need to complete for graduate school.
Make a goal to research at least three graduate schools or programs.
Click here for graduate school application tips.
Practice a Mock-Interview
Ask a family member, friend or mentor to help you practice for a future interview for an internship or job. The more you practice, the more comfortable you will feel when you are interviewing at a company.


Practice Interview Questions


1) Describe the ideal company you'd like to work for.
2) What attracted you to this company?
3) Why do you think you're a competitive candidate?
4) What are your strengths? What are your weaknesses?
5) How do you overcome a challenge or deal with failure?
Schedule a Job Shadow or Informational Interview
Job shadows are unpaid work experiences that typically only last a few days. A job shadow is a great opportunity to visit a company to get a better understanding of their daily work routine—this will give you the chance to see someone doing a job that interests you.
You can schedule a job shadow by contacting a company of interest. Below is a sample email template on how you can approach this.
Dear Ms/Mr. Last name,
My name is (first & last name) and I am a student at xxx studying xxx. I did some research on your company, and I was wondering if your company offers any job shadow opportunities? I am interested in gathering more insight into a career in this industry.
I am available either on Date at Time, or Date at Time. Let me know if any of those times work for you and I look forward to hearing from you soon.

Best,
First and Last Name
Your Phone Number

If you don't have time to do a job shadow, an informational interview is a great way to do career research. Informational interviews are conversations during which you seek advice on a company or the industry as a whole. Similar to a job shadow, this is a chance to learn more about the corporate culture of a future company.

An informational interview can be conducted over the phone, in person or even email. Below is a sample email template on how you can approach this.
Dear Ms/Mr. Last name,
My name is (first & last name) and I am a student at xxx studying xxx. I did some research on your company, and I'm interested in gathering more insight into the worklife of this industry. I was wondering if we could schedule an informational interview so I can learn more.

I am available either on Date at Time, or Date at Time. Let me know if any of those times work for you and I look forward to hearing from you soon.
Best,
(first & last name)



Practice Informational Interview Questions


1) How did your career path take you to this job and company?
2) What does your daily schedule look like?
3) What is your favorite part about your job?
4) What is the hardest part about your job?
5) What other advice or tips do you for someone doing a job search?
Coordinate a Part-Time Internship


A part-time internship is especially applicable for students who have longer breaks—for about one to one and a half months. This is a great way to build up your resume and gain exposure in your field of interest.

If you're interested in this, be sure to start the process of coordinating this early on in your winter break. Contact your career development center for more advice.

Continue to Build and Expand your Network
Grow your professional network by connecting with classmates from high school and college through LinkedIn or other networking events.
This is a great time to get coffee with a colleague or potential employer to pick their brains!

Contact Alumni Through LinkedIn
If you are using LinkedIn to research companies, pay attention to the company's profile. On the right side of the screen, it will show you the connections you have to that company. It's important to then contact these connections because they can provide you with more information about the company.

Alumni are generally eager to help current students!

Attend Events
Ensure that you're updated on any career networking events that your college is hosting in your area; put these events on your calendar. Networking events are usually posted on your school's career development website or on listservs from your major department.

Create a Professional Website
A website presents your best work during a job search to potential employers—in a way that's fast and easy for employers to view.

A professional website should include a professional headline, brief bio, resume, professional objective and samples of your best work.

Wix.com, SquareSpace and Portfolio Box are user-friendly websites to help you create your own.
5 Ways to Prepare for the Upcoming Semester
Preparing for the semester ahead is also a great way to be productive during your winter break—you'll be more organized, energized and much farther ahead in accomplishing your goals.
Set Academic Goals
Reflect on your study habits last semester and make adjustments for the next. Write down a list of what worked for you and what didn't in order to improve for the next semester.
Reflect on your Major
Being away from school for a few weeks may help you realize what your passions are and what you want to major in. Take this time to research your college's course catalog and major requirements for your field of interest.

Click here if you need more help narrowing down a major.

Purchase School Supplies and Textbooks


Buying a new planner, notebooks, textbooks and other necessary supplies over winter break will help you be more organized and prepared at the start of the semester.

Amazon

,

Staples

and

Bigger Books

are all great stores and websites to buy school supplies and cheap textbooks.



Look at the Syllabus
If you have access to your syllabus for the classes you're taking next semester, take a look at it and write down important due dates in your planner. Doing this will help you be conscious of what you have to work on.

Mark important dates in your planner with colored sticky-notes or pens so are you're easily able to identify them! Sometimes the dates on the syllabus are tentative, so be sure to write them down in pencil in case you need to change them.

Send Thank You Notes


If you worked closely with any professors or faculty members last semester, send them a thank you note for helping you. It's important to highlight how this person impacted your experience by helping develop your interest or new insights within a specific subject.
Be sure to hand write these notes because it's more personal!

It's beneficial to foster these types of relationships with faculty on campus because they will most likely return the favor by offering you a connection to a job or graduate program.