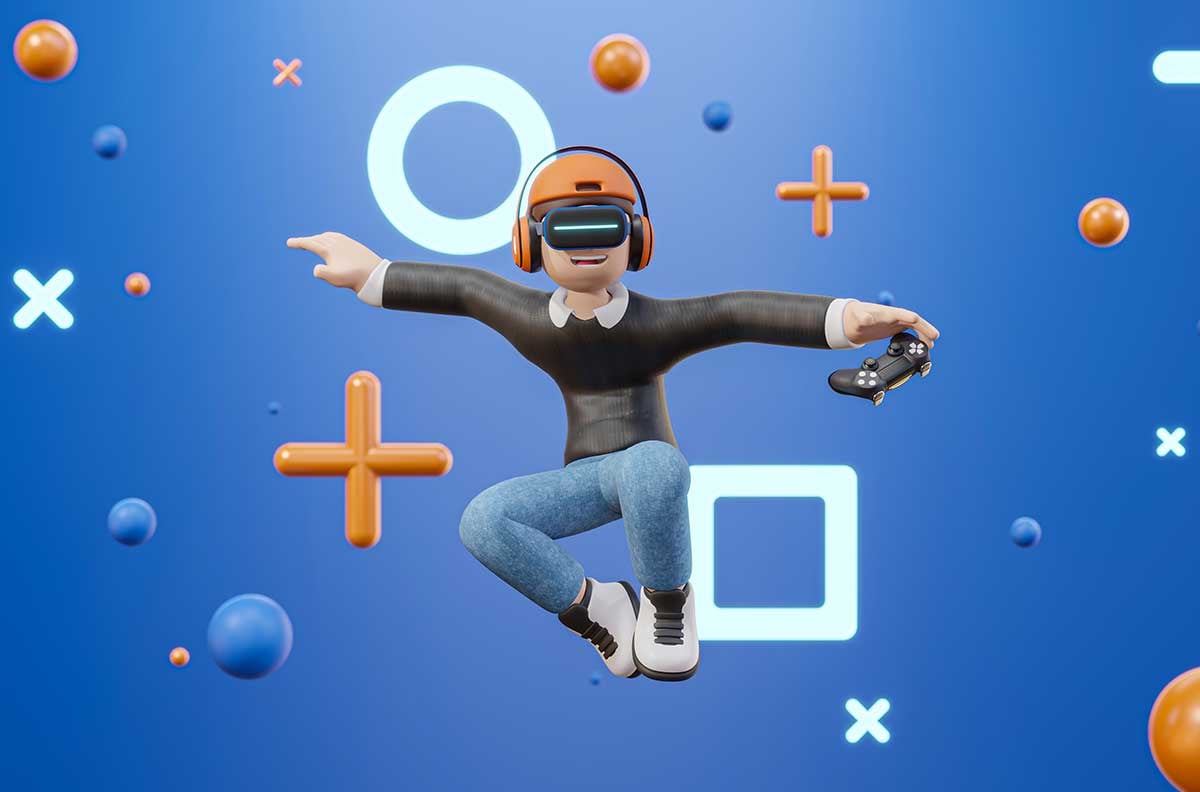 Video games have come a long way. This billion-dollar industry has grown from pixels in arcade machines to photo-realistic graphics on 4K Ultra HD displays. The industry is expanding at an eye-watering rate, with BCC Research predicting that the video games market will reach $473.7 billion by 2027, growing at a CAGR of 14.2%.
As the market advances, it's also diversifying: video gaming is increasingly gaining a foothold within a wider user base, becoming entrenched in the daily lives of many. But as video gaming evolves to suit a rapidly changing world, what features will characterize video games? What does the future of games look like?
From a technological standpoint, video games will become hyper-immersive. There are already numerous technologies that help achieve this lifelike depiction, including VR, augmented reality (AR), spatial audio, cloud gaming, and the Metaverse. These innovations are pushing video games into new realms, creating a landscape that is diverse, lucrative, and expansive.
Video games in education
As video games diversify and begin to push the confines of recreation, they are being increasingly used within classrooms to enhance the education of students. Core lessons like math and reading are being delivered through video games, allowing students to take an active role in the development of new skills.
Many academicians believe this will be the future of education. According to the Organization for Economic Cooperation and Development, teaching students in the 21st century about skills such as creative problem-solving is vital to creating a robust future workforce. DragonBox Algebra is a game where students solve math problems in an imaginary environment – making learning more engaging and encouraging the mastery of critical thinking skills. Civilization is a popular game where a player can become a civilian leader and direct the prosperity of nations. Students learn by doing, and an innovative and diverse approach to education is key to creating positive student outcomes. Video games play a huge part in this.
Accessible new business models
Video gaming has typically been dominated by the pay-to-play business model, with a customer paying at a physical or online store to buy a game. While this has been an effective monetization model for the most part, a free-to-play model is more effective at widening the scope of video games. It allows games to reach new audiences while earning revenue through ads and in-game purchases. Subscription-based models are also becoming more popular, a notable example being World of Warcraft. But within the world of crypto, play-to-earn has become the gold standard. Players can farm or collect cryptocurrencies or NFTs as an incentive for users to play.
These diverse business models each serve their own individual purpose. They work because they meet various niches within the world of video gaming, helping expand the consumer base and meet the evolving needs and desires of users.
The technologies shaping the future of video gaming
New technology is carving out a bright future for video games. Big tech companies like Sony, Microsoft, Nintendo, Tencent, and Activation Blizzard are funneling vast amounts of money into innovation. Fresh and highly disruptive gaming platforms are emerging, changing the very nature of how we interact with games.
But what will the future of gaming look like? What are the technologies that will make video gaming a cultural mainstay?
1. The Metaverse
In recent years, the concept of the Metaverse has dazzled the world's foremost tech companies. It was outlined by Meta's Mark Zuckerberg as a 3D parallel virtual realm where users can log in and live out their daily lives. Ideally, the Metaverse will appeal to all walks of life, not just tech enthusiasts and gamers. It will be immersive, a hybrid of the physical and digital, utilizing both VR and AR to achieve this seamless crossover.
The Metaverse reflects a growing desire for online social interaction that integrates real-life experiences like concerts, commerce, and socializing.
2. VR and photorealistic graphics
PC games have achieved photo-realistic graphics and console games usually feature them – but virtual reality is still a way from achieving this level of quality. To achieve enduring success, VR must render 3D graphics that are almost indistinguishable from real life. Some significant hardware issues need to be overcome, namely the development of better user interfaces for smoother rendering. While VR perpetually seems a beat away from delivering on its potential, if the Metaverse takes off, it's likely VR will be a huge part of this.
3. Cloud gaming
Cloud gaming will be key in making video games more accessible. It will allow users to play a game from any internet-connected device, bypassing the need to invest in a high-spec, costly gaming PC or console. With cloud gaming, any device can become a high-resolution terminal for playing games.
The benefits of this are tangible: developers can expand their user base and provide richer experiences. Cloud gaming will push telecoms, internet service providers, and content distribution networks to extend their capabilities dramatically, all the while boosting 5G demand. While some argue that the full scope of cloud gaming is unachievable, the concept could do a lot of legwork in changing the way we access video games.
4. Augmented reality
Popularized in the viral cell phone game Pokémon Go, augmented reality has been around for some time. The technology blends the physical and virtual worlds by making virtual objects appear in physical surroundings. This can be achieved through smart phones, VR headsets, or potentially smart glasses.
Want to learn more about the future of the video games industry?
BCC Research's report Video Games: Global Markets dives into the future trends and characteristics of the video games market. Providing five-year forecasts, leading publishers, insight into consumer preferences, and geographic market opportunities, this report offers an invaluable guide for those navigating the lucrative world of video games.
BCC Research offers free report overviews for those interested in discovering more about the contents of the report. Download your complimentary overview of Video Games: Global Markets report here.
We also offer memberships for our research library. This grants access to a range of report within your field – please get in touch below to find out more. We'd love to hear from you!