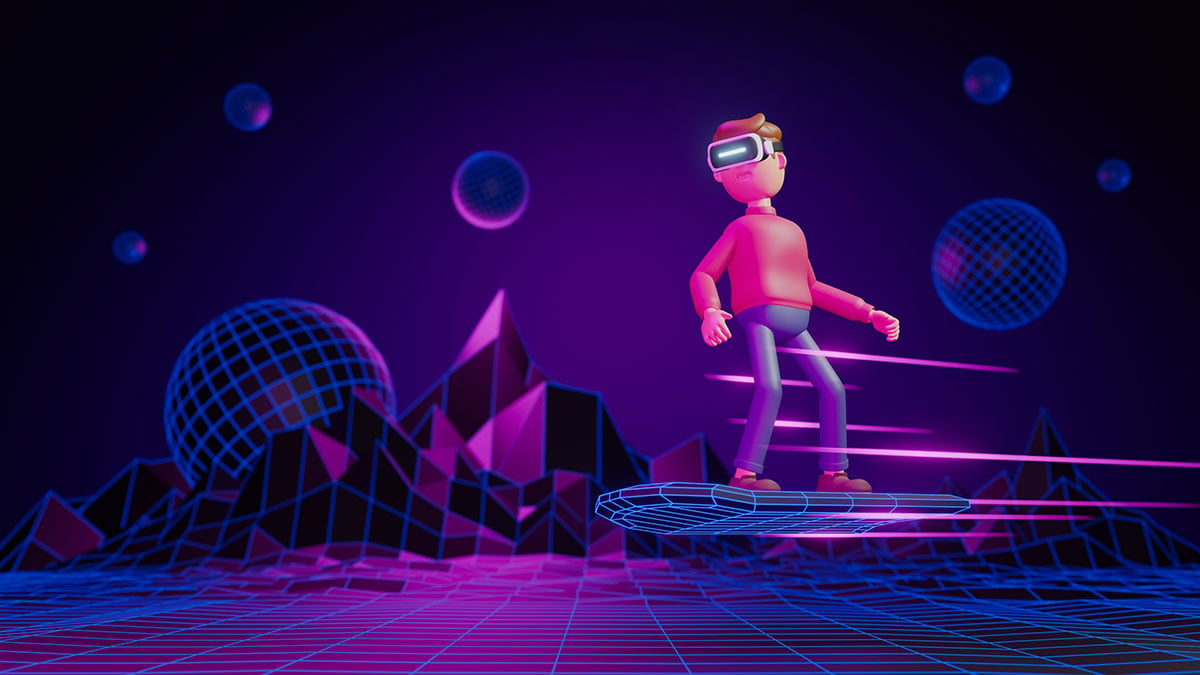 The concept of the metaverse is not a new phenomenon: the term was first documented in Neal Stephenson's science fiction novel Snow Crash, published in 1992. The novel outlined a 3D virtual world accessible through virtual reality display goggles, where individuals roam a cityscape as avatars. The term has circulated in sci-fi and gaming circles since, but it wasn't until Mark Zuckerberg renamed Facebook to Meta in 2021 that the Metaverse became an immediate possibility .
With Global Fintech Fest taking place this month, the industry is alight with the possibility of these virtual spaces.
What is the Metaverse?
The metaverse represents a new way to interact with the internet. If you think that sounds vague, it's because, at this stage, it is. Numerous games have offered a kind of metaverse: Fortnite, for example, has hosted live virtual concerts. Similarly, World of Warcraft is a continuous, 3D virtual world, where users can explore, interact, and trade goods. What are these, then, if not instances of the metaverse? Why all the hype around Facebook's metaverse?
As it stands, these games are primarily recreational. While they may represent an iteration of a metaverse, they don't yet offer the full potential of what the metaverse could be.
The untapped metaverse will situate a user inside the internet. Rather than engaging with a two-dimensional browser, you will instead become immersed within it. You will be an entity with the freedom to move around as you see fit. Virtual reality (VR) will play a major role in this, serving as the primary tool to access this space. The envisioned metaverse will be all-encompassing, hyper-realistic. If executed well, it will act as a counterpart to reality.
The promise of Facebook's metaverse goes beyond recreational socializing. It could combine opportunities to work, experience events, as well as buy items (non-fungible tokens, for example). But no one company can single-handedly build the metaverse. The number of resources it requires demands investment from multiple sources. And to create something truly universal will need a universal effort; companies like Microsoft, Roblox, Unity, Nvidia, and Epic Games are already working towards similar ideations of the metaverse. If the end project is unified and interoperable, then all the better for its eventual success.
VR and AR in the Metaverse
Most people envision virtual reality (VR) as the primary tool to access the Metaverse. But it is likely to be accessible through multiple platforms, with augmented reality (AR) and traditional internet browsers playing a role. Augmented reality (AR) allows you to integrate virtual objects or signage into the real world. This can be achieved through the likes of smart glasses, or through cell phone apps and filters – Pokémon Go being a highly popular example of AR.
Virtual reality differs by being far more comprehensive. VR is essentially a virtual 3D model of an entire world, made accessible through virtual reality goggles. This is the crux of the Metaverse's ambitions: to create a 3D virtual world. As such, VR will inevitably be key.
AR will more likely be an extension of the Metaverse. By wearing smart eyewear, you may be able to access elements of the Metaverse on the go, without having to plug in fully to VR goggles.
The Metaverse and Healthcare
The metaverse will be transformative in many ways, but healthcare is the latest industry that could become revolutionized by virtual worlds.
Robotics, A.I., the Internet of Things (IoT), and Blockchain are already making waves across healthcare. Robots that assist in complex surgeries are commonly utilized, and the Internet of Things is widely anticipated to transform countless industries – not just medical. But few predicted that the Metaverse would be next in line to improve patient outcomes and slash hospital costs.
The pandemic in particular stressed the urgent need for trainee medics to have access to virtual training spaces. With cadavers being costly materials to work with, virtual reality provides cheaper means for junior doctors to practice highly specific and technical procedures remotely. Practicing life-saving surgeries in low-stakes environments can lead to enhanced technical capabilities for doctors, as well as facilitate improved decision-making skills. While the metaverse and VR are yet to be implemented on a mass scale, healthcare authorities are becoming increasingly alert to the benefits these advancements offer.
Security Issues Tied with The Metaverse
There are, however, several security issues surrounding the metaverse. The collection of data will inevitably scale up, with Zuckerberg confirming that ads will play a significant role in the virtual space. Navigating through a 3D avatar will enable more opportunities for data tracking. Eye movements, facial expressions, gestures, and more could be monitored through the metaverse. Privacy is set to be a real concern for users.
Currently, no explicit regulations exist for the metaverse. If it is to be an all-encompassing virtual world, then active enforcement of some kind will be needed. What form this will take remains to be seen.
Will Blockchain Play a Role in The Metaverse?
It makes sense for blockchain to be incorporated into the metaverse. It already plays a crucial role in cryptocurrency, providing a secure and decentralized record of transactions. Instead of data entering a table, as databases traditionally work, data is inputted into a block. As the name suggests, as more information is added, new blocks are created, and a chain is formed. This is a highly secure and decentralized form of data collection. Blockchains are not controlled by a single entity or group, but collectively, by all users.
These advantages could serve numerous industries – not just cryptocurrency. Healthcare systems, for example, could leverage blockchain to store patients' medical records. Likewise, various legal contracts could be stored through blockchain, to ensure validity and security.
The consensus of experts is that blockchain is not strictly necessary to the platform's success. Jeremy Bailenson, a professor at Stanford University and founder of the virtual human interaction lab, recently moderated a World Economic Forum panel. Here, he stated that, "the consensus was that the Metaverse could exist without blockchain."
While blockchain's exclusion from the metaverse may be figuratively possible, experts agree it will be a key asset.
Learn About These Crucial Markets
The metaverse, blockchain, and other related industries already represent huge global markets. Going forward, this will only increase. Learning about the competitive landscape of these industries has never been more vital. BCC Research has numerous reports offering insight into these industries.
IFT226A Blockchain: Global Markets
HLC252B Global Blockchain Technology in Healthcare Market
IFT139B Global Markets for Digital Transaction Management, Including Blockchain
IFT154A Virtual Reality Technologies: Global Market to 2022
IFT124B Virtual and Augmented Reality: Technologies and Global Markets
IFT248A Non-Fungible Tokens (NFT): Global Market
IFT208A Video Games: Global Markets
Our upcoming report on the Metaverse delves into this increasingly significant market. Written by Saransh Parmar, assistant manager at BCC Research, this report will provide extensive analysis on the market, including CAGR information from 2022 up to 2027.
Get in touch below for any information on these reports or to discuss becoming a member of the BCC Research library, which grants access to a host of reports within your chosen category.