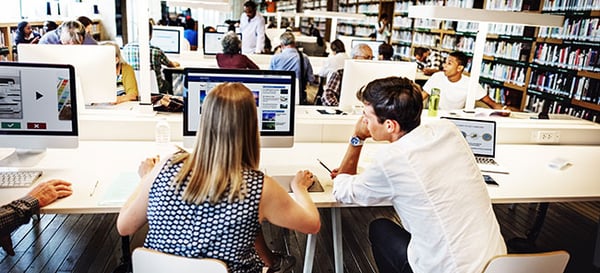 The new generation of college students are the kids who grew up with iPhones and streaming services available at their fingertips. Social media then popularized the use of videos on mobile devices, becoming the primary way the younger generation watches video.
Therefore, there is a prime opportunity for academic libraries to capitalize on these technologies to reach their students, for both educational and marketing purposes.
In fact, there are several ways libraries can benefit from the use of video. These includes:
- Increased student and faculty engagement
- Marketability for the library's resources
- Awareness by key members of the school
- Provision of more instructional material
In order to fully reap the benefits that video implementation can bring to a university, it's important to have the information necessary to answer the following questions:
- Which streaming services should you use?
- What types of content should the library stream?
- How can you utilize videos internally to promote the library's resources?
- How can videos be incorporated with a minimal budget?
Below, we'll take a look at all the ways that libraries can use video to increase student engagement, as well as ways it can be used to market and advocate the resources available.
Videos Help Increase Student Engagement
An academic library's multimedia section used to contain CDs and DVDs, but that doesn't work so much anymore. Most laptops that are used by students aren't able to accept optical disk drives. Additionally, many students learn visually or through the use of audio. Therefore, video streaming is a great way to engage with students and faculty.
93% of teachers believe the use of educational video improves the learning experience, according to a study done by Kaltura in 2015. By providing faculty with video resources for their students, you are able to interact with students more often.
Streaming Services for Libraries
Streaming video is the newer way in which consumers are embracing the medium, both recreationally and for educational purposes. Think of Netflix. Instead of renting physical copies of movies, people now login to an online platform, select the film of their choice and stream it.
The video is never downloaded, it simply plays through the internet connection. This allows a system, again like Netflix, to provide hundreds if not thousands of options.
Streaming services for academic libraries work in the same fashion.
When it comes to selecting which streaming service to use for your library, there are two models that librarians typically choose.
Patron-driven acquisition (PDA)
a. Great for a library with a smaller budget. After a certain amount of user views, usually four or five, a lease or purchase of a film is triggered.
Demand-driven acquisition (DDA)
a. This model requires a higher minimum deposit in order for a library to participate. They select which films to lease or purchase once they examine the user viewing data.
In both cases, the library chooses packages to add to their collection. It is possible for a library to use a combination of both models in order to have a more comprehensive resource list.
A great resource to look into is Academic Video Online, which provides a single video solution.
This resource works on an affordable subscription-based model that eliminates the trigger aspect of the other two models, so you know exactly how much you're spending on video.
Some benefits of the Academic Video Online program include:
- Ownership of the videos
- Free media hosting
- Exclusive Content
Videos to Market the Library
"Higher Education Marketing Video is still one of the most powerful outreach strategies out there. Despite recent technologies — social media, blogs, mobile apps, etc. — video will engage your students and staff like no other platform." – Why Video is the Best Marketing Strategy for Colleges
The goal of a library in the academic world, is to provide resources that meets the needs of faculty, staff and students. There are a variety of ways to market a library's resources using video, all depending on who you want to target.
Faculty: market to their needs so they can be a channel to market to students, and so they can get the information they need to conduct research for their own projects.
Staff: market to their need of providing potential and current students with all the resources they need to complete papers, projects and more.
Students: market to their needs by showcasing the wide variety of resources available.
While videos are primarily used to reach potential prospects, it can be a great tool to connect with current students. A great way to do this is to get the Film department involved and create personal contests and goals within the university. For example, challenging the student body to share the video so it can read 150,000 view.
To create your own successful marketing video, there are a few key tips to keep in mind.
1. Keep it short. 30 seconds to one minute is a good timeframe.
2. If you do create a longer video, make sure it's engaging and memorable.
3. Create a series, each focused on one benefit the library provides.
4. Keep it simple. The simpler the content the more polished it will be.
Here are a few marketing videos for academic libraries that will give you a good example of what you can create for your library.
Videos to Advocate for the Library
Advocating is different than marketing, although they do go hand-in-hand. While marketing resolves the pain points of students and faculty, advocating focuses on bringing the library's robust resources to the attention of influencers.
These are key individuals or groups that can positively influence the environment at the library. For example, senior leadership, student organizations such as the Student Senate and even the Board of Directors.
While these groups may not utilize the library and its resources often, or even at all, they are the ones that make decisions about the school. Therefore, they have a positive sway on the direction of the library. Ensuring that they have a good understanding of the benefits of a robust library will help you garner their support when presenting policy changes.
Videos are an excellent way to advocate for the library. With the inclusion of data and stories, you can present all the benefits in a visually appealing manner and within a short time period.
This can bring the library to top of mind when discussions of funding and resource additions get brought up.
A great example of a video that provides key insight to resources offered comes from Mercy College.
Instructive Videos on the Rise
Videos are an excellent way to explain abstract concepts, and Millennials, as well as Gen Zers, have embraced this medium in conjunction with their education.

"Studies have shown that the use of short video clips allows for more efficient processing and memory recall. The visual and auditory nature of videos appeals to a wide audience and allows each user to process information in a way that's natural to them."- Why Videos are Important in Education
Having a variety of instructional videos is a great way to engage with students and bring awareness to the variety of tools and resources that the library provides.
A good example of an instructional video comes from Northern Kentucky University.
How to create Videos on a small budget
It can be easy to get lost in the idea phase of creating videos. However, it's very important to keep in mind what is possible, especially on a limited budget. There is some good news. While complex videos may not work for your budget, there are plenty of ways to create solid videos without spending a great deal of money.
One way is to engage the student body, especially those involved in acting, photography and videography to help with video creation. Tasking them with a video project is helpful, as it can provide them with content for their portfolio.
Programs to help you edit:
- iMovie or Wave: These are free and accessible on any Mac products. They also allow you to add music to your video.
- Video Hive: They provide royalty-free footage that you can add to your video. Stock video can help with your transitions.
- Animation Studio: This can help you create fantastic animated videos. You'll have to learn the software, but it could be extremely worth-it.
- PowerPoint: If you have educational slides, PowerPoint can easily transform them into an educational video.
As the way students ingest information changes, it's important to stay up to date with the times.
Video is an excellent tool, not only to reach more students, but to advocate the library in ways it wasn't possible before.
From streaming services to instructional guides, incorporating video into a library's plan is a huge step in the direction of success.