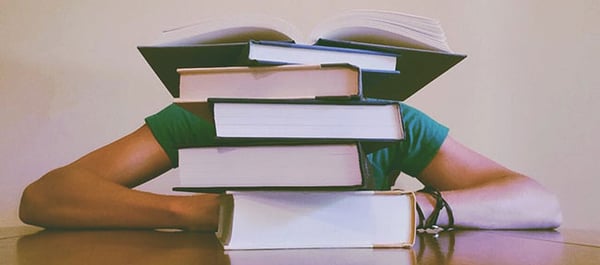 Most colleges or universities require a senior thesis, capstone or some type of semester or yearlong project in order to graduate.
Think of this as a celebration of your knowledge and a way to give back to your school!
However, a senior project can be extremely overwhelming—it's difficult to even come up with a topic/project idea that you can work on for a whole semester or year.
Intensive research and writing is an important skill that you will most likely do again in the future—you could use this project as part of your graduate school or job application, and/or make an impact in your field.
Today's blog is a short guide for students on how to complete senior projects, or semester- or yearlong projects successfully.
Topic Selection
Figuring out what you want to write about is probably the hardest part of your project.
Make sure that you chose your topic wisely and that you spend time thinking about it, as you will be spending a lot of time working on this. Your topic will most likely need to be approved by your adviser.
If you're having trouble identifying a topic, consider the following:
Were there any projects or papers that you worked on in the past that you want to elaborate on? Spend some time looking through your past work.
Most students think that the point of a senior thesis or capstone is to come up with a new, grand idea, but actually, the most successful projects are further explorations and expansions of a past project. For example, a paper from a women and gender studies class could turn into a yearlong project on the differences in the pay rate between male and female professors at the university.
Along with choosing a topic, you'll most likely also need to choose an adviser to guide you, offer feedback and approve your work.
Pick a professor with whom you've worked before and is knowledgeable about your topic. The more you start to develop and work on your project, the more you'll guidance from someone who is an expert on the subject.

Time Management
Scheduling your time and meeting deadlines is one of the biggest challenges students face when working on their senior project.
It's helpful to meet with your advisor before you begin your project to create a general schedule of when you're going to meet, submit outlines, drafts and more. Make sure that you take those meetings seriously and that each one has a purpose.
Your adviser can help you manage your time specifically, but we caution against spending too much time on research, as that could prevent you from having enough time to write, especially considering that a successful thesis or capstone needs multiple drafts.
Tip: Try dividing your time in half. Spend half of your time researching and the other half writing.
Organizing Research
You are most likely going to collect a mountain of research and notes as you work on your project. You have to stay organized so that you can find what you need quickly.
The best way to organize your research is to divide your work into preliminary piles or chapters—separate your work into folders, mark them with sticky notes, or even create separate online documents. This will help you feel less overwhelmed and allow you to locate your notes easily.
The following tools will help you organize your research:
Zotero can be downloaded on Mac, Windows, and Linux, to help you collect, organize, cite, and share research. With Zotero, you can organize your research by sorting it into collections. Your saved searches will also automatically find relevant materials for your research.
Evernote is another digital tool and an app designed for note taking and organizing. Users can create notes that can be formatted into web pages or web excerpts. These notes can also have file attachments which can be sorted into notebooks or annotations.
Citation Practices
Documenting your resources and citing them correctly is extremely important. Trying to go back and cite your sources later will create confusion and possibly cause you to lose information.
Ensure that all of your sources are credible—so that your project is backed by accurate data and is taken seriously by your audience.
Group your sources the same way that you would organize your notes—in sections—to help keep your sources together.
Tip: Under each note, link the source to where you retrieved that information, so you can refer to it easily in the future.
Along with helping you stay organized, keeping track of your sources will also help you avoid plagiarism. If your sources are scattered and located in various places on paper and online, you might not have access to all the information you need to write a precise citation. Additionally, if you wait until just before a deadline to cite sources, you may make a mistake and write an inaccurate citation.
The following tools will help you write proper citations and avoid plagiarism:
Purdue Owl is an online writing resource that gives you tips for general writing, job search writing, and subject-specific writing. Most importantly, OWL provides the correct format for citations in APA, MLA, Chicago or AMA styles. Under the Research and Citation Resources tabs, you'll find information on conducting research within primary and secondary sources and how to quote or paraphrase that material without plagiarizing.
Grammarly is another writing resource that checks for grammar, spelling, and plagiarism mistakes. Grammarly is very easy to use, as you copy and paste your work into the website and it detects any mistakes for you.