The best way to explain market research to students? Compare it to pizza! Use the image and content below with your students, and even faculty members to use with their students, as well.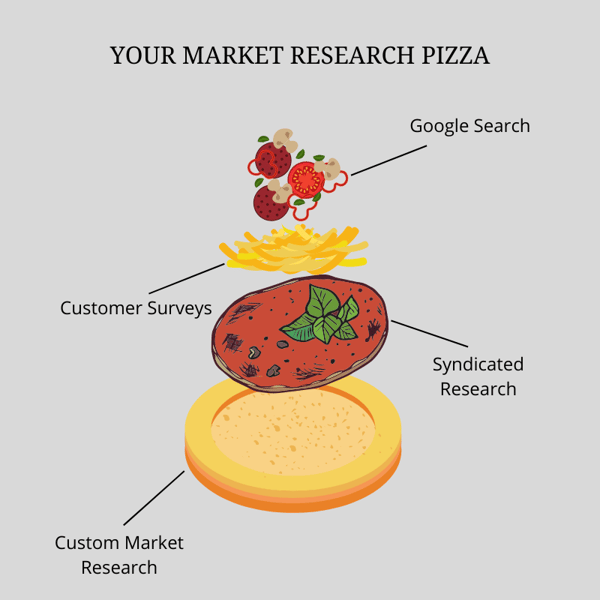 Market research can best be explained as a pizza:
Comprised of several key ingredients that play a crucial role in creating one delicious meal.
While edible and useful on their own, they provide maximum satisfaction when put together in a specific way.
Crust: Primary Data
Primary data is the foundation, or the crust, of the rest of your market research. Without it, you can't have a pizza, or a well-researched, reliable paper or project. Primary data refers to any research you collect yourself, whether that's by interviewing subject matter experts; observing an environment; accessing original documents (notes, letters, etc.) or sources of data (company records). If you're not able to conduct primary research, you can rely on our next ingredient to supply it.
Sauce: Syndicated Research
Syndicated research is another foundational component of your pizza. Syndicated research refers to a collection of reports covering your topic or market (revenue data, competitor analyses, future market trends, etc.), written by industry experts and sourced from primary data.
Syndicated research and primary research, the sauce and the crust, make a powerful duo that ensures that all information gathered on your topic is reliable, and provides the foundation required to pile on information from upcoming ingredients, or sources. Remember, if you can't access primary data on your topic, syndicated research can serve as the base, or crust, of your paper, as it's sourced from the first-hand knowledge of experts and original market data.
Cheese: Scholarly Reports
Think of the cheese as scholarly reports, or reliable sources that provide commentary, context and interpretations of the primary and syndicated research you have. Scholarly reports can also help you identify and expand on subtopics. For example, if you're researching the latest trends in the food manufacturing industry, you might consult the American Journal of Agricultural Economics for insight from scholars on how those trends will affect the agriculture industry specifically.
Pepperoni and Veggies: Internet Search
General internet searches on search engines like Google, Wikipedia, Bing, etc. are an important, but typically optional part of a research project, just like pepperoni and veggies, as they provide extra value and a more complex taste.
Only when your pizza is assembled with the main ingredients above can you determine which ingredients you want to add on top. Similarly, if you're armed with the information from the previous ingredients, you'll know better how to navigate your web searches to find the final touches of information you want.
But don't rely too heavily on the toppings. It's very easy to stumble upon misinformation via search engines than it is through primary or syndicated research.
Pro tip for using Wikipedia: When reading an article, scroll down to the References section to view and vet the sources. While there is a lot of useful information that the internet can provide, it's crucial to the validity and effectiveness of your work that you make sure it's supported by a solid foundation.