Your internship is an extremely important groundwork for opening your career path in the future. The professional world is different from your life at college, so it is essential to know these differences.
Today's blog will give you tips and advice on how to have a valuable internship experience and leave a good impression at the office—so that you're considered first when a full-time position opens up, your supervisor gives you a good professional reference and you gain the skills you need to find your next opportunity.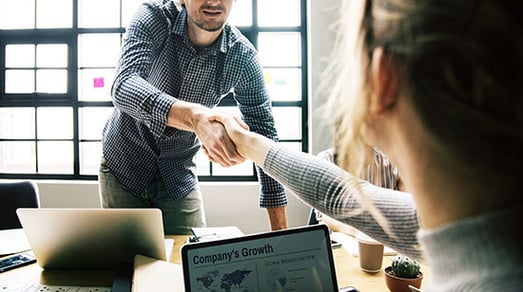 Before you start
Congratulations on getting your internship! Here are a few tips and expectations to think about before your first day—this will help pave the path for a successful summer internship.

Do some additional research
Do some research before your first day of work, so you know exactly what the company does and everyone's role. Read as much as you can on the company's website, Google company news to learn about any recent accomplishments and connect with your supervisor on LinkedIn.
Doing this will show your commitment and knowledge about the company—this will also help ease any nerves to make you feel more comfortable and confident on your first day.
Dress to impress
Make sure that you dress appropriately for the office. Email your boss before the first day to verify a dress code.
Set Goals
Set personal goals yourself and have a strategy for how you want to succeed—these goals can range from making as many networking connections as possible, building important professional skills for your resume or even getting published.
Your supervisor will give you specific goals and expectations, but having personal goals you want to accomplish will motivate you to work hard, stay focused and remind yourself of why you are there.
During your internship—Office Etiquette:
Be punctual
Confirm with your supervisor the days and times you're expected to be in the office.
Leave yourself some buffer time in case you miss a train or there is a lot of traffic.
It is important to be on time to work—it is not only courteous to be on time, but this demonstrates to your boss and coworkers that you are dedicated and ready to learn.
Be considerate of the time allotted for a lunch break. Do not take an extremely long break; your coworkers need your help at the office.
Behave like a professional
Smile, shake hands and make eye contact— always walk into the office with a warm and friendly attitude so your coworkers will want to be around you.
Although you are an intern, it is important to treat your internship like a real job and take it seriously. Your work is valuable and impacts the company!
Communication skills
Proofread your written work and emails carefully—if you are emailing your boss, coworkers, or clients, always make sure that you are using professional language.
When you are communicating with your coworkers verbally, be mindful of what you are talking about is work appropriate. Use discretion when discussing your personal life.
Save social media for later
Your Instagram feed is not going anywhere! It will reflect poorly on you if your boss catches you texting or on your personal social media.
Put your phone face down or keep it in your bag until your lunch break.
Keep in mind that you are on your company's time and you will be getting the most valuable experience if you are focused the whole time.
Build relationships with your boss, coworkers, and people in other departments. If you work in a larger company and you are only work closely with a few people, make a conscious effort to branch out to people throughout the whole company.
You will never know when one of your coworkers could help you in the future!
Take Initiative and advocate for yourself
Sometimes your boss or other supervisors are busy and may forget to create a work plan for you. Don't just sit there and wait for work to be given to you, but email or ask around to see if anyone needs help.
Taking initiative in the office demonstrates that you are excited to work hard, you want to be productive and you are independent.
Take on every task
If you are assigned a task that you are not really thrilled about, do it anyway. No matter how small or large the task it, every little bit helps—it will show your boss or coworkers that you are willing to assist in any way you can.
Challenge yourself
Do not be afraid to take on a project that that is outside of your comfort zone. Push yourself to take on a responsibility that is outside of a typical office task.
Do not limit yourself to the job description—your internship is your chance to stand out to the office and to learn as much as possible.
Ask Questions
Do not be afraid to ask questions.
Asking questions shows that you want to learn more and that you are interested in what you are doing.
Ask clarifying questions—If you are unsure what a certain task is, ask questions until you understand exactly what you are supposed to do.
Ask for Feedback
Asking your boss if you can meet regularly to discuss your progress, how you can improve or what you can do differently. This demonstrates that you care about your work and that you want to grow as an employee.
This will also benefit you, so you reach your goals as an intern
After your Internship:
Create a portfolio
Record your accomplishments and experiences so that you don't forget what you did during your internship.
Save all your important files or projects so to add to your resume or show a future employer.
Ask for copies of your work—or if your work is online, make sure that you always have access to it.
Stay in Contact
It is important to email or catch up with your internship supervisor and coworkers periodically to keep yourself fresh in their minds. If a full-time position in the company becomes available, you want them to think of you first.
Update LinkedIn and Resume
Make sure that you update your LinkedIn and resume with all of your internship duties, responsibilities and accomplishments—to get credit for your hard work and stand out to other employers.
Write Thank-You Note
Write a note to your boss thanking him/her for giving you this opportunity.
A thank-you note will make you memorable—so that when a full-time job opens up at the company or if your boss hears about an opening at another company, you'll be considered first.