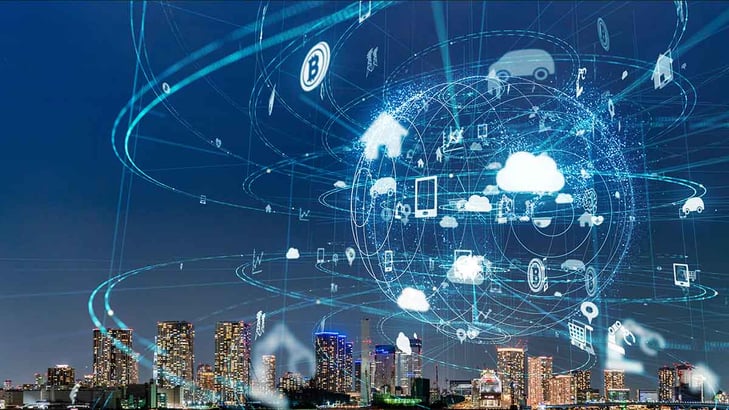 Disruptive technology continues to create ripples of excitement across a wide variety of industries, and the global Artificial Intelligence market is no different. In fact, BCC Research anticipates that the global AI market should reach $294.8 billion by 2026, at a compound annual growth rate (CAGR) of 39.7% for the forecast period 2021 to 2026.
The North American Market is expected to grow at a compound annual growth rate of 39.5% while the Asia-Pacific AI market is expected to grow at a CAGR of 42.0%
The Artificial Intelligence Market Goes from Strength to Strength
Once a buzzword confined to R&D chatter, AI has since gained significant traction worldwide – across both public and private sectors. This is mainly due to the perceived benefits associated with the integration of Artificial Intelligence in business processes. These benefits include:
Higher productivity
Cost reductions
Efficiency improvements
As Artificial Intelligence continues to gain traction, it is expected to have a significant impact on virtually every business sector and subsequently every human being across the globe. What's more, continuous advancements across the Artificial Intelligence field is expected to drive the adoption of other emerging technologies in the market, such as the Internet of Things, robotics and big data.
At present, North America holds the majority share of the global market for AI. However, Asia-Pacific is estimated to become the fastest growing regional market for Artificial Intelligence during the forecast period. This is mainly due to factors such as government policy initiatives, growing digitalization, access to large volumes of datasets and improving technological infrastructure in the region.
The Future of Artificial Intelligence
Advances across the AI market have created opportunities for several applications that looked initially improbable and difficult to achieve only a few short years ago. However, this current wave of AI has enabled the technology we know and love to perform entirely new tasks, making our lives much easier and more productive as a result.
Major factors driving this exponential growth are core advances across the Artificial Intelligence space, including developments in machine learning, reasoning and perception. This is made possible by advances in multiple areas of computer science. Dramatic increases in computing power and cloud storage have increased opportunities to collect, store and share large amounts of data, which is seeing further advancements across the AI space.
The current wave of technological advancements being seen across machine learning, for example, include deep neural networks and probabilistic models that enable computers to instantly translate spoken and written conversations, as well as recognize and accurately caption photos, identify faces and act as personal assistants.
Great strides are also being seen across probabilistic modelling. This sees computing systems consider uncertainties and determine the best solution or recommendation. Coupled with machine learning, this enables a computer to get better at performing tasks based on the data it receives.
What Impact do Consumers Have on Artificial Intelligence Application Across Industries?
Consumers are playing an important role in the advancement of AI technology. Over the last few years alone, consumer awareness of Artificial Intelligence has increased tremendously, as they become accustomed to technologies that can understand everyday speech and make recommendations, such as books and movies, and indeed, filter unwanted spam and clutter from inboxes.
AI also plays a role in helping consumers find the fastest route home in rush hour traffic, and can perform perception tasks. This includes recognizing human faces, detecting potential machinery failures based on sensor data, and even transcribing spoken words to digital text.
Artificial Intelligence is being used to build autonomous cars that can potentially drive more safely than humans, and game-playing machines that can potentially out-compete the world's greatest chess champions. What's more, the impact that Artificial Intelligence will continue to have on the gaming industry is largely driven by consumer demand.
What's Driving Demand for Artificial Intelligence?
The rising adoption of Artificial Intelligence among businesses is to enhance customer service. Our report, Global Artificial Intelligence Market: Investments vs Potential provides insight that reveals modern consumers no longer judge companies solely by the price of their products. Instead, consumers have also started to judge companies by their customer service, along with other factors such as product quality and marketing techniques.
Artificial Intelligence is helping these companies improve their customer service, using AI-based customer services that rely on machine learning and natural learning processing technology.
The use of AI in customer service is a real market driver, with the potential to take the customer service industry to new heights, with less reliance on manual processes. More informed agents, more intelligence responses and fewer tickets created in general enhance customer satisfaction across the board.
AI customer service is increasingly being used across a wide range of industries, including:
Online retail
Healthcare
Telecommunication
Banking
Financial advice
Insurance
Government industries
What's Next for Artificial Intelligence?
The next phase of AI has the potential to build systems that create everything from product concepts and mechanical designs to visual art and background soundtracks. Scientists and investors are aiming to develop new waves of systems that can introduce AI innovation into existing products too.
To find out more about the Global Artificial Intelligence market, download your complimentary copy of the report today.
Keep up to date with emerging technologies and gain access to even more reports every month as a BCC Research member. With exclusive pricing on additional and custom reports, unlimited access to our entire publication library within your chosen vertical and exclusive time and Q&As with our analysts and consultants, there has never been a better time to become a member.