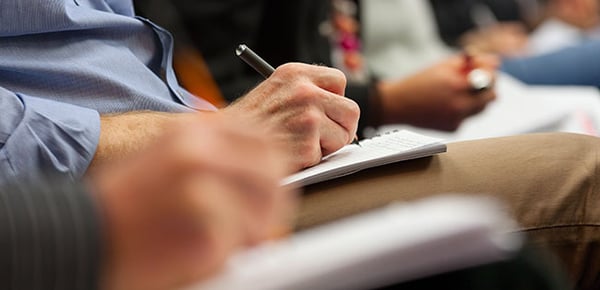 AUTM's 2020 conference is coming up, and we are just a bit excited for it! As we anticipate the amazing connections and topics that we'll be absorbing, we are working on being prepared. And we want to make sure you are too, which is why we've created this post.
We want to help you prime your brain for AUTM, so you can gain valuable insight for the show and be "in the know" during networking conversations. Below is the information you need to do just that!
Today's focus is on the key elements about AUTM that you need to know about, some perks surrounding the event, and of course, some social media commentary. Once you're prepped, make sure you stop by and say hello to us at the event, we're at booth 404 (with cool gifts for you).
Are you ready to walk into this conference with confidence? Let's dig in!
Understanding the Perks of AUTM
There's a lot going on at AUTM, and we want to make sure you don't miss any opportunities.
Below are a few links that will help give you the rundown on the happenings that we're excited for at the conference.
First and foremost, here's the program guide. What are you most interested in?
How much do you know about AUTM? Here's a quick rundown on who they are and their goals.
We're excited to meet with you in person at AUTM's Pitch and Play event!
Things in TTO That Are Worth Talking About
AUTM is an event for learning as much as it is for connecting. Get a head start on both by learning the latest on tech transfer news.
Below are a few links that touch upon the news you should know:
Use this tech transfer news to sound or feel smarter during conversations, and/or give yourself context for what you'll be learning during sessions.

Stoked on Social
We're excited about AUTM, not just for the event itself but for catching up with all of our members and partners who are doing amazing things. If you follow us on Twitter, these will look a bit familiar to you!
Congrats to @SmithGroup for being selected to design the first building on the new @virginia_tech #innovation Campus. #techtransfer
Big shoutout to one of our favorites, University of Michigan, for giving our national economy a $5.6 billion-boost! Read about it here. #TuesdayThoughts #innovation
How will #techtransfer evolve in the next decade? We interviewed experts at @UMDTechTransfer, Nordic Catalyst and Oerth Bio to learn where the field is headed and how to prepare. Read about it here. #blog #interview
BCC is proud to have an office in such an innovative state. According to the 2019 Tracking Innovation report, North Carolina is 21st in the U.S. for #innovation, up from 23rd in 2017. Read about it here, via North Carolina Dept. of Commerce. #techtransfer
Don't follow us on Twitter? What are you waiting for? Follow here--we'll be live-tweeting at AUTM and giving you insider knowledge.
Have you explored our market research library designed for TTOs and commercialization businesses?