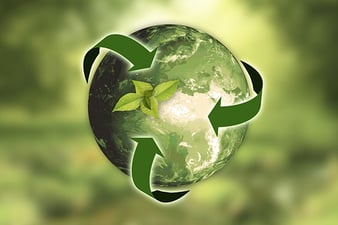 The demand for bioplastic or green polymer packaging—material produced from biomass and/or material that is biodegradable—is on the rise and is expected to grow more than 7% annually through 2023.
The market penetration of bioplastic materials has been substantially low in the last decade. In fact, only 2.1 million tons of bioplastic material was produced in 2017 in comparison to 335 million tons of plastic materials produced in the same year.
However, thanks to the growing availability of raw materials and diverging product portfolios of bioplastic and green polymer materials, the market penetration of bioplastics is expected to grow.
From a regional perspective, the development of biopolymer and green plastic is primarily expected in Europe owing to the growing importance of bio economics in the European Union. Europe is a major hub for the entire bioplastics industry as it ranks highest in the field of research and development. As per European Bioplastics and Nova-Institute, 2018 abut 1/5 of the global bioplastics production capacity is located in Europe and is projected to grow to up to 27% by 2023.
A closer look at what's driving the market for flexible green packaging materials
1. Growing Use of Green Flexible Materials for Primary Packaging.
For consumer goods, pharmaceutical products and certain food and beverage items, the demand for plastic and other rigid packaging material, such as glass, is relatively high. However, with the extensive product development and the introduction of green flexible products, such as bioplastic and green polymer, the market looks promising for the use of green flexible materials in packaging. Additionally, the high demand for consumer goods and increasing healthcare investment is projected to boost the demand for green flexible packaging during through 2023.
2. Sustainability Advantages.
Green flexible packaging inherently brings with it a number of sustainability advantages, including low raw material consumption, low carbon footprint, reduced energy usage and substantially less amount of waste produced in comparison to conventional rigid and plastic packaging material. Various governments worldwide are focusing on creating stringent policies regarding recyclability and reuse of plastics. Implementation of such legislation is further expected to propel demand for sustainable flexible packaging.
Additional environmental advantages of sustainable flexible packaging including the following:
CO2 emissions are lower than that of rigid packaging by over 80%.
Green flexible packaging reduces solid waste by nearly 60% and consumes 80% less fossil fuel for production, compared to the high use of fossil fuels needed to manufacture rigid packaging.
These sustainability advantages offered by green flexible packaging is projected to drive their demand through 2023. Additionally, manufacturers are focusing on product innovations in order to reduce oxygen migration and absorption of food odor, and to preserve food for longer periods of time.
3. Increased Shelf Life.
"Shelf life" refers to the span of time a product or commodity can be stored without spoiling. It depends on the type of stored product and, more importantly, the packaging materials used to store it. After price, shelf life is the most decisive factor for manufactures, suppliers and distributors when choosing packaging materials and compatible packaging equipment.
Barrier films made of aluminum or bioplastic, along with the adoption of packaging formats, such as vacuum and modified-atmosphere packaging enables green flexible packaging producers, and thereby, retailers, to extend shelf life of fresh products. Green packaging materials also give products a positive visual appeal, which is an effective way of attracting consumers. Even a one-minute increase in shelf life, specifically for food and beverage products such as meat products and juices, is a major value-add for engaged industry participants and offers significant opportunity to augment their market footprint.
Need reliable market data? We have what you're looking for.