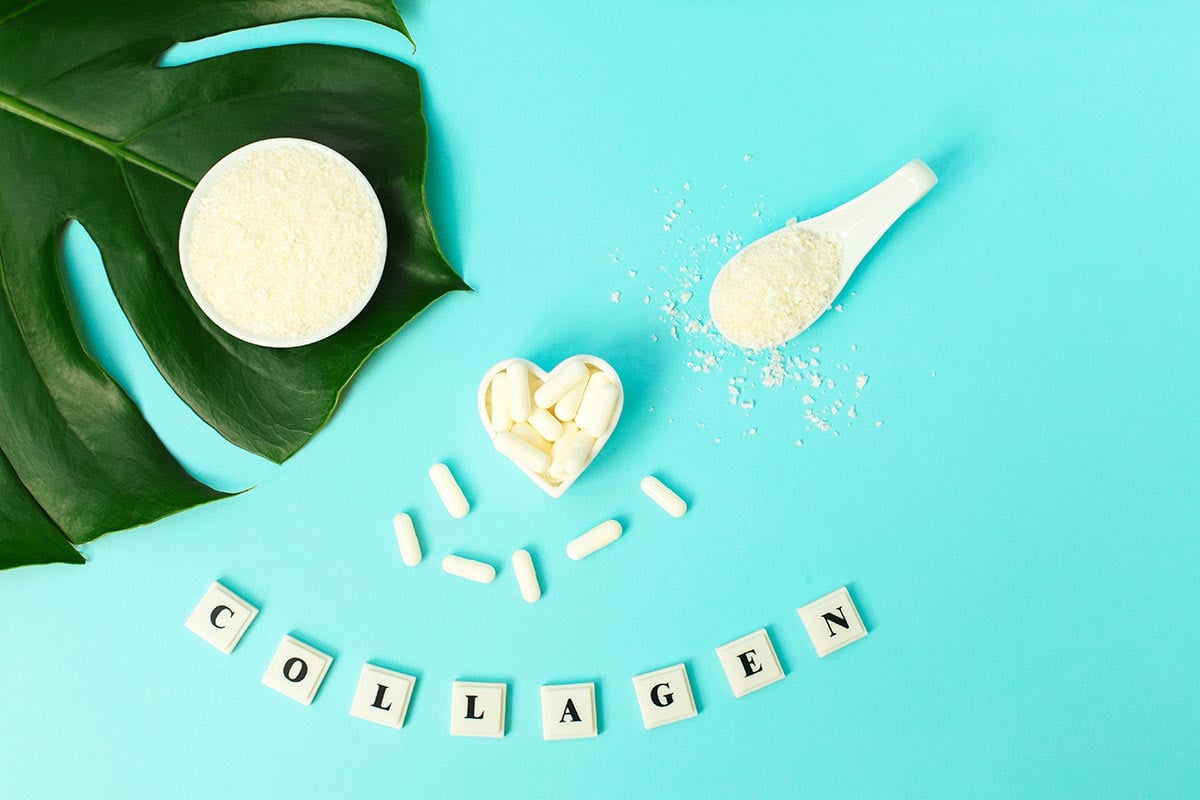 Consumers are becoming increasingly concerned about their health and how they can recognize the link between proper nutrition and a healthy body from the inside out. Collagen is the buzzword of the beauty industry, associated with being an anti-aging elixir as well as a generally healthy ingredient. The growing popularity of nutraceutical collagen supplements is driven in part by the perception of consumers that it is an all-around healthy ingredient with positive outcomes, but what benefits do collagen supplements actually possess?
The beauty of collagen
Nutraceutical supplements dominated the global collagen market in 2021 and are projected to grow at a compound annual growth rate (CAGR) of 6.2% during the forecast period 2022-2027. BCC determines the growth is attributed to the rising demand for anti-aging supplements and dietary supplements across the globe.
With many striving to achieve peak health and beauty in their lifetime, it's a safe bet that you'll find a collagen-based product in most people's beauty and supplement routine. It's easy to see why. Collagen can offer a huge number of benefits, including improving skin, hair, and nail health, and reducing muscle and joint pain. Other benefits have not been as widely studied, but allude to the potential benefits of collagen in weight loss, heart health, and gut health.
Surprising benefits of collagen supplements for athletes
We mostly associate collagen with the beauty industry, but an emerging market for its use in the sports nutrition sector is gaining traction. Whether you are an athlete or an avid gym-goer, collagen is one of the best and most effective recovery proteins, playing a vital role in helping to repair and build tendons, ligaments, muscles, and cartilage that are overstretched during workouts or training. Many people forget that collagen is the most abundant protein in your body. It makes up 10% of muscle mass, meaning regularly taking collagen peptides can be an effective nutritional supplement promoting high performance and a quick return to training.
Health and beauty benefits of collagen supplements
The dietary supplement segment dominated the collagen-based nutraceutical supplements market in 2021. Dietary supplementing with collagen is typically safe, with no side occurrences observed. Nutraceuticals that include collagen peptides have been scientifically demonstrated to improve skin hydration and elasticity in vivo. Collagen-based nutraceutical supplements have emerged as a crucial component in the control of the aging process, providing the youthful and healthy appearance that is desired in the quest for beauty.
As we age, our bodies gradually make less collagen. With aging, collagen in the deep skin layers changes from a tightly organized network of fibers to an unorganized maze. Environmental exposures can damage collagen fibers reducing their thickness and strength and leading to wrinkles on the skin's surface. Collagen supplements, in theory, replenish the lost collagen giving the effect of healthier and more youthful skin, hair, and nails. Usually, in the form of a powder, nutraceutical collagen has been demonstrated to diminish fine lines and wrinkles and restore skin moisture and suppleness.
What is driving the nutraceutical collagen market?
BCC analysts analyze the nutraceutical collagen market in our latest report, concluding that the market for collagen-based nutraceutical supplements is expanding quickly as a result of a rise in experimental and clinical studies that show the positive benefits of dietary supplements on skin health.
The market for collagen-based supplements has seen high demand for animal-based collagen. However, marine collagen is progressively gaining ground since it is devoid of serious pathogens including foot-and-mouth disease, viral infections, and bovine spongiform encephalopathy.
Global Collagen Markets: Nutraceuticals, Food and Beverage, Pharmaceutical and Healthcare, Cosmetics, and Personal Care
The growth in age-related health concerns, better economic situations, spike in healthcare awareness, rise in the geriatric population, and changing lifestyles are factors propelling the nutraceuticals supplement sector of the collagen market.
To read more insights from our analysts on nutraceutical collagen as well as the global collagen market, click here to download your complimentary report overview. Alternatively, you can purchase the full report or gain access to our entire report library by becoming a BCC member. From market sizing and forecasts to opportunity assessments and competitor analysis, being a member of BCC Research entitles you to unlimited report access from the collections of your choice.
Find out more below.