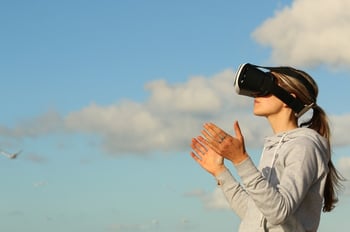 Electronic displays are one of the world's fastest growing technologies. Until recently, these displays were limited to computer monitors and televisions, but today, the field is exploding with a variety of head-mounted and hand-held displays.
This market for HMDs is just a small part of the global market for flat-panel displays, which BCC Research projects to reach $124.6 billion in 2022.
Demand for HMDs is largely coming from virtual reality gamers, and furthermore, displays with a wider field of view, faster refresh rates and higher pixel density are coming on the market. For example, in August Dell released its Visor HMD which banks on greater comfort and a price tag of $50 lower than Acer's unit, which is a production partnership with Microsoft.
The new Galaxy Note 8 will also make use of a flat-panel screen and supports Daydream virtual reality out of the box. "The smartphone itself has all of the necessary hardware to provide users with a high-quality VR experience," noted one review.
Although the number of HMD units is forecast to triple in four years, how cool they will be is up for debate. Google Glass has already come and gone — are today's HMDs tomorrow's mullets?
For the party and gaming crowd, perhaps, but analysts and scholars are predicting that HMDs will find a more permanent home in the workplace. For that, HMD makers are looking at lighter units using firmware, which reduces power draw as well as wireless connectivity to a central server or operating system, making it useful to big-spending clients including the United States Navy, Army and Air Force.
Surgeons have been using HMDs for several years, and studies have found that both high-resolution and low-resolution HMDs are better than using an overhead display on the operating table, though another study noted that HMDs were really only useful if they were comfortable, saying "The validity and usefulness of the HMD-based virtual environments must be understood to fully reap the benefits of virtual reality in rehabilitation medicine."
Military users are looking at augmented reality glasses that have an ambient light sensor and glare shields. In one scenario, a marine could control a heads-up display with a gun-mounted mouse. "The glasses had to pass military spec standards," says one designer. "They're pretty robust. In real-life situations, we have very few returns."
Research into military use has largely come from the Defense Advanced Research Projects Agency (DARPA). DARPA was a key backer in research behind phosphorescent organic light-emitting diodes — PHOLEDs — which represent a breakthrough in internal unit efficiency.
Electronic displays are one of the key components in the exploding popularity of hand-held devices such as mobile phones, camcorders and digital cameras, and when it comes to these devices, organic light-emitting diodes (OLEDs) are leading the charge in technological breakthroughs. OLED technology is rumored to be used in the next iPhone. While OLED displays have been in televisions for years, the technology has only recently advanced to the point where it can effectively be used in mobile phones. The rumored use of OLEDs in the screens of the next generation of iPhones is one reason why Apple stock has been on a tear recently. Use of OLEDs in the new LG phone is one reason why industry watchers expect that unit to challenge traditional leaders like Apple and Samsung.
China and the rest of the Asia-Pacific region lead the global market share for use of display materials, according to a recent report by BCC Research. The Asia-Pacific region accounted for 45% of global display material use and purchase – a figure that is forecast to grow to 49% by 2022.
"The Asia-Pacific region is the largest consumer of display materials in the form of actual display products," said report analyst Andrew McWilliams. "This region is heavily populated and the economies of nations such as China have grown to the point where large numbers of consumers can afford electronic devices."
Although HMDs' applications and users may change in the coming years, from gamers to surgeons and military professionals, one thing is certain: OLEDs will be among the leading segments of the electronic display materials market. For more information on this market, five-year forecasts and CAGRs, download the report overview.