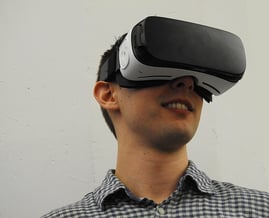 Not too long ago, bringing a techie gadget to school was a sure way to get some unwanted face time with a teacher. Now, many schools require them. The explosion of classroom-ready tech is changing how students learn, and classroom wearables are quickly joining tablets and laptops as the device of choice.
Wearable devices are lightweight and easy to tote from home to school and back. Devices you probably have heard of—such as Google Glass, Narrative Clip and Oculus Rift—are popular in many classrooms today. Wearables are the new frontier in connected learning.
How? Students are using wearables to take notes, interact each other, visualize concepts and even explore new frontiers on "immersive, virtual journeys" that Google Expeditions offers with the help of an app and VR viewer.
A Field Trip to Egypt — Without Ever Leaving Evansville
While the Spring Break trip to Washington, D.C. may still be a rite of passage in hundreds of schools, many classes are already taking adventures to far-flung locales without ever leaving the room thanks to virtual reality systems, including even the simplest cardboard headsets meant to hold a student's smartphone.
"Wearable VR goggles make this virtual field trip feel incredibly immersive," notes one Gadgets & Wearables article. "VR glasses are a one-time investment that can be used over and over again in the classroom, allowing students to experience things they may not have otherwise been able to do. As wearable tech becomes more and more accessible, the landscape will continue to shift."
That shift means that, for example, even kindergartners can go to the zoo. Tools like Google Expeditions can be organized by teachers, who lead students through a virtual world using a tablet, directing students toward specific attractions—and even being alerted when students aren't looking at what they should be.
"Virtual reality technology can also lend itself to students with different needs and learning styles as VR encourages student exploration, multiple entry points to join the learning, and peer collaboration that otherwise may not be possible," one Wisconsin teacher said in the Journal Sentinel.
Europe And North America Lead the Global Wearables Market
The market for classroom wearables is projected to grow by 14.4% annually, according to a report from BCC Research, Educational Equipment and Software: Global Markets. The market value for wearables is projected to grow from $988 million in 2016 to $2.23 billion by 2022, according to the report.
In terms of educational hardware, classroom wearables account for 4.8 percent of the global market in 2017. The wearables market is growing the fastest in Europe, with average gains of 14.9% annually projected through 2022, followed closely by North America and the Asia-Pacific region. In terms of volume, the North American market for wearables could reach $804 million by 2022 with the Asia-Pacific region accounting for sales of $681 million. In Europe, the market's value could reach $478 by the same time.
For more information about the market for classroom wearables, click the button below to download a free report overview.