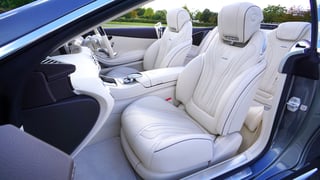 Drivers of luxury cars and SUVs have for years enjoyed the benefits of head-up displays, where information is projected on to the lower part of the windshield, close to the driver's line of vision. Premium brands like Audi, Jaguar, Mercedes and BMW often have head-up displays as standard equipment, but now the units are popping up as options in more affordable cars like the Mazda3, the Mini Cooper, the Ford Shelby and the Toyota Prius.
Advanced systems present data and information in a simulated 3D display, and present speed, turn-by-turn directions, lane departure warnings, emergency brake warnings and fuel economy ratings.
Toyota research and development team is helping to push the boundaries of what is possible with a head-up display. Prototype units "turn the windshield into an augmented reality projection screen," reported Autobytel. "Among the many things it can tell a driver is the proximity of parking spaces and even if there's still some time left on a meter." Volvo's screen, meanwhile, can be adjusted for brightness and position using buttons on the steering wheel, and the settings can be saved as part of a driver's seat memory. In the BMW 7 series sedan, the full color head-up display shows speed limits, exit lanes and who is calling on the phone.
Aftermarket Units Bring Head-up Displays To Any Vehicle
A host of electronics companies are now offering aftermarket head-up displays which can be used in any car regardless of its pedigree. Starting at prices as low as $40 (and rising to more than $400 for the best models), aftermarket units like the Navdy offer wealth of data displayed clearly and brightly. Like others, the Navdy uses Bluetooth to sync with a smartphone and proprietary as well as third-party apps to present information—and it can also respond to voice commands and hand gestures.
Continental's augmented-reality head-up display uses a digital mirror to present simple driving directions which utilize moving arrows to point the way as well as lane-departure warnings which appear on the windshield as red warning flashes. Adaptive cruise control is noted by a red cushion appearing around the leading vehicle.
A $24 Head-up Display That's Better Than the Unit in a $100,000 Car?
The next frontier in head-up displays may be in your pocket. Some aftermarket manufacturers are pairing smartphones with an inexpensive screen to create a dirt cheap head-up display. The adapters work with both iPhone and Android devices and offer a durable glossy display, simple installation and a clear image displayed on a transparent screen. In general, the units include a base which the phone sits on and a movable screen which displays information projected from the phone.
Want head-up display on your motorcycle—or your bicycle? Head-up displays are being built into motorcycle helmets and feature a microphone and earphones for voice control as well as a digital compass. Another manufacturer is building a tiny head-up display into glasses for use by bicyclists, and a similar project is being installed in ski goggles.
Global Head-up Display Market Enjoying Robust Growth
Projection unit head-up displays are the leading segment of the global market for head-up display units, with sales expected to reach $3.7 billion by 2022 and average annual growth estimated to be at 25% through the period, according to a new report from BCC Research.
Overall, the auto industry head-up display market rivals the market for head-up displays in aircraft, the report notes. North America leads the world in both market size ($2.4 billion by 2022) and average annual growth (26.1% through the period), followed by Europe and the Asia-Pacific region.
For more information about the global market for head-up displays, download BCC Research's free report overview.