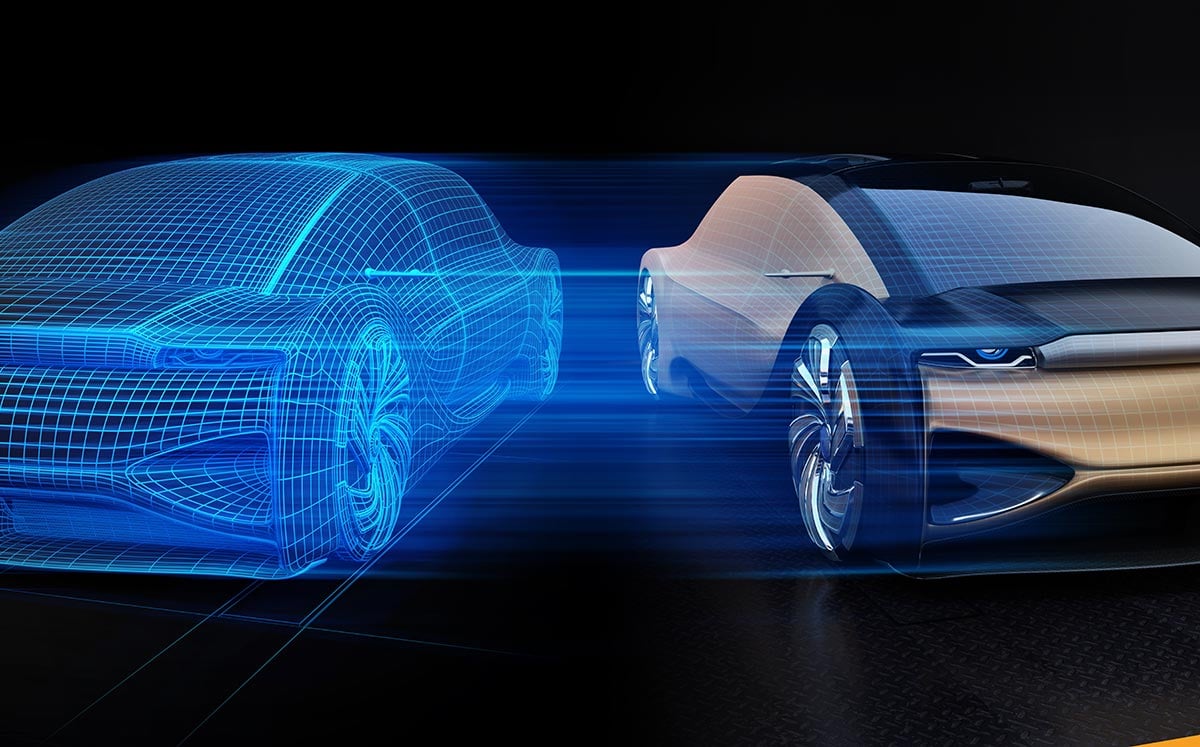 Business process transformation is becoming a major focal point for organizations, aiming to improve their operational decision making with data. The digital twin market is aiding in this area with its ability to mirror products and therefore encounter possible errors or insights before they have happened on the original device. The global market for digital twins has already seen remarkable growth, and is expected to hit $50.2 billion by 2026, at a compound annual growth rate of 59.0%.
What is a digital twin?
A digital twin is a digital version, or twin, of a physical product such as wind turbines or even whole cities. The idea behind it is that the technology can be used to predict how the physical asset will function under different conditions as well as collect and analyze data.
Digital twins sit within the realm of the Internet of Things (IoT) which is essentially the network of physical objects that are embedded with technologies to connect and exchange data with other devices over the internet or other communication networks.
Some of the benefits of digital twin software are:
Increased reliability
Reduced risk
Lower maintenance cost
Improved production
The companies within this space that provide digital twin services generally fall under technology and platform providers or digital and automation providers.
The top 10 companies operating in the digital twin market
Technology and platform providers
IBM Corp.
Founded in 1911, IBM produces and sells computer hardware, middleware, and software, and provides hosting and consulting services in areas ranging from mainframe computers to nanotechnology. IBM's portfolio of products and services include cloud computing, AI, ecommerce, data and analytics, IoT, IT infrastructure, mobile, digital workplace and cyber security.
Customers can download, manage, and purchase digital twins from IBM's Digital Twin Exchange, which supports a range of downloadable digital twin types, including bill of materials, 3D CAD files, engineering manuals, and building information models. In terms of revenue, IBM took home $73.6 billion in 2020, making this the leading company out of the technology and platform providers for digital twin services.
Microsoft
Microsoft is a name you'll know and a brand you probably already use. Within technology and platform providers, they are a company that specializes in the development of software, services, devices, and solutions for customers.
The sector of Microsoft that offers digital twin solutions is Azure Digital Twin. This is an Internet of Things (IoT) platform that enables users to create a digital representation of real-world things, places, business processes, and people. This allows customers to create better products, optimize operations and costs as well as improve customer experiences.
Oracle
Oracle is the next company headlining the technology and platform providers of digital twins. The company sells database software and technology, cloud-engineered systems, and enterprise software products. Oracle also develops and builds tools for database development and systems of middle-tier software, enterprise resource planning software, and supply chain management software as well as others.
Oracle offers a product called IoT digital twin simulator. This allows users to create simulated devices without the need to connect and set up hardware. Users can generate configurable live data, alerts, and events for these simulated devices.
SAP SE
SAP SE is a company that develops business software, including business and enterprise management software, consults on organizational usage of its application software, and provides training services.
SAP SE offers IoT solutions that offer business services and capabilities to address industrial IoT use cases across manufacturing, supply chain, logistics, assets, products, and service management.
Infosys LTD
Infosys offers digital and outsourcing services, as well as business consulting and software development, to finance, insurance, manufacturing, and other industries.
Infosys digital supply chain management suite of solutions/ services, which is part of Infosys Cobalt, helps organizations accelerate the adoption of the digital supply chain. It does this by implementing best-of-breed technologies and practices, proof of concepts, and critical design-thinking-led approaches to cope with disruption.
Digital and automation providers
ABB Group
ABB technology allows customers to connect software to its electrification, robotics, automation, and motion portfolio. The company operates under four reportable segments: electrification, industrial automation, motion and robotics, and discrete automation.
One of ABB group's products, Robot Studio, offers a complete digital replica (digital twin) of physical assets or systems so customers can see what's going on in their production lines remotely. The offline programming enables users to create, simulate and test a complete robot installation in a virtual 3D environment without having to disturb their production line.
Bosch Rexroth AG
Bosch Rexroth AG is a mechanical and plant engineering firm and is a wholly owned subsidiary of Robert Bosch GmbH.
One product, ctrlX IPC, helps companies cope with the increasing volume of data in the context of Industry 4.0 through strong edge computing.
Dassault systems
Dassault systems provide businesses with 3D experience universes to imagine sustainable innovations harmonizing products, nature, and life. The company's software portfolio spans modeling and scientific simulation to production and logistics optimization and has applications in natural resources, cities, transportation, and smart products.
Dassault systems Structure Simulation Software consists of finite element analysis (FEA) and other structural mechanics solutions to simulate how products and assemblies behave under real-world loading and temperature conditions.
Rockwell Automation, INC
Rockwell offers hardware and software solutions for industrial automation and digital transformation. These include control systems, industrial control components, motor control devices, sensing devices, network technology, safety technology, and industrial security.
Their product, Emulate 3D digital, enables customers to see how a machine runs before parts are ordered. Customers are also able to discover control issues before they go on-site, transport personnel to a virtual world where they can train on twin software systems without consequence and predict future performance.
Schneider Electric SE
Schneider Electric SE provides energy and automation digital solutions. These solutions address homes, buildings, and data centers by combining energy technologies as well as real-time automation software and services.
ETAP energy management software platform is a product that digitizes infrastructure from connected products into analytics that can create more efficient, safe, and sustainable data centers, utilities, and transportation. It is a software platform for electrical power systems modeling and simulation, which then optimizes customers' electricity power systems based on their digital twin equivalents.
Digital Twin Market: what's next?
The global market for digital twins is expected to increase at a compound annual growth rate (CAGR) of 59.0%, growing from $4.9 billion in 2021 to an expected $50.2 billion in 2026.
To find out more about the top 10 companies involved in the digital twin market, and an in-depth analysis of the multiple products they offer within this space, download your free report overview, or purchase the full report here.
To read even more industry-specific company profiles and detailed market reports, become a BCC member today! To find out the benefits of a BCC membership, speak to a member of our helpful team.