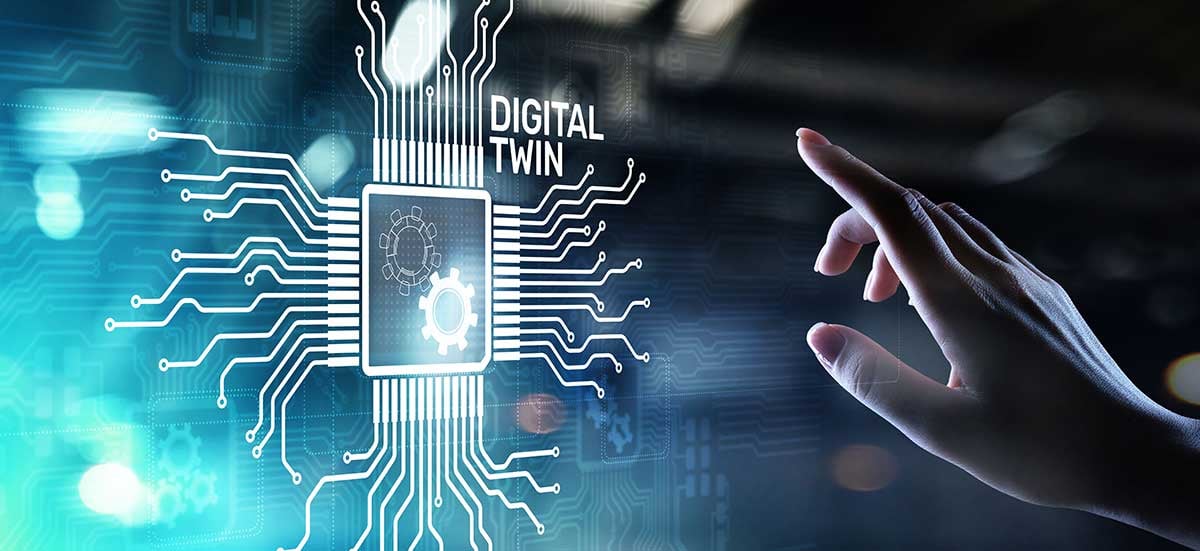 The global digital twin market is experiencing a boom in terms of growth. In fact, the market is expected to increase from $4.9 billion in 2021 at a compound annual growth rate (CAGR) of 59% during the forecast period 2021-2026.
Download our recently published report on the digital twin market.
What is a digital twin?
A digital twin is exactly that: it is a virtual representation of a physical product, designed to reflect the physical product exactly.
Digital twins can perform specific functions that support the development of physical products. Wind turbines, for example, are equipped with an array of sensors connected to critical areas. These sensors allow the turbine to function correctly by collecting data on energy production, weather conditions, temperature and other key metrics. This information is then processed and converted into a digital version.
Once this information is transmitted to a virtual wind turbine model – a digital twin – it can be used to run simulations, investigate performance concerns and suggest changes and improvements. Ultimately, a digital twin enables manufacturers to gain insights that can later be implemented in the improvement of physical wind turbines.
Why is a digital twin useful?
A transformative shift is being seen across many industries, as digitalization continues to permeate business processes globally. In asset-intensive industries, we're seeing a digital reinvention taking place, and the digital twin market is crucial in the continued disruption of processes and products.
Ongoing digital disruption is changing operating models to the point where many businesses now require an integrated physical product, coupled with a digital view of assets, equipment, facilities and processes.
As a result, digital twins are becoming incredibly useful tools. They support in pinpointing stress spots and are invaluable in specific processes including product development and operations, as well as asset utilization and risk.
What's more, due to the increased volume in cognitive power being devoted to their use, digital twins are able to constantly learn new skills and capabilities. This means they can continue to generate the insights needed to improve physical products and enhance the efficiencies of specific business purposes.
How has the pandemic impacted the digital twin market?
COVID-19 has aided in the prioritization of digitalization globally. Indeed, the acceleration of a "touchless society" was seen across the globe when the pandemic hit, with the contactless delivery of products and services becoming increasingly important.
For example, across the healthcare market, digital twins became useful in reducing the potential risks of needless contact with patients. Moreover, healthcare professionals are now also able to create live models of institutions, supply lines, medical items and even parts of the body and organs by linking vast networks of advanced digital twins.
The solutions that digital twins can offer the healthcare industry alone will start to inform the digital strategies of individual healthcare organizations across the globe.
What does the future hold for the digital twin market?
The digital twins market is expected to grow exponentially throughout the forecast period, at a compound annual growth rate of 59%.
In a world being reshaped by the coronavirus pandemic, digital twins are enabling organizations to become more cost-effective and gain competitive advantage. Digital twins are enabling businesses to make more informed, data-driven choices, which in turn, transforms how companies operate.
Furthermore, as the Internet of Things expands, becoming more sophisticated, digital twins will become crucial. Beacons and sensors rely on them for stability, and they serve as a central repository for data gathering. Digital twins serve as the foundation for business management solutions; without them, the IoT will require much more connectivity among data source and data utilization points.
If you'd like more information on the digital twin market, including how specific organisations are using digital twins, highest growth areas and individual industries seeing their own exponential growth as a result of digital twin adoption, download our digital twin report today.