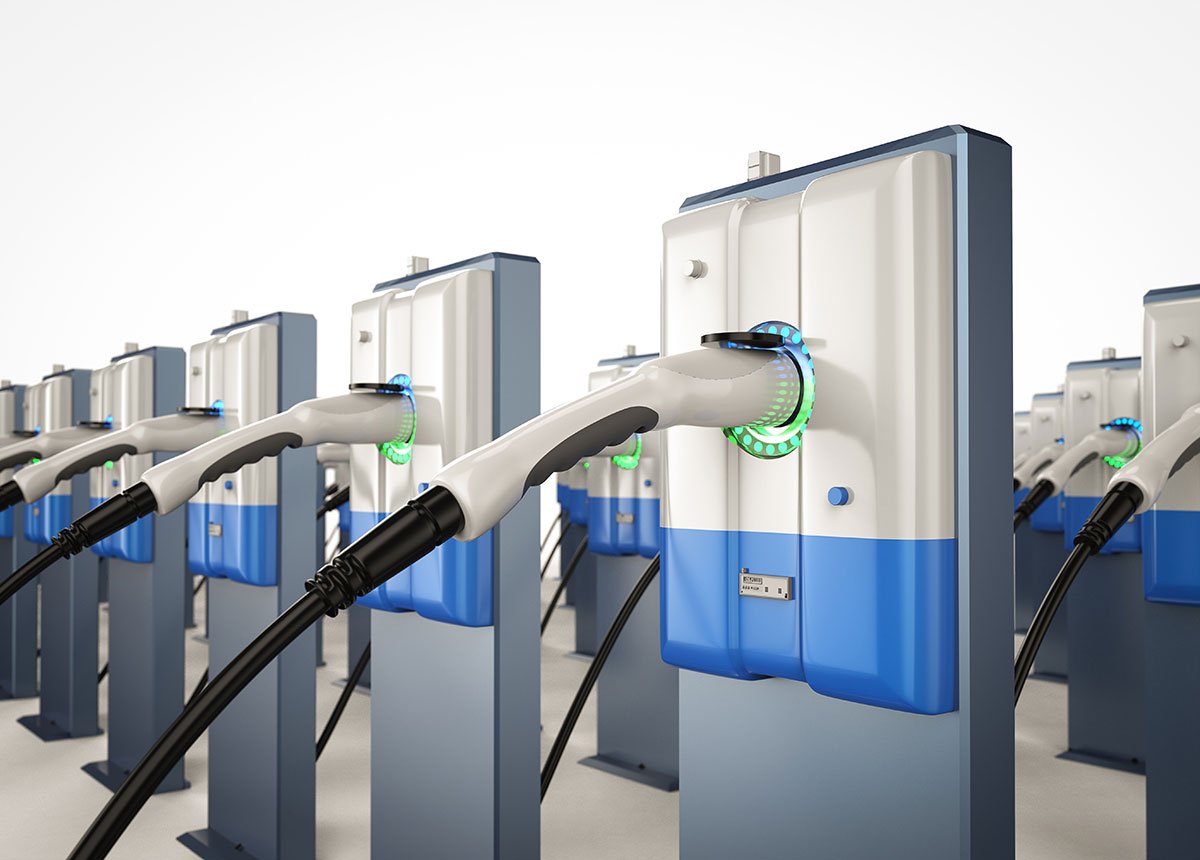 Electric vehicles provide a cleaner, more sustainable way to get from A to B. Ditching fossil fuels for an electric engine not only reduces your carbon footprint but reduces emissions and helps to combat our current global warming crisis. As with any car, EVs must be refueled. However, with traditional fuel redundant, charging stations have been put in place to replicate gas stations without the toxic fumes.
One benefit of electric vehicles is that they can be charged in various areas (e.g., homes, offices, malls, and parking spots). These places, however, must have the right infrastructure in place for charging. The key to the widespread use of electric vehicles will be a network of charging stations that are both accessible and widely distributed. Charging stations are being installed to meet the expectations of consumers looking for emission-free reliable transportation sources.
Who is leading the electric vehicle charging stations market?
It will come as no surprise that the companies investing in, and innovating charging station technology, are closely related to the manufacturing of electric vehicles and sustainable technology. The global market for wired electric vehicle charging infrastructure is estimated to grow from $24.1 billion in 2022 to $81.1 billion in 2027, with the help and innovation of companies within this industry. These organizations have listened to electric vehicle owners' concerns over charging anxiety, and have cornered the market, introducing innovative solutions and technology to accompany the forward-thinking of owning an electric vehicle.
The top 10 companies in the electric vehicle charging stations market:
1. ABB Group
ABB is a leading global technology company that works towards the transformation of society and industry to achieve a more productive, sustainable future. Their position in the electric vehicle charging stations market is due to their continued partnerships and contemporary technology.
April 2022
ABB and Shell announced a global framework agreement for the latter to use ABB's technology to expand its network of EV charging stations. This deal expands on a partnership between the two organizations that started in 2019 and will use ABB'5 Terra 360 rapid charger.
2. ChargePoint Inc.
Since 2007 ChargePoint Inc. has focused solely on offering the best electric vehicle (EV) charging experience for everyone involved in the shift to electric mobility.
July 2021
ChargePoint Holdings Inc. announced it had signed a definitive agreement to acquire Has To Be, an e-mobility supplier with a major European charging software platform to boost the number of EV stations in the region.
October 2019
ChargePoint and EVBox entered into an agreement that allows their customers to use their charging stations without any extra charge across Europe and North America.
3. Tesla
Tesla is an American multinational automotive and clean energy company that designs and manufactures electric vehicles, battery energy storage from home to grid-scale, and related products and services.
To go alongside their manufactured electric vehicles, tesla has naturally developed a charging infrastructure to market their vehicles as a whole package. Tesla's Supercharger network allows you to stay charged on the go, by plugging in at a convenient location and getting back on the road. Over 35,000 Superchargers have been implemented globally and a continuous expansion plan is in place.
4. Blink Charging Co.
Blink is a driving force in the EV infrastructure industry. Developing innovative next-generation products, their mission is to slow climate change by reducing greenhouse gas emissions caused by transportation.
June 2022
Blink Charging announced the transformative acquisition of EV charging leader SemaConnect, further expanding its network and capabilities.
October 2019
The company entered a joint venture with Hubject GmbH, a company formed by BMW Group, Siemens, and the Volkswagen Group. They aim to provide an opportunity to all Hubject charging platform users to use the Blink Charging network of chargers in the US.
5. EVBox (Engie)
EVBox believes that as charging needs evolve, their company will continue to provide the infrastructure and expertise needed to adopt electric mobility – along with all the support to keep customers happy and vehicles on the move. Their goal is to collaborate in shaping a sustainable future of transportation that's better for everyone.
October 2022
EVBox equips Jean-Pierre Beltoise Car Circuit with Charging Stations.
EVBox, a leading manufacturer of scalable and flexible charging solutions, has been chosen by Beltoise Evolution, an expert in road safety training, to provide charging stations for their racing car circuit property in France. This is part of Beltoise Evolution's mission to evolve vehicles towards alternative, sustainable energy.
March 2019
Engie acquired EVBox a Netherlands-based electric vehicle charging service provider with approximately 40,000 charging stations.
6. BP Pulse
BP (previously Chargemaster Group) is the UK's only fully integrated, end-to-end manufacturer and operator of charging infrastructure. Their focus is on enabling EV drivers to charge at home, at work, and on the go.
They work with the world's leading vehicle manufacturers to support their customers, as well as some of the UK's biggest fleets, leasing companies, and local authorities.
2021
The first fleet charging hub was launched at Q-Park Park Lane in London, offering fast and convenient charging for ride-hail and fleet drivers.
June 2018
BP announced that it has agreed to purchase Chargemaster, the UK's largest electric vehicle (EV) charging company. Chargemaster operates the UK's largest public network of EV charging points, with over 6,500 across the country.
7. Siemens AG
As a focused technology company, Siemens creates technology that empowers its customers to positively transform the industries that form the backbone of our economies – industry, infrastructure, transport, and healthcare. From more resource-efficient factories, resilient supply chains, and smarter buildings and grids, to cleaner and more comfortable transportation as well as advanced healthcare, siemens creates technology with purpose adding real value for customers.
June 2022
Siemens, a global technology and electrification leader, invested significantly in Electrify America, the largest open ultra-fast electric vehicle charging network in North America. This strategic partnership aims to grow a collaborative ecosystem that propels EV adoption across the U.S. and Canada.
Sept 2019
The company partnered with SPIE, a technical service provider, to install a fast-charging station.
8. Fortum
Fortum's purpose is to drive change for a cleaner world. They are securing a fast and reliable transition to a carbon-neutral economy by providing customers and societies with clean energy and sustainable solutions.
March 2019
The company acquired plugsurfing GmbH, an independent EV charging service provider in Europe. The company has a user base of 50,000 EV drivers with 200 charging networks in over 24 European nations.
9. NewMotion (Royal Dutch Shell plc)
NewMotion, which is part of Shell Recharge solutions, is on a mission to enable cleaner transportation for everyone, driving the way toward a lower-carbon future. From more sustainable transport to smarter energy ecosystems, their passion for e-mobility empowers people to go electric and charge smart.
2020
At the inaugural Electric Vehicle Innovation and Excellence awards (EVIEs), NewMotion was named "Charge Point Manufacturer of the Year".
Within the category, all charge points were judged on speed, design, consumer benefits, customer experience, and innovation. By excelling in all elements, NewMotion was selected by the panel based on customer testimonials and performance data.
10. Webasto Group
Webasto is a local and global partner for electro-mobility. They offer original equipment manufacturers (OEMs) various high-performance charging solutions as original equipment in electric vehicles and industrial applications, intelligent charging stations plus digital services that make EV charging easy, smart, and efficient.
September 2022
The Webasto Go™ mobile charger, developed, tested, and produced by Webasto, is a globally certified product and is now available in the US and Canada for EV owners to purchase at major retail stores or directly on the Webasto EV Solutions website. Further rollouts are planned for the rest of the world.
March 2019
Webasto made a strategic agreement with Whisperpower for a global distribution partnership agreement of the Whisperpower products.
Electric vehicle charging infrastructure market
Wireless EV charging has the potential to accelerate the adoption of electric vehicles. With a high-powered wireless EV charging system, vehicles may be charged automatically while parked at designated pick-up/drop-off sites, thus serving as a perfect solution for permanently charging taxis or autonomous vehicles. BCC's latest report on EV charging infrastructure delves into the global market, highlighting key factors accelerating the growth of the industry. To purchase the full report or to download your complimentary report overview, click here.
Alternatively, become a BCC member and gain access to our entire syndicated report library. Unlimited access to reports from the collections of your choice, exclusive pricing on custom consulting projects, and unrivaled customer support are just a few of our membership benefits. Get in touch today to discuss this further!