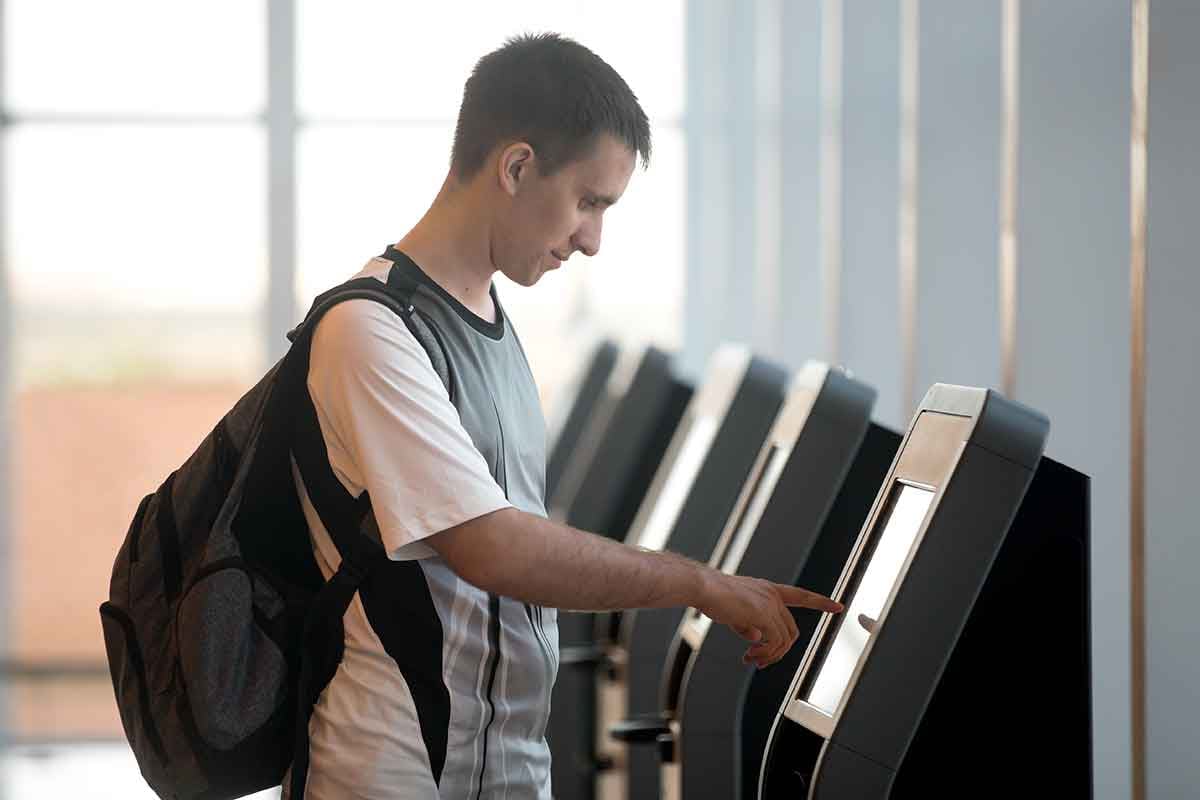 It's nearing the end of 2022, which means we're sharing some of the most popular content on our website. 10 leading companies in self service kiosks was our top-performing blog over the last year, a reflection of the product's enduring popularity. BCC Research has projected that the US market for self-service kiosks should expand to $4.6 billion by 2026, up from $2.4 billion in 2021. Growth comes in at 13.6% CAGR for this forecast period.
This blog was based on a report first published by BCC Research in March 2021, with a new version being released earlier this year. In the latest report, we've seen a growing demand for touchless kiosks – highlighted by the increased focus on hygiene born from the Covid-19 pandemic.
Key solutions of self-service kiosks
Leading kiosk providers are now developing solutions that offer contactless interfaces. Voice control, gesture controls powered by hand tracking and mid-air haptics, and contactless mobile systems are among the most popular contactless technologies applied to self-service kiosks. The industry, like all others, is subject to change, which means keeping up to date with emerging trends is vital to succeeding.
Potential risk factors for the self-service kiosks market
While the market is primed for continued growth, there are potential risk factors that must be considered. Self-service kiosks are vulnerable to hacking, due to kiosks often being installed on the same network as other company workstations. According to a 2018 Positive Industries survey, kiosks can be hacked in less than twenty minutes, resulting in ATM jackpotting, PIN stealing, and malware attacks. While there are preventative measures vendors can take, such as firewalls, antivirus software, and encryption, putting the correct measures in place to prevent hacking should be a key consideration for those operating within the industry.
12 Leading Companies in Self-Service Kiosks
Given the popularity of our original blog, we're providing a recap on the top companies leading in the self-service kiosk landscape. Given the rising proliferation of touchless kiosks, we've added two additional companies who are paving the way in this area.
Kiosk Innovations is a self-service interactive kiosk manufacturer. The company developed foot-controlled (Foot-Nav) and gesture-controlled (Gesture-Nav) kiosks to aid with touchless navigation.
22Miles is a leading digital signage software and solutions provider. The company developed a Voice Activation/Recognition and Control solution, improving the user experience and meeting the growing demand for touchless services.
Honeywell is a technology and manufacturing company with diverse offerings across numerous industries, including Aerospace, Home and Building Technologies, Performance Materials and Technologies, and Safety and Productivity Solutions.
DynaTouch is one of the leading manufacturers of customized self-service solutions.
This privately held company provides interactive kiosks to a range of leading companies and organizations. The company's offerings cover both interactive kiosk hardware and software solutions.
This California-based company provides innovative tablet solutions to connect businesses with their customers. These are designed to help transform business operations, increase efficiency and improve customer interactions.
Nanonation develops customer interaction software, with a diverse product outlet that covers digital signage, interactive product finders, digital photo booths, interactive signage, and more.
Parabit Systems designs and integrates enclosures and software. The company's products allow users to authenticate physical identities and manage facilities.
Pyramid Computer GmbH is one of the top manufacturers of self-ordering kiosks. It develops and manufactures IT solutions across the retail and hospitality spectrum.
Self-Service Networks were an early pioneer of interactive kiosks. Self-Service Networks aim to deliver secure, unattended transaction solutions.
The company offers a complete line of POS hardware and mPOS solutions. These include all-in-one touch systems, mobile devices, peripherals and payment terminals.
This company is largely involved in the design, manufacture and sales of a broad range of products that capture and move data in the automatic identification and data capture solutions industry.
Learn more about the self-service kiosk market
Self-service kiosks have plenty of scope for innovation. Improved security software and enhanced touchless interfaces offer ample opportunities for growth. Understanding the ins and outs of the industry is vital to navigating the ever-evolving industry.
BCC Research provide reliable data and thorough yet digestible analysis of the self-service kiosks market. Our insight can help mitigate risks and identify windows of opportunity, so that you can make smarter business decisions.
Our free report overview provides an insight into the contents of our Self-Service Kiosks Market report. Download your complimentary copy here.
We also provide bespoke and tailored research solutions to meet your business needs. Get in touch today to discuss this option – we'd love to hear from you!
Alternatively, our library membership gives users access to a range of relevant reports to offer a holistic overview of entire sectors. Enquire below to find out more.