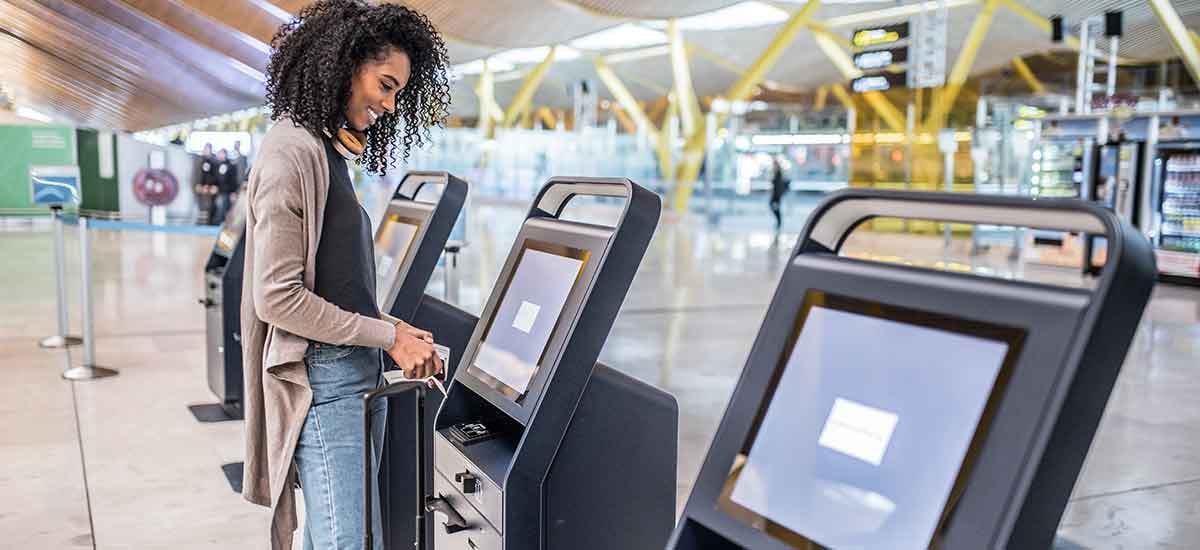 Self-Service Kiosk Market Overview
The self-service kiosks industry has been growing at a significant rate in the U.S over the last decade. The purpose of a self-service kiosk is to speed up customer interaction, ensuring a fast and convenient exchange on both sides.
Four basic services are normally offered by self-service kiosks: payment options, check-in services, branding/promotion and product management. Near-field communication (NFC) and other safe payment options are provided by some self-service kiosks, enabling users to purchase a vast range of digital services via an automated system.
With self-service kiosks, check-in for hotels and flights can be done very quickly, saving a lot of time compared to other types of check-in. Without any extra effort from the company, branding and marketing are easily done because any ads can be shown on the kiosks for a large number of people to see. Finally, if a product needs to be delivered rapidly, kiosks can do this, handling heavy foot traffic while ensuring accurate service.
Self-Service Kiosks Trends And Projections
The U.S. market for self-service kiosks should grow from $2.1 billion in 2020 to $4.4 billion by 2025, at compound annual growth rate (CAGR) of 16.1%.




Check-in self-service kiosks should grow from $354 million in 2020 to $873.6 million by 2025, at a CAGR of 19.8%.




Bitcoin self-service kiosks should grow from $34.2 million in 2020 to $211 million by 2025, at a CAGR of 43.9%.
10 Leading Companies in Self-Service Kiosks
Founded in 1985, Honeywell International is a diversified technology and manufacturing company that operates four business segments: Aerospace; Home and Building Technologies; Performance Materials and Technologies; and Safety and Productivity Solutions.
DynaTouch is an IT solutions company specializing in self-service solutions using kiosks, public access workstations, digital displays, mobile devices, and other interactive technologies. The company was established in 1988 and has been one of the leading manufacturers, developers and integrators of customized self-service solutions.
Kiosk Group Inc. is a Maryland-based, privately held company that provides interactive kiosks to many leading companies, organizations and government agencies. With over 30 years of experience, the company develops both interactive kiosk hardware and software solutions for hundreds of interpretive exhibits, transactional kiosks, sales exhibits and training programs.
Lilitab LLC is a California-based company that designs innovative tablet solutions that help businesses to connect with their customers. The company provides fully customizable, end-to-end solutions that transform business operations by increasing efficiency and improving customer interactions.
Nanonation is a U.S.-based company that develops customer interaction software, including digital signage, interactive product finder, digital photo booth, interactive signage, directories, donor recognition signage, digital trophy cases and an interactive timeline.
Parabit Systems is a U.S.-based company that designs, fabricates and integrates enclosures and software. Products provided by the company allow users to authenticate physical identities and manage facilities efficiently and effectively.
Pyramid Computer GmbH is one of the leading developers and manufacturers of IT solutions for the retail and hospitality segments. From its inception in 1985, the company has established itself as one of the leading manufacturers of self-ordering kiosks.
Founded in 1996 by Thomas Smith, Self-Service Networks emerged as an early pioneer in the interactive kiosk and self-service industry. Self-Service Networks has helped businesses empower their customers with secure, unattended transaction solutions.
Founded in 2006, TEAMSable POS started as a division of Team Research Inc., a public company in Taiwan and doing business in California for over 25 years. The company offers a complete line of POS hardware and mPOS solutions including all-in-one touch systems, mobile devices, peripherals and payment terminals.
Zebra Technologies Corp. and its subsidiaries are global leaders in providing innovative Enterprise Asset Intelligence (EAI) solutions in the automatic identification and data capture solutions industry. The company is largely involved in the design, manufacture and sales of a broad range of products that capture and move data.
For additional intel into the U.S. market for self-service kiosks...