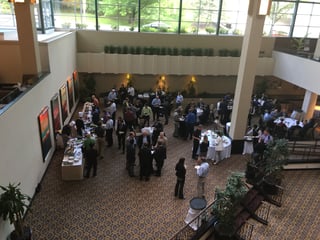 Three and a half days, eight posters, 30 presentations, and 150 satisfied attendees made for a very successful FLAME conference!
The Conference on Recent Advances in Flame Retardancy of Polymeric Materials began with an interactive short course followed by two and a half days of continuous presentations. The short course is designed for technical specialists and marketers new to the FR industry and serves as a primer prior to attending the main conference, consisting of three interactive lectures. For the main conference, each speaker is allotted 30 minutes for their presentation which includes a short Q&A period.
Presentations were given based on eight session topics:
Sustainability
Composites and Nanocomposites
Modelling
Fabrics and Foams
Testing
Specific Polymers and Flame Retardants
Coatings
Phosphorus
The extended session on Testing was a new addition this year with presentations spanning the course of an entire morning. That day concluded with the reintroduced poster session that had all eight presenters sharing a slide presentation in addition to their posters.
Each year FLAME continues to see attendees from all over the world. There are those loyal few who have continued to attend FLAME throughout the years but always an expanding audience as the FR industry continues to grow.
We hope you join us next year for the 28th Annual FLAME Meetings!