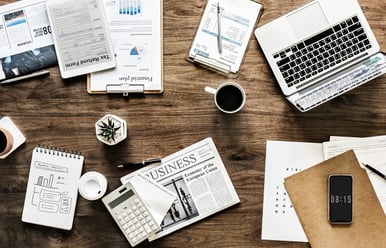 At BCC Research, we're on a mission to make it easier for corporate professionals, like Venture Capitalists, to do their jobs—with our comprehensive market research reports (we've recently added 50% more reports to our library), dedicated Member Services team, research concierge service and more.
Additionally, we love connecting VCs with helpful resources we find (and make ourselves) that help you gain insight into the hottest markets, improve your investment decision-making skills and excel in your career.
Below is a list of the latest VC-specific resources we've come across (and created!) that we want to share with you.
Markets To Watch
Right now, two markets are exploding: Femtech and Sustainability. Now is the time to update yourself on what's happening, make investment decisions and more.
The rapid growth of Femtech—female technology—is so exciting to watch. According to our latest blog, Femtech: An Industry Overview, $200 billion in funding is allocated to Femtech products every year. (BCC Research)
These two Femtech companies in particular are seeing success: Kindara and Ava.
VCs should also keep track of EmergTech, which often falls under the Femtech umbrella, as it provides data that individuals and their providers, coaches, fitness instructors and more can use to improve wellness plans. (Dell Technologies)
Key takeaway: Investment decisions should focus on the top growth areas in Femtech: increasing access to women's health services, disease prevention and maintaining overall wellness.
What's driving the rapid growth of the sustainability market? The fact that prioritizing sustainability in businesses is no longer just a good deed; it's crucial for survival in the marketplace. Hewlett Packard is setting the bar. (BCC Research)
Within the sustainability space, this company is disrupting the bioremediation market by using fungi, instead of bacteria to break down toxic waste. (BCC Research)
These 5 companies are also driving sustainability and the circular economy. (World Economic Forum)
Key takeaway: As more and more businesses realize that they need to prioritize sustainability in order to survive, they will lean on sustainability-oriented companies and those that focus on creating value in the circular economy.
How To Create More Representation in VC
Learn the basics. Create content. Find communities. Get an internship. Consider a scout program. (People of Color in Tech)
Additional ways to promote yourself as a VC using content creation. (Growth Hacker)
Fund minority-owned companies. BuildUp is helping. (Tech Crunch)
Follow Abyah Wynn. As Vice President of Business Development at Trimantium Capital and a woman of color, she speaks about the diversity gaps in VC and startup culture, plus VC trends to watch.
Follow Justine and Oliva Moore, aka The Venture Twins. Identical twins in their early 20s who work in VC and founded a startup incubator for Stanford University students. They write a weekly newsletter called Accelerated.
Key Takeaway: While some industries are lauded for their growing culture of diversity, there is a lack of diversity and inclusion within the groups funding the companies in those industries.
Make Better Investment Decisions
No successful VC is without access to reliable market intel. There are many ways to conduct research on your desired market. If you're considering purchasing market research, here are 3 things to know. (BCC Research)
Key takeaway: The right market research provider should partner with you to help you make data-driven investment decisions. Avoid market research content mills.