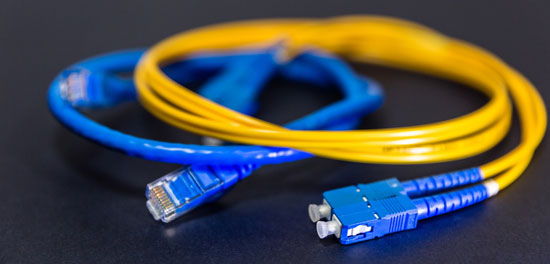 The banking, finance, and insurance industries have undergone huge transformations in recent years, and optical fibers have played a major role in it.
The banking, financial services and insurance industry (BFSI) relies on cloud-based platforms, robotic process automation and cognitive technologies, and employs measures such as cyber security, IP protection and real-time payments.
"The need for high-speed broadband and bandwidth will add a huge boost to the fiber optics market during the forecast period," notes a new report from BCC Research, The Fiber Optics Market: Glass, Plastic, and Alternatives.
Glass optical fibers have been BFSI's main fiber type, with the market in 2016 valued at $187 million and anticipated to expand at a compound annual growth rate (CAGR) of 8.8% through 2022, when the sector could be valued at $308 million. Plastic optical fibers, however, are expecting quicker growth in coming years. That segment was valued at $53 million in 2016 and was forecast to enjoy a CAGR of 9.9% through 2022, when it could be valued at $93 million.
Plastic optical fibers are an optical fiber made out of plastic instead of glass. Their small diameter makes them easy to install in spall spaces such as around corners and under carpets, and they are ideal for short-range communications. Another part of the appeal to plastic optical fibers, as opposed to glass optical fibers, is their ability to connect ta low costs and without the need for special tools and extensive training, the report notes.
"The low-cost optical interconnects of plastic optical fiber make it more suitable for optical communication," the BCC Research report notes. "For example, automotive manufacturers are using about 10 million plastic optical fiber transceiver modules each year for in-car entertainment systems. In recent times, plastic optical fibers have been deployed on a large scale in the home entertainment segment, such as fast ethernet links for Internet Protocol Television (IPTV)."
Globally, plastic fiber optics lead growth in every region – though plastic fiber optics are also smaller in size in every region of the world when compared to glass fiber optics. CAGRs of plastic fiber optics though 2022 include 9.9% in North America, 10.2% in Europe and 10.4% in the Asia-Pacific region.
For BFSI and other market segments, the fiber optics industry is quite segmented. The main market player, Asahi Glass, has a 17.2% share of the market, the BCC Research report notes. General Cable held a market share of 16.7%, while Furukawa Electric had a 11.4% share and Leoni had a market share of 9.5%.
Asahi, based in Tokyo, was founded in 1907. In 2017, the company launched mass production of XCV, a glass substrate for television LGPs with the world's top light transmittance performance. General Cable, which is based in Kentucky, has industrial facilities in North and South America, Europe, the Middle East, Africa, and the Asia-Pacific region. Leoni, meanwhile, is based in Germany and has developed unique cable technology and wiring solutions around the concept of green technology wiring.
For more information on the global fiber optics market, download the free report overview.