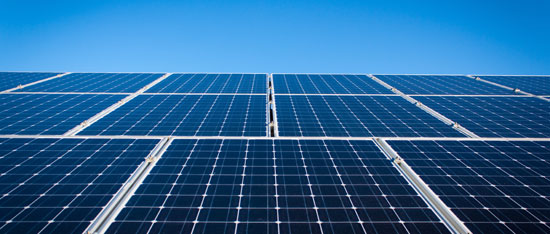 Thin-film non-perovskite solar modules are projected to grow at a compound annual growth rate of 6.9% between 2017 and 2022, but perovskite thin-film solar cells are forecast to grow at an astounding 61.5% annually through the same period, according to a new report from BCC Research.
For non-perovskite modules, prices pressures will remain high and unit prices are expected to continue their drop. The real action in the industry will be perovskites, although currently the segment's market is still miniscule.
The perovskite market was tagged at $2 million in 2015 and that figure was unchanged through 2017, according to the report, "Perovskite Solar Cells: Materials, Fabrication, and Global Markets." That figure pales when compared to the non-perovskite thin-film solar market, which was estimated at $3.7 billion in 2017.
Between 2017 and 2022, however, perovskite solar cell producers are expected to make significant progress toward reaching mass production and begin to introduce products with improved long-term reliability.
Natural perovskites were found in the 1800s, although their journey toward commercial use has been a slow one. The first commercial applications were in electronics, and it was not until the 1990s that their optical properties were used in the fabrication of optoelectronic devices and solar cells.
Optimism for growth in the perovskite market is tied to the growing amount of research and development activities – hints that the first steps in commercialization are just around the corner.
Patent applications and patents issued (PAI) for perovskites and perovskite solar cells shows how interest in the material is rising. After averaging about 430 per year from 2000 to 2014, perovskite PAIs shot up to 602 in 2015 and 749 in 2018, according to the BCC Research report. PAIs for perovskite solar cells, meanwhile, have been at 0, 1 or 2 per year from 2000 to 2011, and then jumped to 3 in 2012, 5 in 2013, 28 in 2014, 72 in 2015, and 190 in 2016.
Perovskite solar cells are seen to have promising potential uses in the construction/architectural, infrastructure, electronics, transportation, space and defense sectors.
Patent assignees for perovskite solar cells are located around the world. Prominent patents from 2017 included:
Mesoscopic solar cell based on perovskite light absorption material and method for making the same, by Huazhong University of Science and Technology of Wuhan, China
Nanocomposite coatings for perovskite solar cells and methods of making the same, from the Alliance for Sustainable Energy in Golden, Colo.
Organic hole transport materials containing an ionic liquid, from Abengoa Research in Sevilla, Spain
Photoelectric conservation element, solar cell method for manufacturing photoelectric conversion element, surface treatment agent, surface treatment composition, and surface treatment fluid, from Fujifilm
Large-area perovskite film and perovskite solar cell or module and fabrication method thereof, by National Central University in Taoyuan City, Taiwan
"Generally speaking, an average of three patents per month or more indicates significant interest in a particular technology," BCC Research report author Margareth Gagliardi wrote. "Since 2016, the average number of patents per month related to perovskite solar cells has been well above that threshold value and rising, indicating that interest in PSC technology is genuine and strong, globally."
Patents were also issued to researchers from Australia, Belgium, Brunei, Denmark, Germany, Israel, Japan, Netherlands, Portugal, Qatar, Saudi Arabia, South Korea, Switzerland and the United Kingdom. Of the 100 patents from 2017 examined in the BCC Research report, more than half came from the Asia-Pacific region, and about 20% came from the United States. Compared to 2016, however, patent issues in 2017 were down 4.5% in the U.S., down 15.7% in the Asia-Pacific region and up 62.3% in Europe.
In terms of individual patent-holders, the leader worldwide is Sekisui Chemical, of Osaka-shi, Japan, which holds 14 patents. Those patents are for perovskite solar cells which have an encapsulation made from different materials, including resins, inorganic films and a combination of the two, to achieve increased stability and durability.
Worldwide, other leading patent holders include Fujifilm of Japan (nine patents) and the Global Frontier center for Multiscale Energy Systems of Seoul, South Korean, Research and Business Foundation of Sungkyunkwan University, of Suwon-si, South Korea, Hunt Energy Enterprises of Dallas, Texas, and LG Chem, of Seoul, South Korea; they each hold six patents.
The BCC Research report said that most R&D is focused on the development of materials and processes for improving the photovoltaic properties of the cells.
"Companies and research organizations are very active in developing innovative materials for producing perovskite solar cells," Gagliardi wrote. "In researching improved fabrication technologies for these devices, and in solving lingering reliability issues."