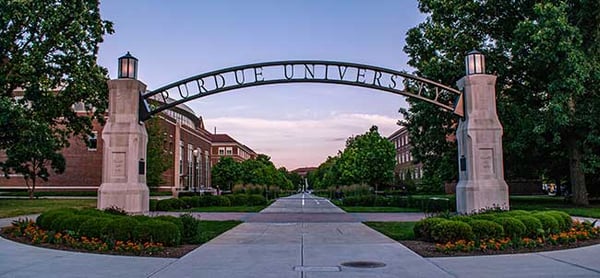 If you read our blog or follow us on social media (here, here and here), you know how much we love to brag about our members.
Today's blog is dedicated to one member in particular: Purdue University.
From Purdue's team of student ambassadors to promote COVID-19 safety to breakthroughs in space technologies, this school is continuing its status as a trailblazer in solving many of the problems facing our world today.
Trailblazing alums from Purdue include: Neil Armstrong, Orville Redenbacher and Drew Brees.
Campus COVID-19 Response
Purdue University recognized that keeping the campus community safe during COVID-19 requires peer engagement, so the school created a team of students called Protect Purdue Ambassadors. Ambassadors make presentations to campus clubs/organizations, create COVID-19 awareness videos on social media, educate peers in regular conversations and more. Here are just a few of their videos we love:

To ensure safe access to Purdue's theater performances, the school's Department of Theatre is experimenting with digital platforms. Many performances will be produced by artists of color and focus on social justice and equity.
Research and Innovations
As usual, Purdue researchers are hard at work on both COVID19 and non-COVID19 innovations, moving us closer to a cleaner, healthier world.
Purdue and 3M (another BCC member!) teamed up to manufacture thousands of pieces of personal protective equipment. Teamwork makes the dream work!
Researchers worked with Purdue's Office of Technology Commercialization to create a printing process that turns paper/cardboard packaging into a keyboard, keypad or other interface, which can be used for safer user interaction with food packaging and even additional music playing options.
To help local public health officials reopen their buildings safely during COVID-19, Purdue created Building Water Essentials, a research-backed online short course that serves as a unified resource on how to clean idle water systems in buildings that were shut down for a period of time.
Purdue Pride
Fun, inspiring stories about Purdue students, faculty, staff and alums.
To support their research, projects and decision making, Purdue students and faculty use BCC's market research library, which includes thousands of reports covering 25 industries. Explore our library here.