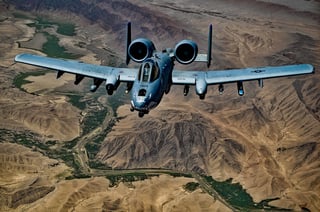 As the U.S. military moves against entrenched ISIS targets around the world, their forces are increasingly relying on laser guided munitions. Just this month, the U.S. military conducted two airstrikes against Islamic State members in Somalia—the first such action there—using drones, which are almost always fitted with laser-guided munitions.
Military-grade laser-guided munitions are a key part of the directed energy and laser market, according to Sinha G. Gaurav, a researcher at BCC Research. A large number of new military contracts now include laser guided munitions systems.
American Military Rolling Out Laser-Guided Aircraft
In October, Lockheed Martin received a $131 million contract from the U.S. Air Force for work on the Paveway II Plus laser guided bomb kits. "The U.S. Air Force and its foreign military sales partners realize significant savings in their defense budgets with our affordable and combat-proven LGBs (laser-guided bombs)," said Joe Serra, Precision Guided Systems director at Lockheed Martin Missiles and Fire Control. "This innovative and cost-effective guidance package supports greater precision for warfighters."
Also in October, the U.S. Navy announced that it is closer to certifying the carrier-launched F-35C for combat readiness. The jet, which has flown from several aircraft carriers in test mission recently, will be able to launch munitions that use laser guidance technology. Missile maker Raytheon just announced that is it boosting production, with sales growth driven largely by the Paveway laser guided bomb, and the Air Force is testing its Block 5 MQ-9 Reaper drone, which also holds the Paveway II laser guided bomb.
Laser Guided Munitions Not Just an American Tool
Although the technology is chiefly American, laser guided munitions technology is showing up in a number of nations. For instance, Deutsche Welle reports that about 90 nations have drones in their military arsenals, although so far only 11 of those have armed drones.
This fall, Saudi Arabia has been flying a Scorpion light attack jet. The jet's relatively large and reconfigurable mission bay can carry cameras, laser imaging equipment and electronic warfare jammers, one industry site noted. The plane's maker, Textron, has flown a number of aircraft with laser guided bomb technology. In the case of Saudi Arabia, the new jet will likely be useful in that country's campaign in neighboring Yemen.
Iran, too, has plenty of laser help in its military arsenal. The nation's armed forces boast laser-guided anti-aircraft missiles, attack missiles, armored vehicles with laser range finders, artillery and a laser-guided anti-submarine missile.
Global Laser Guided Munitions Market Expected to Surge
Global military spending is driving expansion of the laser industry, BCC Research found in a new report.
"The application of directed-energy and military lasers in the field of defense held the largest market share in 2016, and is expected to remain the market leader throughout the forecast period," wrote Guarav. "The application of directed-energy and military lasers in the field of defense was valued at nearly $2.6 billion in 2016 and is expected to reach $4.9 billion in 2022."
Through 2022, the report states, growth in the laser weapon technology market will be led by Asia, where average annual expansion will be 14.2% through 2022. Europe will see expansion of 12.8% annually through 2022, while growth in North America will average just 6.9%.
For more information and forecasts on the global market of directed-energy and military lasers, download the free report overview.