Longer life expectancies and rising healthcare costs are factors driving solid growth in the global market for medical device technologies.BCC Research reveals in a new study that markets in developing countries, particularly in the Asia-Pacific region, should enjoy strong growth due to more government spending on healthcare, increased health insurance coverage, and higher disposable incomes.
Several technologies in particular enhance the functions of medical devices, including highly sophisticated scanners and complicated implantable products (such as artificial cochlear devices), as well as the most basic laboratory equipment. Even research in the field of contact lenses has turned in the direction of disease detection, drug delivery, myopia control, and the development of antimicrobial lenses (see Contact Lenses Could See Way Beyond Vision Correction).
In this highly competitive market, companies must constantly reinvent their product portfolios to enter new markets and position themselves as major players in the healthcare system. The industry is undergoing a shift toward a value-based market, in which price and purchase decisions are based on outcomes. This has resulted in increased scrutiny of medical device technology, leading to increased competition.
In the United States, the Affordable Care Act states that the measure of services provided by hospitals or other caregivers will be based on the value of care provided—not on fees for services rendered, as has been the norm. Thus, reimbursement for medical devices will be based on quality, not quantity. This will also provide impetus for preventive care, which will help lower the costs of healthcare and thus drive the growth of medical devices.
Home monitoring for chronic diseases such as diabetes and high blood pressure is expected to play a major role in reducing healthcare costs and driving demand for medical devices. Sustainable growth is possible, with changing business models and innovative strategies to tap various markets. Companies must bring quality medical device technologies to customers that will help reduce healthcare costs and at the same time provide fast and simple solutions.
The trend of value-based pricing and purchase decisions is here to stay, as healthcare providers in the mature markets of the United States and Europe grapple with cost containment. As will be discussed below, growth in the medical device technology market is foreseen in the developing countries of the Asia-Pacific region. That being said, the fight to contain healthcare costs doesn't necessarily have to look boring. Strategies being deployed range from tiny chips embedded in consumer wearables to flying labs.
POINT OF CARE: TIME EQUALS MONEY
Point-of-care (POC) testing is one of the fastest-growing segments in the healthcare industry. The wider availability of POC testing is revolutionizing the continuum of the patient care process by providing laboratory results quickly and efficiently. A shorter turnaround time, as well as a quicker diagnosis leading to faster treatment, yields cost savings. The success of this approach relies on the development of miniaturized devices for POC testing. Emerging new technologies are allowing earlier adoption of smaller, more accurate, and easier-to-use devices. (See also Point of Care: Greasing the Skids for Efficient Healthcare Delivery.)
In its annual 5 in 5 Predictions, IBM Research uses market and societal trends to predict scientific innovations that will revolutionize our lives in the next five years. Miniaturization was featured among the five predictions released by IBM on January 5. "In five years, new medical labs on a chip will serve as nanotechnology health detectives—tracing invisible clues in our bodily fluids and letting us know immediately if we have reason to see a doctor," IBM writes. "The goal is to shrink down to a single silicon chip all of the processes necessary to analyze a disease that would normally be carried out in a full-scale biochemistry lab."
Should their feasibility be proven, labs on chips could revolutionize medicine and bring healthcare to people who may not otherwise have access to it. Drones are another example of bringing healthcare to patients who may not be accessible by traditional means, getting them timely and effective treatment (discussed further below).
WEARABLE SENSORS FOR SELF-DIAGNOSIS?
Wearable technology (for example, the Fitbit or the Apple Watch) is already monitoring various things for consumers, such as number of steps taken, heart rate, and body fat composition. Researchers at Stanford Medical Center say that when it comes to wearables, that's just the tip of the health-monitoring iceberg. A wearable device will probably never replace the diagnosis from a real doctor. But a smart watch, fitness tracker, or other wearable biosensor can reveal a lot about what is going on inside the body, including the onset of infection, inflammation, and even insulin resistance.
In a study published January 12 in PLOS Biology, Stanford researchers set out to discover exactly what wearables might be able to do. They collected nearly 2 billion baseline measurements from 60 people and entered that information into a database. These included continuous data "from each participant's wearable biosensor devices and periodic data from laboratory tests of their blood chemistry, gene expression, and other measures."
With these baselines established, participants wore a range of wearables that are currently on the market. These collected more than 250,000 measurements per day. In a press release, the researchers say those included "...data on weight; heart rate; oxygen in the blood; skin temperature; activity, including sleep, steps, walking, biking, and running; calories expended; acceleration; and even exposure to gamma rays and X-rays."
Armed with that information, as well as the constant feedback from the devices, the researchers said it became possible to tell when the body wasn't working the way it was supposed to. "Given a baseline range of values for each person," the team said, "it is possible to monitor deviations from normal and associate those deviations with environmental conditions, illness, or other factors that affect health." Such a method provides an opportunity for intervention, prevention, or cure." (Stanford Medicine)
THE ULTIMATE MEDICAL DEVICE: MAKING A DRONE CALL?
We're all familiar with the concept of a family doctor making the occasional house call to care for an ill patient. Now, think bigger. Imagine calling 911 to summon an EMS response drone, which swoops in to the scene of an accident. GPS guidance has directed the ambulance drone to the coordinates of the emergency call.
Meet the future. Italo Subbarao, senior associate dean at William Carey University College of Osteopathic Medicine in Hattiesburg, Mississippi, and a medical student have demonstrated how two new disaster drones they've developed could deliver "telemedical" packages to victims and rescue personnel in a simulated mass-casualty event.
EMS response drones can land in places that EMS ground vehicles either cannot get to or take too long to reach, says Subbarao. "Immediate communications with the victims and reaching them rapidly with aid are both critical to improve outcomes." And, through Google Glass, Subbarao states, the physician can see what a wound looks like, the exact nature of the injury, and then guide willing bystanders through the appropriate treatments in real time. "Why can't we use drones to deliver telemedical packages?" says Subbarao. "Not just bandages and blood, or even a defibrillator, but on-site medical expertise, to give people on the scene a real medical intervention capability?" NBC News, January 12
Against the backdrop of so much innovation cutting a very wide swath, where will the greatest growth be in medical device technology? An analysis by BCC Research shows that the Asia-Pacific region is poised to experience the fastest growth.
Globally, the market for medical device technologies should reach $483.5 billion and $634.5 billion in 2016 and 2021, respectively, growing at a five-year compound annual growth rate (CAGR) of 5.6%. The North America region, the largest market, should total $216.1 billion in 2021, up from $175.6 billion in 2016, reflecting a five-year CAGR of 4.2%. The market represented by the Asia-Pacific region should grow from $108.9 billion in 2016 to $156.6 billion by 2021, demonstrating a five-year CAGR of 7.1%.
Global Market for Medical Device Technologies by Region, 2015–2021
GLOBAL MARKET FOR MEDICAL DEVICE TECHNOLOGIES BY REGION, 2015-2021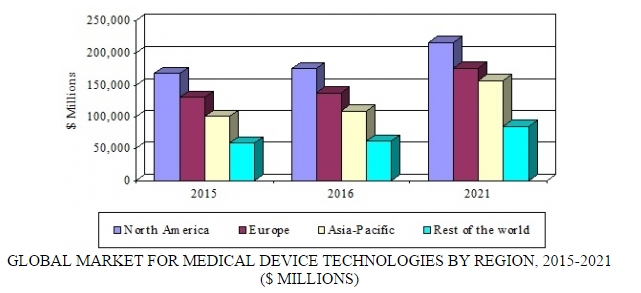 "China and India are lucrative markets due to their enormous populations. Despite the recent global downturn, their economic growth rates are still positive," says BCC Research analyst Vijay Laxmi. "Companies that have yet to fully exploit these markets are beset by problems of distribution, competition from low-cost products manufactured locally, and their own inability to introduce products that meet patients' needs in these countries."
BCC Research's new study, Medical Devices: Technologies and Global Markets, analyzes the definitions, evolution, and types of devices, regulations, and legislations. The report also examines the refurbished and replacement market, mergers and acquisitions, and market shares for key players. Global market drivers and trends, with data from 2015, estimates for 2016, and projections of CAGRs through 2021, are provided.