Contact lenses are paving the way toward myriad applications besides correction of vision. BCC Research shows in a new study that these advances range from antibacterial contact lenses, which fight and reduce the risk of contamination, to soft contact lenses that may slow the progression of shortsightedness. And, as if these applications are not exciting enough, some even propose using contact lenses as a means to stream video.
SONY AND SAMSUNG ARE LOOKING TO TURN EYES INTO COMPUTERS
Tech firms Sony and Samsung have made public movements that appear to see contact lenses as one of the future interaction mediums (see July 8, 2016 Inverse article). A computer in a person's eye could be used for taking pictures, streaming video, and measuring health signs. Sony was awarded a patent by the United States Patent and Trademark Office in April for their contact lens design. According to Sony's construct, a processor, antenna, RAM storage, and read-only memory will all be housed on top of the user's eye. An image processor will detect when the wearers blinked, how long the user blinked for, and whether the blink was intentional to trigger the on-board computer to record a picture. Also in April, Samsung was awarded a patent for a similar idea. Both company's lenses would connect to a nearby smartphone for transmitting the images.
The products market can be broadly divided into soft lenses, rigid gas permeable lenses, and others that include surgical, digital, and ocular drug delivery lenses. According to BCC Research's study, the global market for contact lenses, which totaled nearly $9.2 billion in 2015, should attain approximately $10.1 billion by 2020, reflecting a five-year compound annual growth rate (CAGR) of 1.9%. As a segment, the soft lenses market is projected to reach $7.1 billion by 2020. The rigid and hybrid lenses segment should grow at a five-year CAGR of 9%, reaching $466 million in 2020. The "others" segment, including intraocular lens lenses and advanced optics lenses, reached approximately $2.2 billion in 2014, up from nearly $2 billion in 2013. This segment should grow at a five-year CAGR of 4.1% during the forecast period.
GLOBAL MARKET FOR CONTACT LENSES BY TYPE, 2013-2020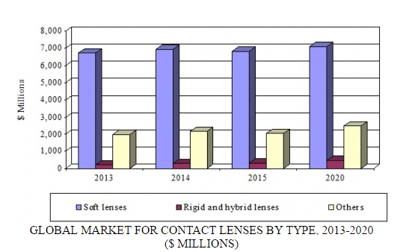 Soft contact lenses continue to dominate the marketplace. In particular, silicone hydrogel lenses are poised to grow due to increased popularity. The rising demand for corneal refractive therapy and orthokeratology lenses is driving growth in the gas permeable lenses segment, along with the introduction of scleral lenses. The increasing prevalence of eye disorders such as astigmatism and myopia is a key growth factor. In addition, an expanding aging population, growing product affordability, technological advancements, and innovations are driving the market. R&D spending, along with increasing competition, patent expiries, and new technologies, are sending the market in a new direction.
USING CONTACT LENSES TO MANAGE DISEASE
In addition to correcting vision, contact lenses are being used for various therapeutic applications, such as corneal reshaping, postsurgical conditions, and dry eye syndrome. Research in the field of contact lenses has turned in the direction of disease detection, drug delivery, myopia control, and the development of antimicrobial lenses. "Silver, cationic peptides and small molecules that inhibit microbial communication are being examined for the development of antimicrobial contact lenses," says BCC Research analyst Shalini S. Dewan. "This and other developments like it are aimed at providing contact lens users with a wider range of choice, offering them more comfort and effective eye care and aiming at correcting specialized eye conditions like astigmatism and presbyopia."
Verily, an Alphabet company, is developing a smart contact lens that can detect glucose levels in the wearer's tears. In the case of a diabetic, such a lens would alert the wearer as soon as action needed to be taken for glucose control. Another group that stands to benefit are patients with glaucoma, who experience high eye pressure that can lead to irreversible blindness. Right now, such patients get their eye pressure measured three to four times per year. But electronic sensors in contact lenses would measure pressure continuously, giving doctors more data points to determine how to proceed with treatment and dosages. Eventually, pressure-measuring contact lenses will also be able to administer medicine, eliminating the high potential for human error associated with daily eye drops. The makers of Sensimed, a contact lens that measures users' eye pressure, have already secured marketing approval from the US FDA, and other similar lenses are in development. (See article in The Week, May 2016.)
BCC Research's recent study, Contact Lenses: Technologies and Global Markets, analyzes present and future strategies within the market, which includes soft and rigid gas permeable contact lenses as well as other types that can be separated by design and usage. Analyses of global market drivers and trends, with data from 2015 and projections of CAGRs through 2020, are provided.