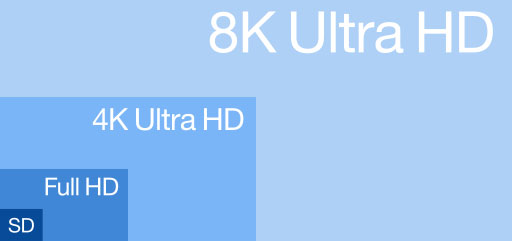 Ultra-high definition TV (UHDTV) is the 4K standard for screens today, but you are seeing this technology in more places than just living rooms.
The television market dominates the UHDTV market, taking a 52% share in 2016 and generating revenues of $22.6 billion, notes the report 4K Ultra-high Definition Technologies: Global Markets to 2022, from BCC Research. But the technology is also being found in monitors, laptops, phones and 4K recording instruments such as virtual reality headsets.
It is these other end uses where growth of 4K UHD technology is expected to be the most intense through 2022, the report says. UHD technology in phones is expecting a compound annual growth rate (CAGR) of 26.4% through 2022, when the sector could be valued at $43.05 billion. Growth will also be robust for virtual reality headsets, which are anticipating a CAGR of 22.4% through 2022, when the sector could be valued at $1.7 billion.
A Super Screen for Your Smart Phone
UHD has been working its way into phones since the invention of Snapdragon 800 chipsets by Qualcomm in 2013. Today both phone giants, the Apple iPhone and the Samsung Galaxy, offer 4K UHD cameras or displays, and more companies use the tech each year.
For phones, the screens have the advantage of offering hand-held 4K resolution recording – a phenomenal attribution offering enhanced levels of detail and incredible quality. On the downside, the technology is expensive, it sucks up battery life, phones can overheat and the advantages of the higher resolution are debatable when we are talking about something just a few inches across.
Other phones and tablets with 4K UHD technology include the Sony Xperia, LG G Flex, Motorola Droid and Nexus, Xiaomi Mi 5, Meizu MX4, Google Nexus, Oppo F3 Plus and the Asus Padfone.
All regions of the globe are anticipating swift growth of the 4K UHD smartphone market. Growth through 2022 includes a CAGR of 27.4% in Europe, 27.3% in North America and 25.1% in the Asia-Pacific region. The Asia-Pacific region will lead the world in terms of size, with an estimated 2022 value of $17.5 billion, followed by North America with an estimated 2022 value of $13.8 billion.
Virtual Reality: Super Screens Help to Drive Market's Expansion
UHD is helping to put the "reality" in virtual reality (VR). VR headsets produce reasonable pictures, sounds and vibes that re-enact physical nearness in a virtual or non-existent condition. A person utilizing VR hardware can glance around a simulated environment, move through it and cooperate with elements in it.
VR headsets are head-mounted gadgets with a screen in front of the eyes – that screen can be a smart phone or a tablet, and although entertainment originally drove the market, VR technology is now being used in the fields of healthcare, clinical therapies, pain management, education, training and the military.
Here, too, the Asia-Pacific region will lead the globe in size through 2022, with an estimated value then of $587 million and a CAGR through the period of 19.7%. Europe will lead in growth through 2022, with a projected CAGR of 24.7%, followed by North America at 23.4%.
One of the early leaders in the market was the Aukey Cortex 4K VR headset, which retailed for around $420. The Aukey product delivered an immersive UHD 4K VR experience, with powerful graphics, a super-smooth refresh rate and a 110-degree field of vision. The headset is comfortable, lightweight and features full and free access to VR games, 3D movies and more. Today, quality headsets can be found for less than $130.
A High-Def Future for UHD Screens
The BCC Research report notes that UHD screens are here to stay – at least for a while. The market is being driven by increasing disposable income, increasing television sales, the products' improved features, rising usage in PC and mobile devices, the growing demand for larger screens with higher resolution and the increasing availability of 4K content from providers like Netflix, YouTube and Amazon Prime.
"Tremendous market growth is expected during the forecast period; however, alternative technologies could hinder the growth of the market," notes report author Anand Bhandari. What's on the horizon? 8K. "As the technology has 16 times more pixels as compared with 4K, it therefore provides a better image quality. At present, 8K is not yet commercially available; however, in the future, it is expected that companies will launch 8K TV in the market soon. This will adversely affect the market for 4K UHD."
For more information on the global market for Ultra-High Definition 4K Screens, download the free report overview.