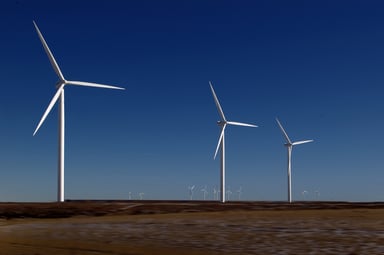 Demand for clean energy and reduced carbon footprints is prompting an increase in the global wind turbine market, according to a new report from BCC Research.
The report, "Wind Turbines: Technologies, Applications and Global Markets," found that factors driving the market also include fluctuating oil prices and strong government support.
Overall, the global wind turbine market was estimated at $46.3 billion in 2016 and was expected to grow at a compound annual growth rage of 6.7% between 2017 and 2022; by 2022, the report estimates, the global market could be worth $71.2 billion.
A Handful of Manufacturers Control Large Swaths of the Market
The wind turbine market was led by Vestas, which had a market share of 9.9% in 2016. Other large wind turbine manufacturers included GE (6.6%), Gamesa (4.3%), and Enercon (4.3%).
"The wind turbine market is a consolidated market with the top 10 players capturing more than 80% of the market share," the report notes.
Vestas specializes in making both onshore and offshore turbines greater than 1.75MW. The company's market share in 2016 was estimated at $9.9 billion. Major launches from the company recently included the development of a 2MW platform with two new turbine variants in April, 2017, and the introduction in June, 2017 of a 9.5MW offshore wind turbine and a high-yield low-wind onshore turbine.
Those Leading Market Now Unlikely to be Challenged by Newcomers
With huge capital investment needed to enter the market, the threat of newcomers entering the market is low or perhaps moderate, the BCC Research report said. Besides the capital needed, newcomers would require a substantial investment in research and development.
There is also little threat of the market developing a substitute for wind turbines. While the cost of generating power using wind is higher than that of dominant energy sources, it is still cheaper than other alternative energy sources such are hydro power. One possible threat is the rising popularity of solar energy.
Yet another factor which discourages new entrants into the market is the concentrated nature of the industry – just a handful of producers account for the majority of market share, meaning brand identity is high. Most wind turbine manufacturers, the BCC Research report found, are backward integrated for component manufacturing such as rotor blades and wind towers.
With Manufacturing Concentrated, Competition Among Suppliers Is High
Wind generation power costs are decreasing thanks to better technology, improved efficiency, and scaled capacity – costs are now approaching those for generation using fossil fuel technology.
Yet with 10 players controlling 80% of the market and not too much differentiation between their products, the overall competitive rivalry is moderate to high.
One major positive influence to the wind energy industry could come in the form of environmental and regulatory influences. Wind generation's environmental friendliness means, occasional hiccups aside, it's likely to see decent support from governments and regulatory agencies – wind power can even be used to offset emissions from fossil fuel sources as a way to meet environmental pollution standards.
"The presence of government incentives and specific energy policies and goals," the BCC Research report said, "is another favorable factor for wind energy."
For more detailed information on the global wind turbine market, download the free BCC Research report overview.