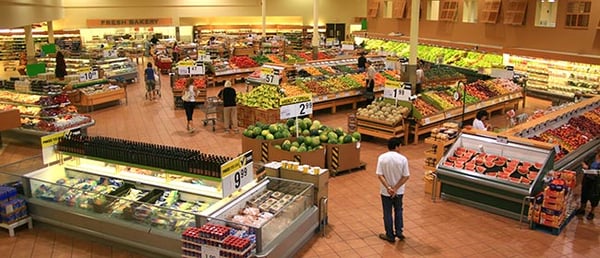 When it comes to the effect of COVID19 on the food manufacturing industry, there's good news and bad news.
Culinary Institute of America professor Jennifer Kaplan, who spoke with us previously about the future of food manufacturing, sat down with us to discuss what's happening in the market now—the opportunities and the challenges—as a result of the coronavirus pandemic.
BCC: What kinds of opportunities, or "good news" are you seeing in food manufacturing because of COVID19?
Jennifer: That's a great question because right now we're hearing a lot about the challenges on the food system. And while there are many, significant challenges, there are some examples of opportunities. Based on my research so far and based on what my colleagues are saying, some food categories are somewhat protected.
We're seeing a boon in some categories because everyone has to eat, so some parts of the sector are doing well. For example, REFED has said that large, non-perishable brands are experiencing two to three times the demand from grocery retail clients. The other good news is that there is ample food capacity here in the U.S. Many of these challenges are caused by distribution challenges, like trucking delays, and not by production challenges. The food can be and is being produced; it just can't get packaged or redirected to retail shelves quickly enough.
BCC: How is COVID19 affecting food manufacturers themselves?
Jennifer: Based on what I've read so far, large food manufacturers are having a different experience than small and medium ones. First, consumers are doing a lot of shopping at large retailers. Large manufacturers may have an advantage because they have more robust, integrated supply chains. They can send full semi-trucks to the distribution hub, whereas niche players might not have that capacity. My understanding is that niche companies are experiencing reduced orders because retailers are giving shelve space to larger manufacturers.
On the flip side, large manufacturers who rely heavily on hospitality and food service—who are largely set up for industrial sales -- have been significantly impacted by reduced demand from shelter-in-place orders. Manufacturers who have a diverse customer base that include retail, and in some cases, direct-to-consumer, are having an easier time pivoting to meet the demand that is causing shortages around the country.
While this is problematic for some manufacturers, small and medium players in essential categories—flour, yeast, eggs, etc.—could stand to do well. People are baking and using up those ingredients. For example, smaller flour manufacturers, restaurateurs and bakeries might be able to retain their customers if they're nimble and take advantage of opportunities to diversify their distribution channels, in some cases selling ingredients direct to consumer. This is especially true for domestic food manufacturers who are picking up new customers who can no longer get what they need from overseas.
Finally, as COVID19 spreads we're seeing some large companies that are not putting employee safety first run into trouble. Shutdowns of food manufacturing facilities because of COVID19 outbreaks are hitting some of our largest food manufacturers. I believe this presents an opportunity for companies who embrace superior employee safety practices to minimize production disruptions in a time when their less mindful competitors are being forced to shut down. This is a vivid case of how doing good leads to doing well.
A few observations that food manufacturers might find helpful:
Make sure you have e-commerce capacity. For example, Coca-Cola is predicting a "seismic shift " toward e-commerce during the pandemic and beyond.
Look for creative distribution partners so you can redirect sales in case there's any kind of disruption to normal channels. For example, some small and medium farms who supply to restaurants are now reverting to CSAs, food subscription services, and home delivery recipe boxes. This has potential because it doesn't leave farmers with entire fields of crops and bunches of eggs, and gives consumers access to what they can't find in grocery stores.
BCC: How are consumer buying behaviors and retailers being affected by COVID19?
Jennifer: It seems that retailers are shifting towards essential food products, which reflects both increased consumer demand for essential products. My research also says that consumers are shifting their purchases towards hoarding food items that they believe are essential. As people lose jobs, hoarding might diminish, but there's going to be a lag time on that, and we have no idea how things are actually going to turn out. Some consumers could choose to not pay rent and buy food instead. At the same time, manufacturers are reporting that shortages caused by early pantry-stocking are starting to level off.

BCC: What about COVID19's effect on the supply chain?
Jennifer: A recent article in Harvard Business Review argues that coronavirus is proving we need a new supply chain, and that the virus exposed the weaknesses in supply chains. The article suggests that manufacturers need to know what's up with 2nd and 3rd tier suppliers. There's also a call for diversification, because it's crucial that manufacturers don't rely too greatly on too few suppliers or too few customers or customer types. The authors suggest that we need more mapping and monitoring of supply chain partners, which builds resilience.
Reading recommendations from Jennifer:
Potential supplement supply bottlenecks identified in response to federal government request (NutraIngredients-USA)
Kraft Heinz breaks output records during coronavirus pandemic (Food Dive)
Dumped Milk, Smashed Eggs, Plowed Vegetables: Food Waste of the Pandemic (NY Times)
Mondelez faces 'unprecedented demand' online for snacks during coronavirus (Food Dive)
Extended truck dwell times spike late loads by 24% (Supply Chain Dive)
Coronavirus-related supply chain concerns push more Olam customers to source domestically
(Food Dive)
Food companies may be underestimating sales benefits from the coronavirus, analysts say (Food Dive)