What will the food manufacturing industry look like in the new decade?
We spoke with Culinary Institute of America professor Jennifer Kaplan about the food manufacturing trends we can expect in 2020 and beyond, and how industry professionals can prepare for them.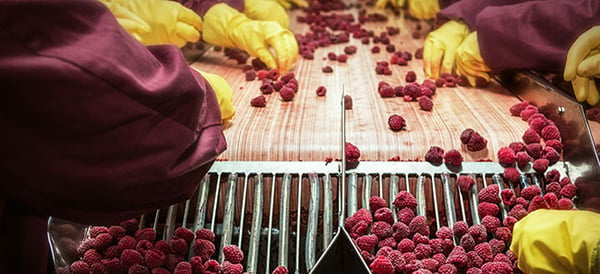 BCC: How do you think the food industry, specifically the way our food is manufactured, will evolve in the next 10 years?
Jennifer: The optimist in me believes that we will continue to become more sustainable. In terms of startups and innovation, I think we're going to enter, as University of Michigan Professor Andrew Hoffman says, "a new phase of sustainability," wherein we build-in sustainability up front and move away from simply becoming less unsustainable.
The most prominent emerging category seems to be alternative proteins. In addition to continued growth in plant-based proteins, lab-grown protein will have hit the market. I suspect in a decade we will all be eating lab-grown burgers.
I'm also very excited about manufacturers' ability to create value out of upcycled food byproducts, like chitin (shellfish exoskeletons) and cascara (coffee cherry skins). There are so many startups that are doing great things with food manufacturing byproducts. I know of startups using spent brewery grains and imperfect bananas, but there are virtually endless opportunities.
We're also seeing a move toward upcycled ingredient innovation across sectors. Like at Ford where they are upcycling all sorts of food manufacturing byproducts -- coffee, agave, wheat, tomatoes -- to make car parts.
I'm also bullish on micro-livestock (insect protein) as a huge area for growth. As of right now, we're not using micro-livestock to feed many people, but are using it with greater frequency to feed the animals we eat, and this is absolutely essential.
BCC: What trends can professionals in this market and related markets expect?
Jennifer: There are many sustainability trends that we can expect to experience growth. I believe we are going to see an increased emphasis on reducing food waste, and this can lead to significant opportunities in food manufacturing as manufacturers who reduce waste will gain the upper hand vis-a-vis their competitors.
I also believe we're going to see a continued emphasis on systems that use less fossil fuels, engage in more efficient land use, and focus on innovations in protecting and restoring soil health.
That said, finding alternative sources of protein may be the biggest trend that we'll see in the near and distant future.
BCC: What can food manufacturing professionals do to prepare for those changes so that they thrive in the coming decade?re
Jennifer: Well, manufacturers can best prepare by staying up to date on innovative ingredients and systems, keeping up with the tremendously robust information sources available, and communicating their efforts throughout the value chain. Again, manufacturers who build in sustainability upfront, rather than try to be less unsustainable, will gain competitive advantage.
It's also important to remember that AI and automation are huge (though they do require social costs involved that we can't ignore). It's going to make things less resource-intensive and more efficient in every way, including in terms of water and land use. This will also impact our fossil fuel-drenched production processes and help them to be managed more efficiently and more sustainably.
BCC: What are one or two of the most exciting innovations in the food industry?
Jennifer: For me, it's the innovation with GMO's. GMOs often get a bad rap, but not all GMOs area created equal and there's a lot of work being done both commercially and on consumer-packaged goods side to change the persona of GMOs. They are absolutely the only way we're going to continue to feed this planet as many of the traits we modify for are incredibly valuable and helpful.
This is important because current science does not suggest they are harmful. And, although we may find that science missed something, right now, responsible use of GMOs is important.
Consumer acceptance is going to rise, as education and awareness grows. We eat a lot of GMOs that people aren't aware of, and I believe consumers will push for more transparency. With better information, accountability will improve and their bad rap will change over the next few years.
To view more of Jennifer's work, visit her website.
For more intel into the food manufacturing market, explore our collection of reports.