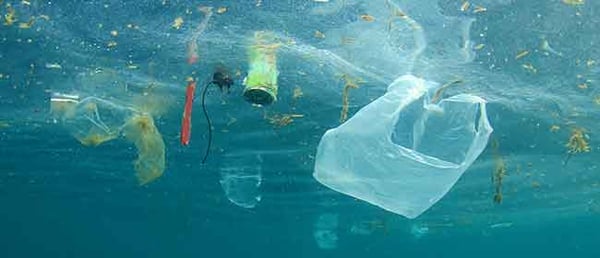 Our last blog introduced you to the Benioff Ocean Initiative (BOI), an organization that works to ensure a healthy ocean for future generations through a wide variety of ocean cleanup projects.
Today's blog is Part 2 of our interview with BOI where we discuss the impact of COVID19 on their ocean cleanup projects, and where they see the reclaimed ocean plastics market going in the next few years.
BCC: How have recent health trends (for example, COVID-19) impacted your ability to work on this issue?
BOI: Inevitably, people's need to keep ourselves safe and healthy has resulted in an uptick in the use of PPE and single-use items, much of which is plastic. News media have been reporting increased observations of plastic waste related to the pandemic, such as masks and gloves, littering streets and ending up in waterways. So, now more than ever it's important that we find ways to minimize our use of single-use plastic items in our daily lives while still remaining safe--like using reusable, washable cloth masks and grocery bags--and invest in the tools to clean up the waste that unfortunately is inevitably ending up in the environment.
On the Clean Currents Coalition front, the pandemic has forced us to shift some project timelines, especially in the countries that have particularly strict health and safety restrictions that--for good reason--limit our teams from safely being out in the field or meeting with government officials or community members.
In these cases, the pandemic has provided an opportunity for us to focus more on planning and adapting, and we are confident that in the end our river intervention strategies will be stronger and more risk-tolerant than before.
BCC: What do you see as the next big trend or solution in reclaiming ocean plastics?
BOI: I think we need to figure out what we're going to do about microplastics, which are plastic particles smaller than 5mm. These are harder to see, and even harder to catch in a net at a large scale, and are found throughout the entire ocean, from surface to seafloor. There are already several solutions floating around for how to recover larger macroplastics, but I think microplastics are the next big monster.
I learned recently that plastic-based paint particles slough off into the ocean when offshore energy infrastructure like wind turbines and oil rigs and ships are sand blasted, resulting in a not-insignificant source of microplastics. There's a Norwegian startup company called Pinovo that's developed a closed-loop sandblasting system that vacuums up the plastic paint particles as it goes for proper disposal later on. Technologies like this are a start to making a dent in this problem, and we need to see more innovations like it, both on the prevention and cleanup side of the marine plastics problem.
For more intel in Market to the market for recycled ocean plastics, download a free overview of our report, Recycled Ocean Plastics.