May is hostess to Women's National Health Week, which this year was May 8–14. The global market for women's health therapeutics was nearly $33 billion last year, according to BCC Research. Endometriosis is a particularly troublesome indication for medical, economic, and psychosocial reasons. The cause of endometriosis is unknown; thus, its treatment remains an intensely debated subject among physicians and patients. There are several options available to obtain symptomatic relief, but there is no cure for endometriosis.
Endometriosis occurs when uterine tissue grows outside the uterus, potentially affecting other organs. Symptoms include debilitating pain, infertility, changes in mood, painful sex, and other issues that may interfere with daily life. This painful disorder causes women to lose, on average, 10 hours of work per week, according to a study on lost workplace productivity. Women with endometriosis are frequently misdiagnosed, resulting in delayed treatment. Studies show that women who suffer from endometriosis are also at higher risk for heart disease, according to the American Heart Association.
In the United States, endometriosis costs the nation an estimated $119 billion annually. Pharmaceutical company AbbVie recently found in a study that total direct costs due to endometriosis amounted to about $12,118 per patient per year in the United States, and indirect costs were approximately $15,737 per patient per year. The study's authors also stated that the long-term burden of endometriosis following diagnosis is still understudied.
The US National Institutes of Health has a total 2016 budget of $32.3 billion. Of that, total funding for endometriosis is $11 million this year and projected to be similar in 2017. To put that into perspective, although endometriosis affects a large percentage of the female population, the disease gets less research funding than adolescent sexual activity and teenage pregnancy. It gets the same funding as diseases such as ataxia-telangiectasia, Charcot-Marie-Tooth Disease, interstitial cystitis, osteogenesis imperfecta, and valley fever.
PREVALENCE OF ENDOMETRIOSIS BY REGION, 2014-2020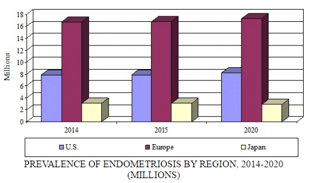 Source: BCC Research
The prevalence of endometriosis is 8%–10% among women of reproductive age, jumping to 25%–35% in infertile women. In 2015, the estimated global prevalence of endometriosis was 27.8 million. The actual prevalence is probably higher due to undiagnosed cases. The rate of prevalence is similar across different ethnic groups. The majority of the patient pool is in Europe and the United States. The main reasons for patient visits to a doctor are pain or the inability to conceive. Among women seeking treatment for infertility, the incidence of endometriosis is 30%–50%, and the incidence is as high as 70%–80% among women seeking treatment for chronic pelvic pain.
Endometriosis imposes a substantial economic burden on society, underscoring the need for further research into cost-effective approaches to diagnosing and treating this disease. The high burden is attributable to the time delay between onset of symptoms and diagnosis, and costly medical and surgical treatments. The chronic nature of endometriosis affects a patient's quality of life and her ability to work. Increasing the awareness of endometriosis to further reduce the time gaps between its occurrence, diagnosis, and specialized care is one crucial step toward lowering the associated morbidity, healthcare expenditure, and lost productivity.
BCC RESEARCH'S FORECAST FOR THE GLOBAL ENDOMETRIOSIS MARKET
The global market for endometriosis is expected to near $2.7 billion by 2020. In 2015, the United States led the market with almost $1.2 billion, with Europe coming in a close second. This market will be driven by a growing female population of reproductive age, new product launches, and more awareness among physicians and patients. The latter is leading to an increase in patients who are consulting with physicians during early stages of the disease. Although endometriosis is not life threatening, it will cause substantial physical and psychosocial problems for the individual, as well as an economic burden to the healthcare system, during BCC Research's forecast period.
The delay in diagnosis of endometriosis is significant, varies by geographic region, and has been reported to be 8–9 years. An increase in the rate of correct diagnosis of endometriosis and the availability of effective treatment options has the potential to drive market revenues. The R&D pipeline is another growth factor for this market; however, most of the drug candidates are still in Phase II and III clinical trials. Key molecules include TAK-385 (relugolix) from Takeda; elagolix from Neurocrine/AbbVie; PGL2001/PGL5001 from PregLem; Femitra from EndoCeutics; Spherotide from Xbrane Biopharma; Yasmin, BAY 98-7196, and BAY1026153 from Bayer.
PROJECTIONS FOR THE OVERALL WOMEN'S HEALTH THERAPEUTICS MARKET
In its new study, BCC Research reveals that the global market for women's health therapeutics, which totaled almost $33 billion in 2015, should reach approximately $40.6 billion in 2020, reflecting a five-year compound annual growth rate (CAGR) of 4.2%. In 2015, the United States accounted for about 59% of the world market, or $19.5 billion of the total market value. The US market should near $25.3 billion by 2020, growing at a five-year CAGR of 5.4%. Europe and Japan, which accounted for 34.5% and 6.5%, respectively, of the world market in 2015, should total $13 billion and almost $2.3 billion, respectively, by 2020.
By disorder type, breast cancer led the global market in 2015 with $12.8 billion (38.7% market share), followed by postmenopausal osteoporosis with $10.8 billion (32.9% market share), menopause with $6 billion (18.2% market share), endometriosis with almost $2.6 billion (7.8% market share), and polycystic ovary syndrome (PCOS) with $782.9 million (2.4% market share). Breast cancer and postmenopausal osteoporosis are expected to reach almost $16.8 billion (41.3% market share) and $13.2 billion (32.5% market share), respectively, by 2020.
GLOBAL WOMEN'S HEALTH THERAPEUTICS MARKET BY REGION, 2014-2020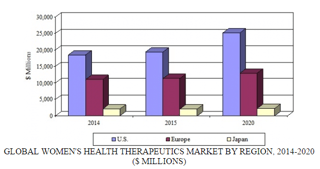 Source: BCC Research
In the past few decades, women's health therapeutics has established a strong footprint in the global pharmaceutical market. Patent expiry will prove to be a key challenge to market growth. In fact, patent expiries of blockbusters such as Evista, the Premarin family, Forteo, Mirena, and others have slowed market growth in recent years. However, the launch of new therapies such as Minivelle (estradiol transdermal system), Abufene, Pralia (denosumab), Bonviva intravenous, Decapeptyl/Pamorelin, along with novel R&D molecules that include elagolix, odanacatib, and Femitra in the late-stage pipeline, portends the potential for substantial market growth.
"Roche maintains its leading position in the market (26% total market share) as a result of its strong presence in the breast cancer market. Eli Lilly and Pfizer lost significant market share due to patent expiry of some of their blockbuster drugs," says BCC Research analyst Ritu Thakur Dangi. "The market has shown a significant increase in generics' share in the last few years, primarily because of the patent expiry of major osteoporosis drugs, including Boniva, Premarin, Viviant, and Fosamax. Generics are now available for major-selling hormones that are used to treat menopause-related conditions."
Therapeutics for Women's Health: Technologies and Global Markets analyzes women's diseases such as endometriosis, postmenopausal osteoporosis, breast cancer, and PCOS. The report examines marketed and pipeline products, clinical trials, pricing, and reimbursement. Detailed market projections through 2020 are provided.