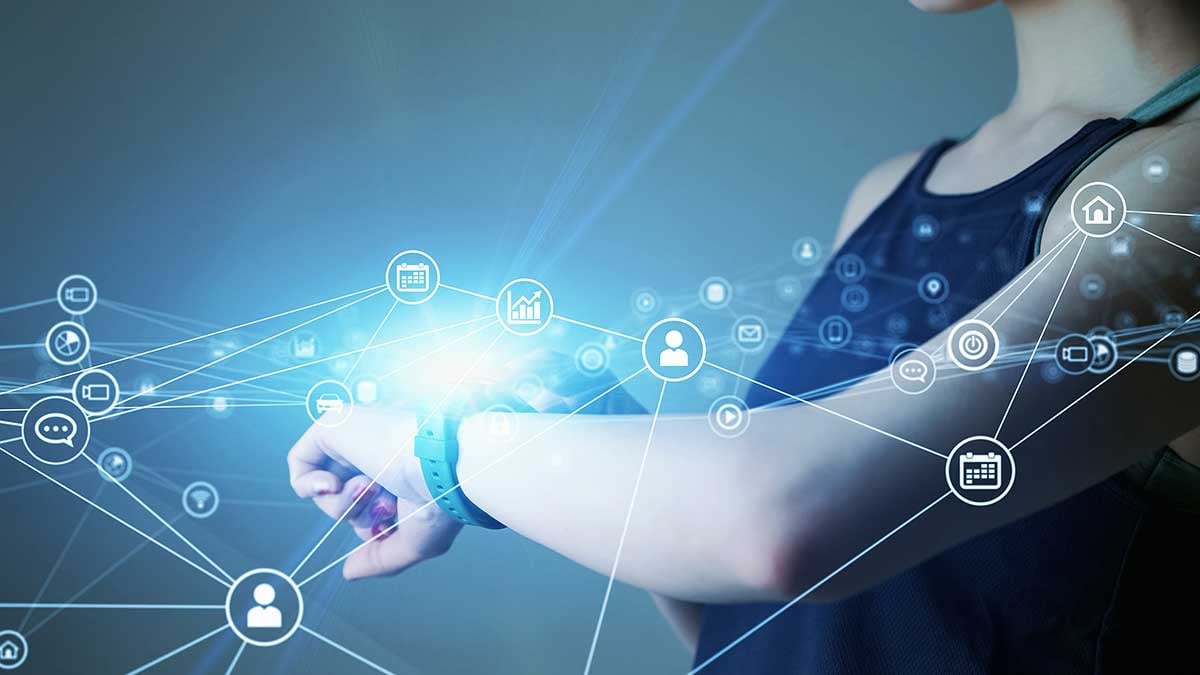 From increasingly sophisticated sports watches to the commercial adoption of smart eyewear, wearable computing's potential should not be ignored. Although widely considered supplementary to the cell phone, wearables have the possibility to transform our everyday lives.

What is wearable computing?
Wearable computing is exactly that – technology that can be donned by humans, as accessories. It belongs to the ever-expanding Internet of Things (IoT) – a virtual ecosystem of web-powered smart devices that acquire and transfer data across a vast network, surpassing the need for human engagement.
At their inception, wearable computers simplified our daily activities. They enabled us to monitor our activity levels or listen to music on the go. But thanks to vast technological leaps, they play an increasingly important role in our everyday lives. Ultimately, they help us live better and work smarter.
Some typical examples of wearable computing include:
The widely used fitness watch. Basic models track your steps and monitor your heartrate. However, the demand for sophisticated, wearable health-monitoring devices is surging. Rather than solely monitor activity levels, health wristwear can now measure variations in blood volume and observe heart pattern anomalies.
VR headsets. These are gaining popularity in the entertainment sector with a push to create a smoother user-experience with enhanced audio, display, and motion sensors.
Smart eyewear. Tech-savvy gamers are driving the adoption of smart glasses in the consumer sector, leading to a predicted CAGR of 26% from 2021 to 2026.
While these devices are relatively new concepts to the average consumer, wearable computing devices can be dated back to the 1960s. A small gambling aid was first invented in 1961, setting the wheels in motion for today's burgeoning market. Culturally significant milestones like Sony's release of the Walkman in 1979 and Pathfinder's wearable GPS system in 1993 helped shape the wearable computing landscape we know today.
What's to come for the wearable computing market?
The wearable computing market has undergone huge growth and development, particularly in recent years. According to the latest report by BCC Research, this trend is set to continue. From the period of 2021 to 2026, the industry is projected to expand at a hefty CAGR of 26%.
While Covid-19 dampened the growth of the wearable computing market, BCC analysts have stressed the potential bounce-back of the industry.
"A growing demand from the sports and healthcare industries for fitness and wellness monitoring and an increasing adoption of VR headsets in the gaming and infotainment industries are some of the major factors triggering growth in the wearable computing market."
Wearable computing becoming the next big thing in the global consumer electronics market is a very real possibility.
Equally real, however, is the possibility that the wearable industry will not meet this enormous potential. With high implementation costs and growing concerns surrounding privacy, the industry has some considerable obstacles to face.
Learn more about this expanding market
Our analysts offer a deep dive into the wearable computing market in our latest industry report. Evaluating recent technology developments, growth drivers, industry challenges, and market trends, our experts can help identify opportunities for productivity improvements and new product development.
Considering the entry of new players with enhanced product offerings, the report provides a comprehensive forecast of this competitive terrain. To download a complimentary overview or to access the information in full, click here.
Becoming a BCC member unlocks unlimited access to our full range of comprehensive market reports across the information technology library. Get in touch with a helpful member of our team to discuss the benefits today.