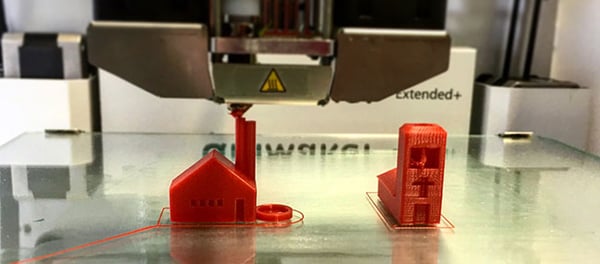 While 3D printing, also known as additive manufacturing, has focused primarily on the creation of objects made from polymers and metals, it's garnered interest from the ceramic materials market.
Artistic objects and pottery currently represent the most common applications for ceramic 3D printing, however various 3D printed technical ceramics are being introduced in a variety of other sectors, spurring significant growth in the marketplace.
Overview of Technical Ceramics 3D Printing Process
Step One: A drawing of the desired object is produced with the aid of CAD software. Other common techniques are based on mathematical equations or topological optimization.
Step Two: The drawing is then transformed into 2D slices (i.e., cross-sections) or layers. Instructions for manufacturing these layers are transmitted to the equipment that builds the object, typically using CAM software.
Step Three: The object is 3D printed. Several processes have been developed or are under development for the fabrication of technical ceramics.
Step Four: The object is dried and sent through binder burn-out (or de-binding), then sintering.
Step Five: The final finishing step provides the workpiece with the surface characteristics required by the particular application.
3D Printed Ceramics Market Outlook
Demand for 3D printed technical ceramics is projected to grow rapidly over the next several years with an estimated compound annual growth rate (CAGR) of 26% through 2024.
Several factors are contributing this growth, including:
Increased penetration in life science, mechanical/chemical and electronics sectors.
Healthy growth of products that can be produced via ceramic 3D printing, such as tissue engineering scaffolds, microelectromechanical systems and fuel cells.
Introduction of new processes that enable high-throughput manufacturing of 3D printed ceramics and lower production costs.
Rising levels of related R&D.
3D Printed Ceramics in Life Science
Life science, specifically healthcare, is the most popular sector for 3D printed ceramics. Many 3D printing processes for ceramics are well suited for the production of porous materials, such as those needed for manufacturing medical implants, bone repair materials, tissue engineering scaffolds and carriers for drugs.
Dentistry will also reap the benefits of 3D printed ceramics, as the capability of fabricating customized shapes can be used for the production of dental implants, dental prosthesis and orthodontic devices, such as crowns and bridges.
Within the biology and medical research field, 3D printing is being applied for production of lab-on-chip substrate and other microfluidic devices. This technology also finds use in the creation of special labware customized to meet the requirements of experiments in progress.
Electrical and Electronics
Within the electrical and electronics sector, 3D printing is gaining interest for producing complex shapes and components of microelectromechanical systems (MEMS) and piezoelectric components that are difficult to make with other technologies.
Other properties of 3D printing, such as the ability to build products with tailored porosity and composition, are promoting its utilization in the fabrication of substrates, packaging for electronic devices, and ceramic insulators. 3D printed alumina has been used to produce substrates for circuits and antennas.
Astrophysics can also reap benefits from 3D printed ceramic capabilities. In fact, scientists at Cornell University recently discovered silicon carbide microwave feedhorns for antennas, enabling increased signal-to-noise ratio of signals transmitted through space.
Optical and Optoelectronics
Use of 3D printed ceramics is also found in the optical and optoelectronics sector, such as processes for lasers, medical imaging devices and gradient index (GRIN) optics.
Optomechanical components, including filter holders, translation stages, fiber optic holders, kinematic mirror/lens mounts and parametric open-source chopper wheels, are also produced via 3D printing.
Mechanical/Chemical
The mechanical/chemical sector represents the second-largest field of application for ceramic 3D printing. Most applications within this sector take advantage of the ability of 3D printing to produce cellular structures suitable as filters; membranes; catalysts and catalyst supports; and thermal and acoustic insulation components.
The capability of 3D printing to create complex shapes also enables companies in the mechanical or chemical field to manufacture gas burner nozzles, valves and components for engines and turbines.
The fast turnaround that 3D printing offers enables the manufacturing of wear- and corrosion-resistant parts, such as cutting tools with high thermal conductivity and hardness.
Finally, production of structural ceramics for defense and security applications is also enabled by 3D printing. For example, HotEnd Works is collaborating with the U.S. Army Research Laboratory to develop alumina armors manufactured by a 3D proprietary printing process. Other military applications include fabrication of radomes and missile propulsion nozzles.
Energy
The main application of 3D printing within the energy sector is for production of components for lithium-ion batteries, solid oxide fuel cells and nuclear reactors.
Specifically, 3D printing technology is being used to create nanostructured inks that develop thermoelectric devices.
Want more reliable market data? We have what you're looking for.