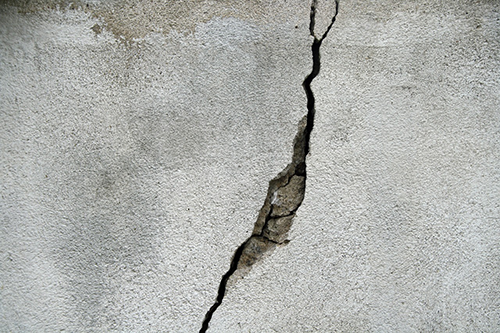 Self-healing polymers are an artificially developed polymer that are capable of repairing damage to a variety of building materials on their own, without the need of human intervention.
Self-healing polymers are making such an impact on both social and commercial levels that they have revolutionized the market.
There are two different types of self-healing polymers: intrinsic and extrinsic.
Intrinsic: Polymers that don't need an external agent to repair damage.
Extrinsic: Polymers that when mixed with an external agent that's put inside the matrix, can repair damage.
The Use of Self-Healing Polymers
All building material ends up with small structural damages as time passes. There are a variety of ways to repair these cracks, but most of them require routine checks, which are impractical from a time and money standpoint. Self-healing polymers integrate seamlessly with the material, and their self-healing properties eliminate the need for temporary fixes and human inspection.
Because self-healing materials require less infrastructural maintenance, last longer, reduce the need for replacements and are better for the environment, the industry has been steadily rising. Thanks to the advancements in the materials that have been made in the recent past, they are being used in a variety of industries, including construction and aerospace.
Intrinsic Self-Healing Polymers
Intrinsic self-healing materials are composed of a variety of polymers that restore their own structural integrity without any need of outside help. This occurs because there is local increase in the mobility of the polymeric chains, which allows cracks to be repaired on their own. Thanks to this feature, the demand has grown amongst consumers.
The self-repair that intrinsic self-healing polymers form is possible due to the reduction of the material viscosity and internal and external stimulus, such as pH changes or irradiation. To ensure good mechanical and physical properties of the polymers, there are a lot of factors to consider. These include cluster distribution and size, crystallinity as well as molecular eight.
Extrinsic Self-Healing Polymers
Extrinsic self-healing polymers differ from their intrinsic counterparts because they require an external agent to trigger them to repair infrastructural damage. They also help increase the lifespan of construction materials that are prone to crack. Not only does the polymer heal the crack, it reinforces the surrounding material to prevent the crack from spreading.
The healing agent can be blended as a solid into the polymer or added in liquid form via capsules. It is released when the cracks in the material rupture the containers the agent is held in.
Self-Healing Polymer Market Forecast
Self-healing polymers are able to transform physical energy into a chemical response to fix damages in building materials. They respond to external stimulus to improve the initial properties. They are also in-demand due to their environmentally-friendly properties.
According to the USA Green Building Council, the green construction material and service market will grow at 13% through 2020.
The green construction accounts for 22% of the total commercial construction in the U.S. in 2018.
The market for North America is predicted to grow at 27% through 2024.
Want to learn more about the polymer market?
Self-healing polymers are a growing industry. They are impacting a variety of markets and will branch into more markets as the technology develops. Learn more about them in the following articles:
Global Self-Healing Market Report
Self-Healing Polymers and Shopping Malls