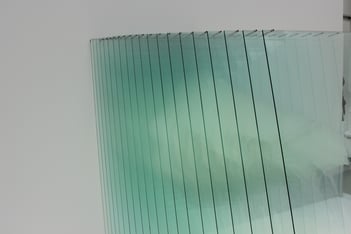 Smart glass technologies are making an impressive landing at airports nationwide, along with having an impact at numerous universities, homes, restaurants and even bars. Recently, View Dynamic Glass windows were tested at Dallas-Fort Worth International Airport. The glass manipulates the lighting and temperature within the terminal causing consumers *cough* passengers to feel more comfortable. Not only were passengers more comfortable in the Texas summer sun, they also spent more money before getting on their flights. Alcohol sales soared 80% after the installation of the new windows.
With such lucrative new applications, it comes as no surprise that the market is anticipated to grow at an impressive double-digit compound annual growth rate (CAGR) of 12.4% from 2017-2022, reaching a total value of $5.1 billion by the end year.
"We spend 90 percent of our time indoors," said View's chief business officer, Rahul Bammi during a recent interview with Bloomberg. "The things that really matter are light, air quality, temperature and sound. We impact at least three of those in a positive way. It's changing glass from essentially a dumb product to a smart product."
As this technology is constantly expanding, corporations and institutions may benefit from a "cheat sheet" that includes basic information and the industry's current progress. Here are answers to a few common questions about smart glass:
What is Smart Glass?
According to Smart Glass International, "it is an innovative building material that is made from electrochromic glass to create intelligent partitions, windows and skylights." When an electric current is applied, the surface of the glass is capable of changing its properties. For instance, becoming darker as to allow less light into the building.
BCC Research's recent report describes the functioning of smart glass as follows, "Smart glass can change from completely transparent to opaque and vice versa just by turning a switch on or off. Darker glass can be used to create a sense of privacy inside a car or to protect a precious piece of art in the museum."
What Technologies Are involved in Smart Glass?
The application of electricity kicks off a chemical reaction in smart glass. Same as any other chemical reaction, this reaction also changes the properties of the glass which allows it to reflect and/or absorb light. In some electrochromic materials, the change is between different colors.
Materials used in smart glass include:
Glass or plastic panel
Conducting oxide
Electrochromic layer, such as tungsten oxide
Ion conductor/electrolyte
Ion storage
A second layer of conducting oxide
A second glass or plastic panel
Who are the Top Companies in the Market?
Armor USA, Asahi Glass Co., Iglass Technology Inc., Kinestral Technologies Inc., Murakami Corp., Saint-Gobain and Smart Glass Systems Inc. are currently taking the industry by storm, according to a new report from BCC Research. However, there is plenty of room for other companies to enter the market with new innovations and applications.
What Progress has Smart Glass Made?
As the experiment at the Dallas-Fort Worth Airport suggests, we are only at the tip of the iceberg when it comes to smart glass technology – both as the technology advances and finds new end users and applications. Many factors suggest that smart glass will continue at a healthy rate:
Increasing demand for automotive glass
High energy consumption in buildings
A booming glass market in the Asia-Pacific region
Increased adoption of smart glass in commercial buildings
New entrants to the smart glass market should understand the competitive landscape as well as existing and emerging technologies. BCC Research's report Global Markets and Technologies for Smart Glass provides users with a comprehensive market analysis, including drivers, restraints, patent analysis and profiles on key company players.