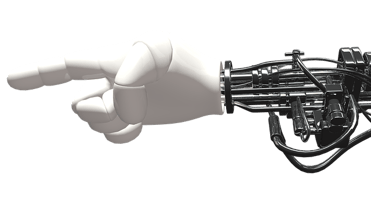 The answer: An augmented reality.
Earlier this year, life sciences writer Laurie Sullivan discussed the latest developments in bionics and what happens when stretchable, bionic skin combines with 3D-printed robotic sensors. The possibilities have yet to be fully conceived, but according to her blog, surgeons could possibly "feel" while performing minimally invasive robotic surgeries.
Using 3D printers, researchers have already overcome the challenge of manufacturing and installing sensors on a hand-shaped surface. Their next goal? Printing sensors on a real human body.
The recently published BCC Research report Sensors for Robotics: Technologies and Global Markets projects the global market for robotic sensors to reach $840 million in 2022. The report provides market forecasts for healthcare applications of robotic sensors, including those for movement, vision, touch and hearing.
Excerpt From:
Latest Advances in Bionics: Hands That Can See, Robots That Can Feel
Posted by Laurie L. Sullivan on May 25, 2017
3D-PRINTED BIONIC SKIN MAY ENDOW ROBOTS WITH SENSORY PERCEPTION
A 3D printer built at the University of Minnesota can print touch sensors directly on a model hand. These stretchable electronic sensory devices could give robots the ability to feel their environment. The discovery is also a major step forward in printing electronics on real human skin. The research will be published in Advanced Materials.
"This stretchable electronic fabric we developed has many practical uses," said Michael McAlpine, lead researcher on the study. "Putting this type of 'bionic skin' on surgical robots would give surgeons the ability to actually feel during minimally invasive surgeries, which would make surgery easier instead of just using cameras like they do now."
McAlpine says this new discovery could also be used to print electronics on real human skin. "While we haven't printed on human skin yet, we were able to print on the curved surface of a model hand using our technique," McAlpine said. "We also interfaced a printed device with the skin and were surprised that the device was so sensitive that it could detect your pulse in real time."
These 3D printed sensors can stretch up to three times their original size. "This is a completely new way to approach 3D printing of electronics," McAlpine said. "We have a multifunctional printer that can print several layers to make these flexible sensory devices. This could take us into so many directions, from health monitoring to energy harvesting to chemical sensing."
Researchers say the best part of the discovery is that the manufacturing is built into the process.
"With most research, you discover something and then it needs to be scaled up. Sometimes it could be years before it is ready for use," McAlpine said. "This time, the manufacturing is built right into the process, so it is ready to go now." The researchers say the next step is to move toward semiconductor inks and printing on a real body.