The global manufacturing industry is chugging along rather nicely. Despite being a mature market, new technologies like automation, 3D printing and advanced self-healing materials are influencing manufacturing processes to advance and evolve. This is especially seen in the automotive, defense and aerospace industries.
As 2019 comes to a close, it's important to make sure you have all the updated information you need to kickstart the new year with well-researched projects and plans.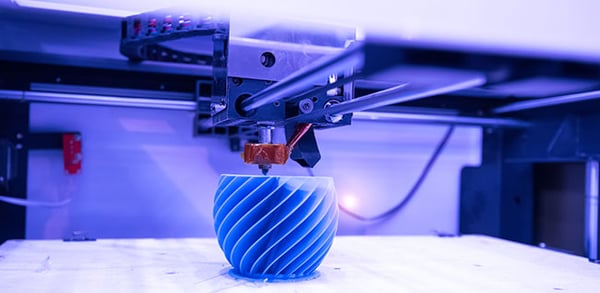 In today's post, we'll provide you with key insights in the following markets, giving you the latest market research for your project or report.
Pipes for Agricultural and Municipal Sectors
Self-healing Materials
3D Printing
Pipes for Agricultural and Municipal Sectors
The water and wastewater pipe industry is massive and includes pipes made of various materials. They all compete with each other to various degrees, depending on the region on country. These materials include:
- Clay
- Concrete
- Cast iron
- Steel
- Plastic

While the past decade has seen the use of the same materials for all applications, this is changing now that older piping is in need of being replaced. In its stead, plastic resins, especially high-density polyethylene (HDPE) and polyvinyl chloride (PVC) is being used.

Market Trends:
The global market for municipal and irrigation pipe networks is set to reach $55.5 billion by 2023 growing at a CAGR of 5.5%.
The wastewater segment is the largest in the market and is anticipated to grow at a 5.8% annually to reach $28.1 billion by 2023.

The drinking water and irrigation segments are both set to make steady progress, growing at a CAGR of 5.2% and 5.2% respectively.
Self-Healing Materials
Self-healing materials are made using synthetic or artificially created substances. They repair damages automatically without the need of external diagnosis or human intervention.
Most self-healing materials, such as cements and mortars, are used in the construction sector which has shown to have a high demand which only appears to be growing. The high adoption of self-healing materials in the construction industry is expected to create lucrative growth and opportunities for the market through 2023.
Market Trends:
The global self-healing material market is projected to grow at a CAGR of 27.6% through 2023 to reach $823.6 million.
The asphalt segment is anticipated to have the largest growth, reaching $120 million by 2023 at a CAGR of 28.3%.
Europe is expected to dominate the self-healing material market through 2023, both in terms of revenue and investments.
3D Printing
3D printing, also known as additive manufacturing, is the process of making a three-dimensional solid object, of virtually any shape, from a digital model. Despite having a slow start, the 3D printing market is set to grow rapidly through 2024.
New 3D printing technologies, such as the 3D inkjet printer, has helped bring costs down all while increasing the range of potential applications. This will greatly help the industry grow and be utilized by a variety of markets.
Market trends:
The global market for 3D printing technologies is set to grow at a CAGR of 22.0% to reach $27.5 billion by 2024.
Software and services revenues are projected to grow faster than any other segment through 2024, with CAGRs of 28.8% and 22.2% respectively.
North America is the largest regional market for 3D printing, with 41.8% of the global market.
Learn more about the major trends in the global manufacturing market in 2019.
  
For more intel about the manufacturing market, check out our full report: 2019 Manufacturing Research Review.