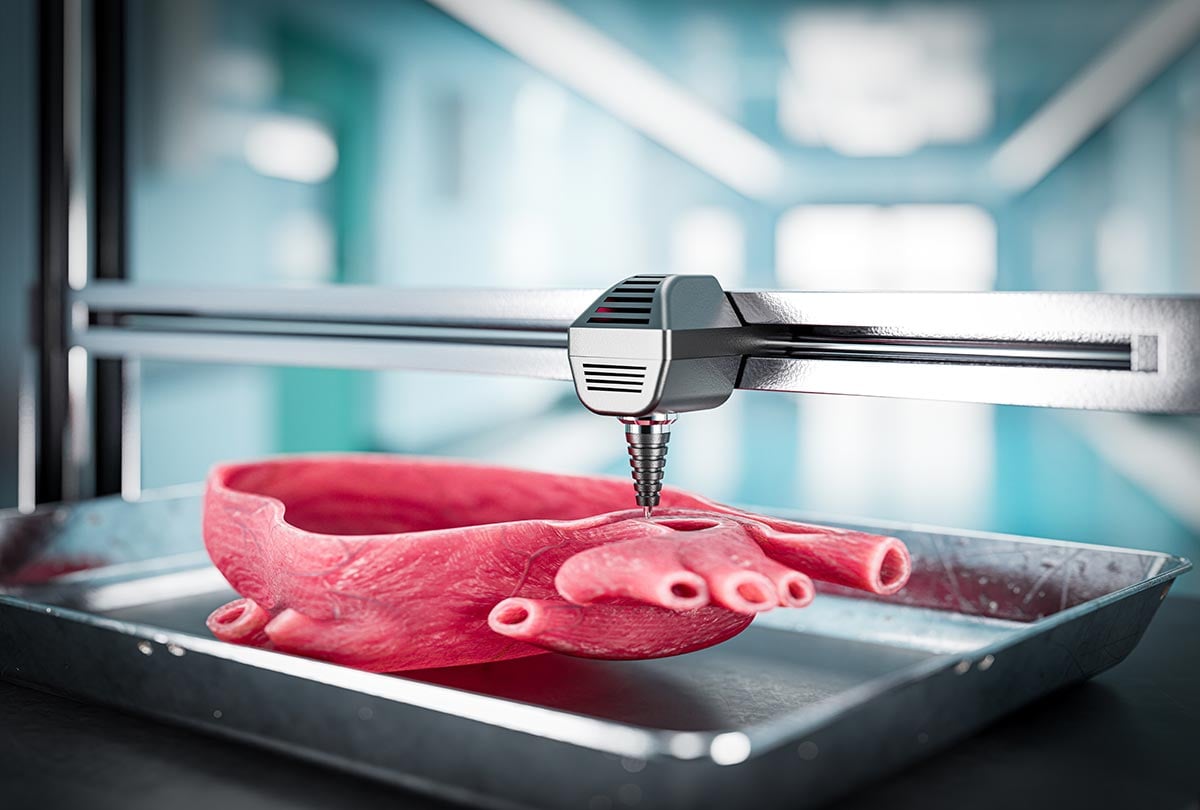 Bioprinting is a promising technology that offers hope to patients on the notoriously lengthy waiting lists for organ donation. Not unlike additive manufacturing, bioprinting involves 3D printing technology but instead uses organic material. The aim is to imitate natural tissue for a range of applications, including drug discovery, tissue engineering, and regenerative medicine.
It goes without saying that bioprinting is nothing short of lifesaving. According to WHO, 21 patients per day die due to organ transplant shortages. Bioprinted organs could eliminate the list of requirements for organs and bypass the complex matching process for donors and patients, saving lives and revolutionizing healthcare.
It's exactly these possibilities that are propelling enormous growth within the market. Valued at $2.1 billion by BCC Research in 2021, the global market for bioprinting is expected to expand at a CAGR of 16.2%, reaching approximately $5 billion by 2027.
Given the level of growth, it's little surprise that competition in the market is fierce. The landscape is characterized by bands of start-ups. Companies are vying to grow their market shares by establishing distribution networks and collaborating with local companies to manufacture devices at lower costs.
It's a fast-changing economic and regulatory landscape, and companies must adopt forward-thinking strategies in order to stay ahead. But which firms are leading the charge in bioprinting? Who are the players pushing technological innovation and carving out a space in the market?
BCC Research has analyzed the competitive landscape and named the leading companies in the bioprinting space today.
1. 3D Bio Corp
3D Bio Corp was founded in 2014 as a spinout of Cornell University. The company works to develop near-term regenerative medicine applications of bioprinting, with one of their key products being the GMPrint, a purpose-built therapeutic-grade 3D bioprinter. 3DBio is breaking new ground with a clinical trial underway to treat microtia.
3D Bioprinting Solutions is a biotechnology research laboratory founded by INVITRO, the largest private medical company in Russia. The company officially opened its 3D Bioprinting Solutions laboratory in September 2013. The activity of the laboratory is the development and production of bioprinters and materials in the field of 3D bioprinting, and the development of new technologies in biofabrication and medicines.
3. 3D Systems
3D Systems effectively launched the 3D printing industry in 1986. With the addition of Allevi in 2021, the company provides a robust set of bioprinting solutions to researchers and industry giants. Allevi's desktop 3D bioprinters are the most versatile, powerful, and easy-to-use bioprinters on the market.
Advanced Solutions is developing and commercializing integrated manufacturing systems involving living organisms. With over 50 employees and offices across the united states, the company is expanding into emerging markets and growing rapidly.
Aspect Biosystems was founded in 2013 as a spinoff of the University of British Columbia. The company develops 3D bioprinting and tissue engineering platforms for producing living tissues for clinical and preclinical applications. The initial focus for the company is on printed tissue models for toxicity testing.
6. Cellink
US-based Cellink develops both bioprinters and bioprinting materials for ready-to-print or use models for researchers and healthcare providers. 3D cell cultures, personalized medicine, and enhanced therapeutics are enabled for researchers and healthcare providers. The disruptive technology is used to print tissues such as liver, cartilage, skin, and even fully functional cancer tumors for developing new cancer treatments.
7. Cyfuse Biomedical
Cyfuse Biomedical is a Japanese bioprinting company that generates tissues and organs by fusing cells in different ways. Cyfuse's specialty is a tissue fabrication process that doesn't need any scaffold, such as polymers or collagen, to enable faster and more efficient tissue generation.
CollPlant is a regenerative and aesthetic medicine company that develops innovative technologies and products for tissue regeneration and organ manufacturing. It uses plant-based technology for mass production of recombinant human type I collagen (rhCollagen) identical to the collagen produced by the human body. The company is also developing a pipeline of products aimed at 3D bioprinting of tissues and organs and medical aesthetics.
9. Organovo
Organovo is the most well-known tissue engineering company in the world of bioprinting. It has been actively developing a line of human tissues for use in medical research and drug discovery. These include both normal tissues and specially designed disease models.
In 2014, the company announced the successful printing of liver tissue, and a year later, they generated fully functional human kidney tubular tissues. Organovo has also teamed up with L'Oreal to advance the development of synthetic skin. 
10. Precise Bio
Precise Biotechnology works within tissue engineering, biomaterials, cell technologies, bioengineering concepts, and 4D printing. Their platform enables the biofabrication of tissues which can be used for different fields of healthcare, including cardiology, orthopedics, dermatology, and more.
Precise Bio's innovative 4D biofabrication technology is a true platform for innovation. The key benefit over other biofabrication methods is the ability to generate complex tissues in a highly reproducible manner. This platform can solve critical limitations of existing 3D biofabrication technologies for more complex tissues and organs. Precise Bio's technology is designed to transform the treatment of serious diseases.
11. Stratasys
Stratasys is pioneering the future with different types of 3D printing techniques. For 30 years, the company has been using 3D printing technology for materials building and innovating new strategies for building faster and smarter products in bulk.
Learn more about the bioprinting market
3D printers are revolutionizing the manufacturing industry and are now increasingly used to make finished parts and goods. This industry is reshaping traditional supply chains and is enabling localization and customization in the manufacturing sector. As the science behind bioprinting continues to advance, the discipline is emerging as a key manufacturing tool for tissue engineering and regenerative medicine.
The market is on the cusp of sizeable growth, meaning there's never been a better time to get a handle on the bioprinting industry. Download your complimentary overview of BCC Research's recent report Bioprinting: Technologies and Global Markets now.
We also offer memberships to our research library that provide access to the full catalog of reports within the Biotechnology sector. To enquire about membership, please get in touch through the button below. A helpful member of our team would be delighted to discuss this option.