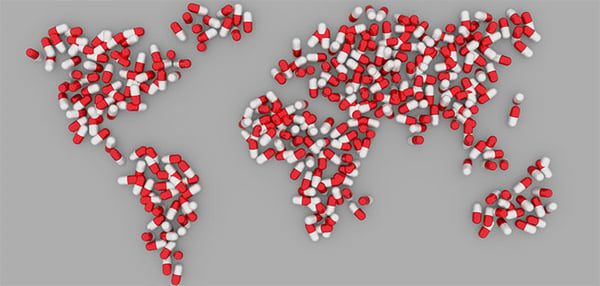 In 2018, a lot happened in global pharmaceuticals industry. For example, the approval of second CAR T-cell therapy tisagenlecleucel (Kymriah) signified the dramatic progress in the field. While the industry witnessed uncertainties due to the U.S. presidential elections and weak economic growth in 2017, steady growth has returned.
According to the top pharmaceutical reports from BCC Research in 2018, the pharmaceuticals industry continued the pursuit of drug discovery and development for meeting the worldwide needs in oncology and orphan diseases with an unprecedented rigor.
Our best pharmaceutical reports indicate that the stakeholders in the industry are focused on developing a rich cancer pipeline and increasing availability of clinical and real-world data.
In our full report, "2018 Pharmaceuticals Research Review," we explain in depth what's happening in several markets within the pharmaceuticals industry, including:
Cognition and Memory Enhancement Drugs
Circulating Tumor Cell (CTC) Diagnostics
Checkpoint Inhibitors
If you're looking for quick insight into the trends occurring in each of the above markets, you'll find today's blog helpful.

Cognition and Memory Enhancement Drugs
The global market for cognition and memory enhancement drugs is driven by several factors:
Increased use of cognition drugs because of increased global concern about neurodegeneration, which causes severe diseases.
Increased intensity of research in and development of cognition and memory-enhancing drugs.
Increased number of new product launches and improvement in existing technologies.
Along with market drivers, the global cognition and memory enhancement drugs market also faces barriers to growth. For example, longer timelines—from research and developing a drug to bringing it to market—slows market growth.
Additionally, ensuring efficacy as well as safety during use of cognition drugs adds to the length of time it takes to bring drugs to market.
Based on application, the Alzheimer's disease segment dominates the global cognition and memory-enhancing drugs market and is anticipated to maintain that status through 2022. This segment was worth $548 million in 2016 and is estimated to reach $824 million by 2022, growing 6.8% annually.
Regionally, North America held the largest market share in 2016, accounting for $913 million and is estimated to reach $1.4 billion by 2022. Asia-Pacific held the second-largest market share of the global market, accounting for $808 million in 2016 and is expected to reach $1.4 billion by 2022, growing 9.9% annually.
By drug type, the Namenda cognition drug registered a revenue of $640 million in 2016 and is poised to grow 7.3% annually through 2022 to reach $985 million. This drug has gained immense traction in recent years among younger patients.
Circulating Tumor Cell (CTC) Diagnostics
Metastasis is the major cause of cancer deaths today, and CTCs may facilitate metastases. As CTCs circulate and spread in the body, the disease attacks different parts of the body, becoming potentially challenging for diagnostic and therapeutic purposes.
In this situation, CTCs can play a very important role, as they allow for a specific detection of metastasis, and at an early stage when less invasive treatment can be implemented effectively.
The development of noninvasive ways to detect and monitor tumors continues to be a challenge in cancer research, so CTCs and CTC-associated molecules can be useful.
An increase in cases of cancer globally, as well as the reimbursement support offered in developed countries like the U.S. and Europe are driving growth in the CTC market.
The global market for cancer prognostics and for monitoring based on CTCs was estimated to be valued at $1 billion in previous years and is expected to grow 17.6% annually through 2022.
The market for CTC use in clinical research and as a prognostic tool was valued at $4.6 billion in 2017 and is expected to grow through 2022, thanks to increased adoption by labs around the world especially in clinical research and for monitoring cancer and treatment efficacy.
By cancer type, breast cancer dominated the CTC market in 2017 at a value of $1.6 billion and is expected to reach $3.8 billion by 2022, growing 16.4%.
Checkpoint Inhibitors
Immune checkpoint inhibitors are causing a stir amongst oncologists as they have been shown to be effective in the treatment of a variety of cancers, enhancing the immune response to detect and target cancer cells with a lower incidence of side effects compared to conventional chemotherapy and providing durable responses, lasting for many years.
In 2017, checkpoint inhibitors generated sales of about $9.4 billion and are estimated to generate more than $29.3 billion in revenue as marketed therapies gain regulatory approval in new indications and territories.
By drug class, the marketed segment of checkpoint inhibitors was worth almost $15 billion and is estimated to reach $26.4 billion by 2023.
There are more than 230 clinical trials underway evaluating checkpoint inhibitors either as a monotherapy or in combination with chemotherapy or targeted therapies, and which encompass a wide variety of cancer subtypes.
Learn More About the Global Pharmaceuticals Industry
To learn more about the global pharmaceuticals industry, download a complimentary chapter of our comprehensive report that includes the top pharmaceuticals reports by BCC Research, "2018 Pharmaceuticals Research Review."