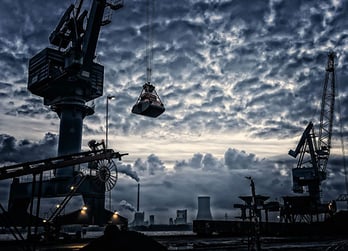 In advanced economies, the manufacturing industry has largely concentrated on promoting innovation, productivity and trade more than growth and employment.

This focus on innovation has led companies to explore new opportunities, such as machine learning, internet of things (IoT) technology, augmented reality, virtual reality and others that have transformed their operations and increased efficiencies.

Most recently, manufacturers have adopted emerging technologies and have pursued this digital transformation to compete and gain a foothold in the marketplace.

In our full report, "2018 Manufacturing Research Review," we explain in depth what's happening in many markets within the manufacturing industry, including, but not limited to the following:
Cranes
Meat and Poultry Processing Equipment
4.0 Technologies
Smart Robotics
If you're looking for quick insight into the trends occurring in each of the above markets and an analysis of the machinery industry, you'll find today's blog helpful.

Crane Technologies and Global Markets
According to BCC Research analysts, expansion in the global construction, energy and manufacturing sectors are driving the demand for state-of-the-art cranes, that offer increased durability, safety, load handling and overall efficiency.

Additionally, the power sector continues to be a key growth area across the world as populations grow and countries continue to invest in power production to meet increasing demand, thus driving the demand for technologically advanced cranes.
The global market for cranes will grow from almost $29.4 billion in 2017 to $35.9 billion by 2022 at 4.1% annually.
The industrial crane subsegment is estimated to grow faster than the tower crane market, with a compound annual growth rate (CAGR) of 2.9%.
In North America, the major players in the global market for cranes are Altec Industries Inc., Dearborn Crane and Engineering and Elliott Equipment Co.
Meat and Poultry Processing Equipment
The food industry is a highly profitable industry with substantial growth potential, especially in the food processing segment. New meat processing machinery is now focusing on retaining maximum nutrients and sensory properties, while increasing the shelf life of food without any adverse effect on the food quality.

According to machinery industry analysis from BCC Research analysts, the demand for meat processing equipment is projected to grow substantially, primarily due to rising meat consumption in both developed and developing economies.
Regionally, Asia-Pacific accounted for the largest demand share for meat processing equipment. The region's demand for meat processing equipment was worth $3.3 billion in 2016 and is projected to be worth $5.4 billion in 2022, growing 8.6% annually.
Major players involved in the manufacturing of meat processing equipment include Illinois Tool Works, John Bean Technologies Corp. and Marel.
By equipment type, the demand for cutting equipment was valued at $1.7 billion in 2016 and is projected to grow at a CAGR of 7.3%.
4.0 Technologies
Industry 4.0 refers to the net impact of four new technologies in the manufacturing industry:
Cyber-Physical Systems
IoT Technology
Cloud Computing
Cognitive Computing
Combined, these technologies are revolutionizing manufacturing by enabling a degree of flexibility and efficiency that dramatically lowers costs while increasing scale and profitability.

The market exceeds $100 billion as firms in both developed and developing countries invest in Industry 4.0 technologies and embrace the benefits of the transformation.
Thanks to multinational manufacturers collaborating with regional and local initiatives, these 4.0 technology initiatives generated investments of $5.1 billion in 2017, which will grow to nearly $7.7 billion in 2018 and $21.7 billion in 2023.
In Asia-Pacific, government-sponsored initiatives to turn China and Japan into leaders in technology innovation led to the region overtaking Europe, with 33% share of 4.0 investments in 2017, totaling $1.7 billion.
Large enterprise manufacturers spent $3.8 billion in 2018, growing 22.6% annually through 2023.
Smart Robotics
Smart robotics systems use a combination of sensors and cognitive computing programming to adapt to their environment and tasks presented to them. Faster computation and improved sensor technology are key contributors to the growth of this market.

Industries such as automotive, industrial, process and consumer products are investing in smart robotics. Additionally, smart machinery aligns with manufacturing processes, specifically repetitive, discrete, job shop, batch and continuous processes.
Sister trends, such as smart manufacturing and Industry 4.0 initiatives are driving accelerated development in smart robotics. Globally, these initiatives generated investments of $912 million in 2017 and are estimated to reach $1.9 billion in 2022.
Regionally, the European market for smart robotics in manufacturing will see the highest annual growth at 18% through 2022.
Smart robotic machinery ranges from $50,000 to $80,000 per unit and close to $150,000 with customizations for specific tasks and environments.
Learn More About the Global Manufacturing Industry

To learn more about the global manufacturing industry and to gain additional machinery industry analysis, download a complimentary chapter of our recent report, "2018 Information Technology Research Review."