Aging, defined as a series of biochemical activities due to internal and external factors, can lead to bodily degeneration/disorders as well as affect a person's health and quality of life. Antiaging products and services help to restore and retain health, while increasing longevity. Achieving optimal health and wellbeing through the aging process requires a multifaceted approach.
Perhaps Forbes put it best a few days ago: The obsession with "curing" aging is now big business. The American baby boomer generation is headed for retirement. Although normal aging does not imply disease, the incidence of chronic diseases increases with advancing age. Because the US FDA does not consider aging in and of itself to be a disease, it does not approve any drugs for antiaging nor does it authorize any drugs that advertise antiaging benefits. A pill that could delay or prevent the onset of multiple age-related diseases seems like a dream, right?
But actually, it could come true. Last year, the FDA approved the Targeting Aging With Metformin (TAME) study. It would be the first clinical trial to test whether a drug could slow human aging. Metformin is a cheap, generic diabetes drug, which has been found to stall the aging process in animal studies. The problem, though, is that no one has agreed to front the capital required to get TAME up and running. The group of scientists, led by Dr. Nir Barzilai at Albert Einstein College of Medicine, with support from the American Federation for Aging Research, needs about $50 million.
In general, finding ways to extend a healthy life has become a big business, attracting tens of millions in investment dollars from Google and numerous biotechnology companies. The Forbes piece profiles some of the more prominent quests to "solve" longevity.
OLDER CONSUMERS MAKE AN ATTRACTIVE TARGET
Demographically, the antiaging market is categorized distinctly into the above-mentioned baby boomers (the population born between 1946 and 1965) and youth. These markets differ in terms of products and service offerings, market structure, and positioning. The boomer segment comprises 75% of the total antiaging market. The worldwide population of more than 600 million aging consumers is growing at a rate of 3.2%, about three times that of the general population.
"The population age 65 and over is increasing each decade. For example, in 2000 the population age 65 and over accounted for about 6% of the total population; by 2010, it was 7%," explains BCC Research analyst Melissa Elder. "In 2020, we can expect it will increase to 10%, and by 2050 it will reach 17%. This is something that many companies will find difficult to overlook."
Companies focused on antiaging products or services must adapt different strategies depending on ethnicity, sex, income level, family structure, insurance status, and distribution channels. Today, the antiaging market presents one of the largest opportunities in the world, mainly due to the higher disposable income of older consumers. All companies in the cosmetic, pharmaceutical, healthcare, biotech, medical spa, and fitness services fields are strategizing on how best to tap the lucrative antiaging market.
A new BCC Research analysis reveals that the global market for antiaging products and services is expected to reach $331.3 billion in 2020, up from $281.6 billion in 2015, reflecting a five-year compound annual growth rate (CAGR) of 3.3%. The products segment, which accounts for nearly 83% of the overall antiaging market, should demonstrate a five-year CAGR of 3.2% to total $273.8 billion by 2020. Services represent the faster-growing segment and account for the remaining 17% of overall sales. Antiaging services should achieve sales of $57.6 billion in 2020, reflecting a five-year CAGR of 3.7%.
GLOBAL SALES OF ANTIAGING PRODUCTS AND SERVICES, 2013-2020 ($ MILLIONS)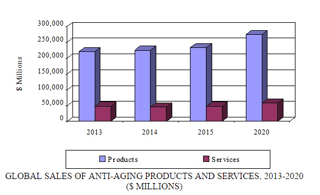 Source: BCC Research
The global antiaging product market is largely dominated by the United States and Europe. However, the Asia-Pacific region is demonstrating significant market growth. This is partly fueled by the expanding economies of China and India, which are providing consumers with the ability to purchase more antiaging products and services. In the United States, key growth factors include an overall increase in the incidence of conditions and changes experienced by aging consumers. The number of people seeking cosmetic services also shows sizeable growth due to a variety of factors, such as a population of seniors growing at a faster pace than the general population.
Drugs to treat diseases associated with aging account for 81% of the global antiaging products market. The so-called antiaging drug market is comprised of a diverse group of product manufacturers and suppliers. Whether a company competes in just one or many segments of the drug treatment market, each contributes to the diverse product line available to treat the aging population.
As the boomer generation gets older, the need for new and improved drugs is a concern for consumers, healthcare providers, and pharmaceutical manufacturers worldwide. The antiaging disease treatment market can be categorized as products for the following: bone and joint care; cardiovascular and respiratory conditions; central nervous system disorders; endocrine diseases; sexual dysfunction; urinary incontinence; and eye care.
GLOBAL ANTIAGING DISEASE TREATMENT MARKET BY SEGMENT, 2013-2020 ($ MILLIONS)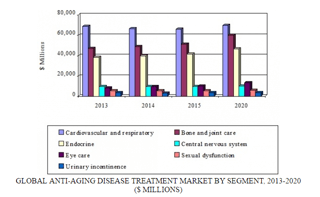 Source: BCC Research
Currently, the largest market segment is cardiovascular and respiratory conditions. Cardiovascular diseases, along with controlling blood pressure and lowering cholesterol, are the biggest applications for antiaging drugs, followed by endocrine syndrome disorders such as diabetes and obesity. There aren't many effective drugs for diseases such as Alzheimer's or obesity. In addition, many degenerative diseases do not have therapies that can reverse the condition. The antiaging disease market is largely reactive in nature rather than focused on prevention or reversal.
Increasing life expectancy around the world is forcing the health industry to evaluate the growing demand for healthcare and to streamline its process for delivering care. As the population expands and people continue to live longer, there will be rising concern about treating conditions associated with aging. Antiaging Products and Services: The Global Market examines significant products, players, issues, trends, and other information affecting the antiaging industry in both the cosmetic and disease treatment markets. Analyses of global market drivers, with data from 2014, estimates for 2015, and projections of CAGRs through 2020, are provided.