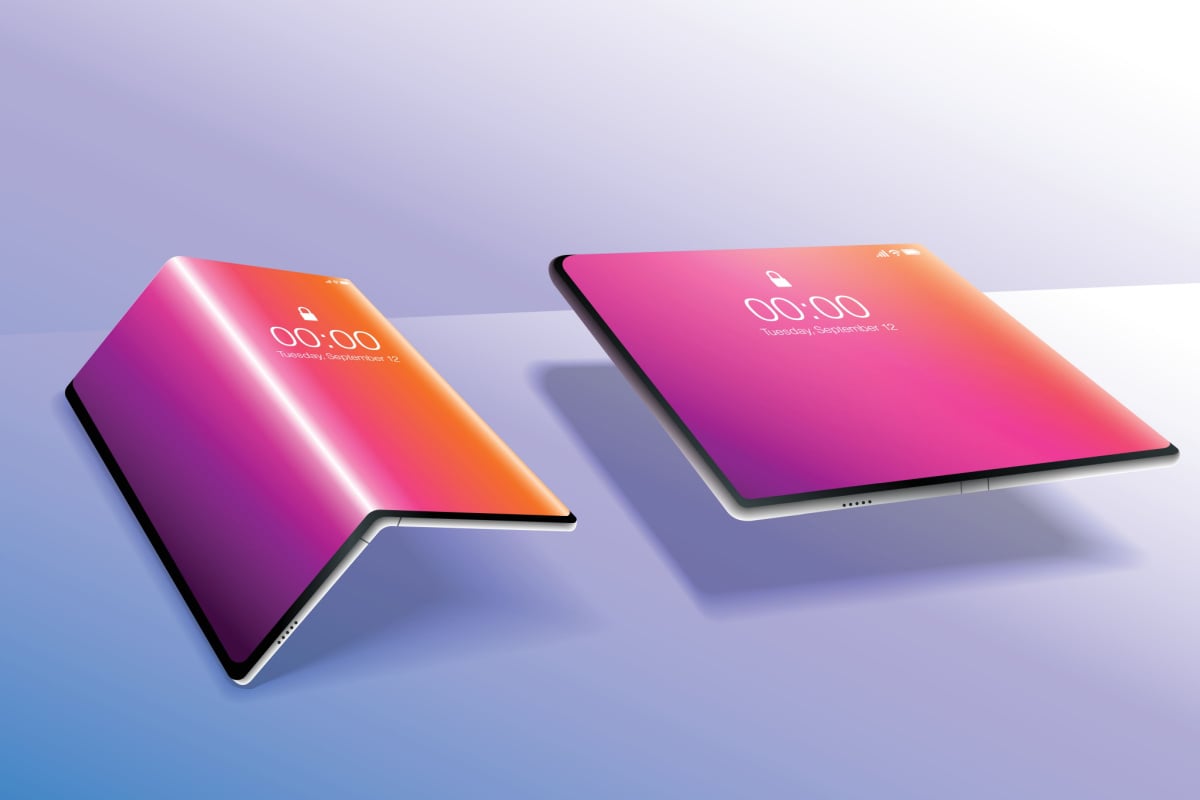 With the resurgence of low-rise jeans and velour tracksuits, the early 2000s trend cycle has officially begun. However, there is one trend you may not have expected to see return so soon. If you often feel nostalgic over early cell phone tech, you'll be pleased to hear that flip phones are back on the market – well, sort of. Foldable smartphones of today are a modern take on the old classic, with smartphone features we've all become accustomed to since last owning a foldable device.
Fusing the highest quality smartphone features within a foldable shell is a testimony to the vendors innovating, while arguably, coming full circle across the mobile phone industry. The modern-day foldable smartphone appears, at full extension, to be your regular touchscreen, high-spec phone. But with clever design and technology, the phone can fold in half while maintaining full functionality.
What is the point of a foldable smartphone?
The question arises: why bring back something so redundant in our modern society? Technology may have moved on from tiny screens and T9 keyboards, but foldable phones offer something regular smartphones compromise on, a larger screen size on a smaller surface. The major selling point for a foldable smartphone is the convenience of having a smaller phone, that can extend to full size or even double the standard size depending on which product you have.
Companies who have cornered this burgeoning market have taken the premise of a foldable phone and made it unique to their brand, adding stand-out components that are tried and tested non-negotiables for the consumer. The look of some products is a far stretch from the foldable phone we once knew, although some are more similarly aligned.
With unique selling points for each vendor, deciding which foldable smartphone is right for you comes down to the features and specifications that each company boasts.
Here are the top foldable smartphone manufacturers and the devices currently on the market:
1. Samsung Electronics
Samsung has dominated the foldable smartphone market, with multiple product launches and updates to accommodate the growing desire for a foldable smartphone - particularly for businesses. Their marketing tactic for their foldable products is that they are perfect for business use. BCC's latest report on foldable smartphones found that 35–45-year old's hold the largest market share. this age group specifically is set to increase from $3,767.7million to $27,713.8 million during the forecast period 2022-2027.
Samsung is utilizing the idea that people in this age group are professionals who need tech to add something to their working life. Whether that be added business features or enhanced performance, the consumers of this age group are looking for a portable computer inside of a smartphone.
Samsung set the tone for product launches in the foldable market space this year, unveiling two smartphones, each with different features and price points.
Samsung Galaxy Z Fold 4:
Samsungs latest foldable addition is the latest and greatest in the market right now. It packs a Snapdragon 8 Plus Gen 1 processor, 12GB of RAM, up to 1TB of storage, and a 4,400mAh dual battery. While the battery life still isn't elite, it's enough to keep you going through the day. Samsungs main selling point for the Z Fold 4 is the 6.2-inch cover screen and once at full extension, the 7.6-inch main screen.
Samsung Galaxy Z Flip 4:
Samsung's other premium foldable smartphone released this year exists on the clamshell market. The Z Flip 4 operates like a standard smartphone, but you can fold it in half when not in use.
2. Huawei Technologies
Huawei Technologies has been identified as the second leading company in the foldable smartphone market. Huawei focuses on the displays and ensuring they are of the highest quality when fully extended as well as folded. With their latest product launches the company has also considered visual aspects such as the color of the smartphone offering various shades and hues to suit consumer needs for an aesthetic product.
Huawei Mate Xs 2:
Huawei launched a new flagship foldable smartphone, the Huawei Mate Xs 2, incorporating some of the latest advancements in foldable smartphone technology. The phone features an industry-leading 7.8" True-Chroma Foldable Display and a Huawei XD Optics-enabled 50MP True-Chroma Camera System.
3. Motorola Mobility
Motorola rebooted its classic Razr brand of flip phones with the Motorola Razr, a folding clamshell device that combined novel tech with a nostalgic feel to the original Motorola Razr V3 that dominated the market in 2004.
Motorola Razr 5G:
The refined Motorola Razr 5G phone, released in 2020, offers the most similar equivalent to an old flip phone, however still hosting smarter technology within. The phone is a compact device when folded and a normal-sized smartphone when opened. It has one direct competitor in the Samsung Galaxy Z Flip 4.
What are the challenges organizations face in the foldable smartphone market?
The main challenge the foldable smartphone market faces are the high complexity of the design. Keeping up with the design and specifications that consumers want and that flip phones require is an overarching challenge for manufacturers. BCC analysts determine the global market for foldable smartphones to reach $85.3 billion by 2027.
With a desirable future ahead, manufacturers must face the challenges proposed to climb this lucrative market and take the top spot from companies like Samsung. Mechanical stability, physical durability, and interfacial adhesion are some factors manufacturers have to consider. Additionally, engineers need to use materials that are mechanically stable when bent and folded during the development of high-performance foldable electronics. Engineers cannot design with standard metallic electrodes due to the rigidity and brittleness, despite exemplary electrical properties. Material flexibility, durability, and efficiency must also be considered by engineers in addition to mechanical stability.
The fact that electronic devices are composed of several layers of components, such as electrodes and semiconductors, can adversely affect adhesion at interfaces due to constant folding and unfolding. As a result, this wear and tear issue reduces the device's longevity and further damages it. Therefore, engineers need to ensure that devices can withstand extreme operating conditions. Additionally, there are some limitations to the production of foldable electronics, due to complexity and high cost.
Investigate the global foldable smartphone market in more detail
BCC Research's latest report on the global foldable smartphone market breaks down the current market dynamics including the key factors influencing the demand for foldable devices. The report also offers insights into the regional breakdown as well as the sales channel breakdown for the industry.
Download your complimentary copy of the report overview or purchase the full report.
Becoming a member of the BCC Research library provides access to a host of reports in your chosen field. Get in touch with a friendly member of our team below to learn more.